There's something about boats that brings out the fun in people. Maybe it's the possibility that you might sink or – normally – once sailing, you can't get off, so you make the most of it. Whatever the reason, it's time to embrace it with my Top 5 boat restaurants in Berlin. While there aren't many restaurants to eat on a boat in Berlin, those that serve the water promise a unique experience with some of Berlin's most beautiful views. Here we go!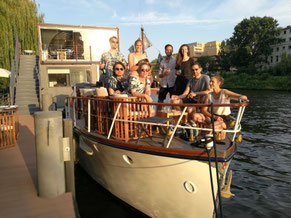 Patio aka Riethoen
Probably the best spot in Moabit for a nicely plated fine dining dinner experience! The ship restaurant is located on the river Spree with a fantastic view and neatly served food but still kept young with all the service staff. In summer you can enjoy the beautiful sunset drinking wine on the deck, in winter you can sit around the cosy fire places on the upper and lower deck.
They also have other boats, which are not only anchored! From RIETHOEN you can admire Bellevue Palace, the House of World Cultures, the Berlin Cathedral, the City Palace, the Chancellery, the government quarter and other historical sights in an exclusive atmosphere. Twice a day the boat depart for the Apero Cruise (17:00) and the Sunset Cruise (21:00). With an aperitif and a small culinary surprise you start the evening on the RIETHOEN and through the city centre of Berlin. Or after dinner you can go on a journey into the sunset with a digestif. I personally recommend the Sunset Cruise!
Helgoländer Ufer / Kirchstraße, 10557 Berlin (Moabit), +49 30 40 30 17 00, info@patio-berlin.de, www.patio-berlin.de, Station: S5, S7, S41, S42, S46 Beusselstraße, Mon–Sat 17:30–23:00, Sun 15:00–23:00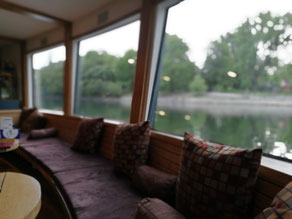 Restaurant on a boat Van Loon
The van Loon anchored at Urbanhafen in Berlin Kreuzberg. Through the panoramic windows you have a magical view of the cannel. Furnished with fine wood and a fireplace you can also keep yourself warm when summer is over. Until then you can sit on the sun on board and have a sunbath combined with a delicious drink. From the open galley they also serve tasty breakfasts, seasonal dishes and fish specialties. Every Sunday you can also enjoy a brunch on the boat.
Van Loon Restaurantschiffe und Reederei, Carl-Herz-Ufer 5, 10961 Berlin (Kreuzberg), +49 30 69 26 293, info@vanloon.de, www.vanloon.de, station: U1, U3 Prinzenstraße, daily from 16:00, if you are in lucky they also do culinary tours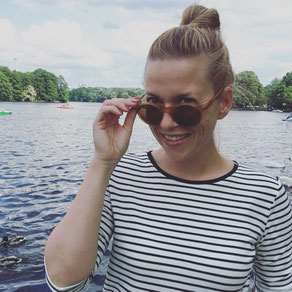 Gode Wind
On the boat restaurant Gode Wind you can enjoy your food or drink with a fantastic view of the Rummelsburger Bucht as far as the television tower. Here you can sit in the sun, white the sails of the boat looks like it was about to be put into sea. This magnificent pirate boat is originally a requisite from a German film production and was converted into a restaurant in 2017. After your visit you can enjoy a walk at Rummelsburger Bucht. Whether by kayak, pedal boat or picnic boat in the Rummelsburger Bucht you can spend a relaxing day on the water. Once a month Ahoi Ostkreuz invites you to the Clean Up Regatta to free the Rummelsburger Bay from rubbish. Anyone can use one of the boats for two hours without paying, for which there is a garbage bag on board.
Gustav-Holzmann-Straße 10, 10317 Berlin (Lichtenberg), + 49 176 21 73 82 22, info@godewind-berlin.de, www.godewind-berlin.de, station: M21 Gustav-Holzmann-Straße, Mon–Fr 9:00–17:00 (May–September)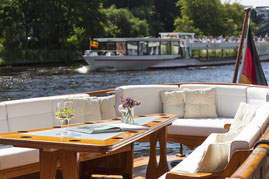 ABION YACHT AIDA
Invite your friends or business partners to an extraordinary boat tour and experience Berlin from the water - with a cruise on the "Aida". The yacht is anchored directly next to AMERON Berlin Abion Spreebogen Waterside and offers space for up to 20 persons.
A two-hour drive takes you to sights as the Ministry of the Bellevue Palace, the House of World Cultures and the Federal Chancellery. Enjoy Berlin from the water and be surprised by the culinary delicacies they serve you on board. From Monday to Friday by appointment with Marina Rentzsch at +49 30 39 92 07 93 or m.rentzsch@abion-hotel.de.
If you want, you can also have the option of chartering a ship privately at any time, which can dock and depart at the hotel's own station. 
Alt-Moabit 99, 10559 Berlin (Moabit), +49 30 39 92 07 93, m.rentzsch@abion-hotel.de, www.ameronhotels.com, station: S3, S5, S7, S9 Bellevue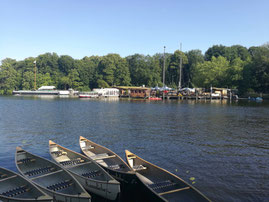 Klipper
Since 2001 this boat restaurant KLIPPER is located in Berlin, directly at the Treptower Park. Their chefs prepare a culinary mix of ingredients fresh from the market. Their kitchen also offers breakfast daily from 10:00–16:00. Little inside: They have a smokehouse, so I can only recommend to try anything smoked!
Besides dinners on the boat restaurant they offer boat tours on too. Just have a look and enjoy your day offline on the water of Berlin..
Segelschiffrestaurant KLIPPER, Bulgarische Straße, Ecke Poetensteig, 12435 Berlin (Plänterwald), +49 30 53 21 64 90, info@klipper-berlin.de, www.klipper-berlin1.jimdofree.com, station: S8, S9, S85 Plänterwald, daily 10:00–1:00