Berlin is definitely a city of readers. Whenever it is winter and I am not riding my bike but instead I take the U-Bahn or S-Bahn, I feel like I am surrounded by people reading their books. Real books are the most common (yes, real paper), but I also see people using electronic devices or their phones (don't think then that the smart phone generation is just engaged to see what's going on their social networks). But the last not digitalised media is still existing and I think it is truely beautiful to sit down on my couch on a Sunday and open my book and just read. So here are my top 5 bookshops of Berlin, where you can find wonderful reading material ;).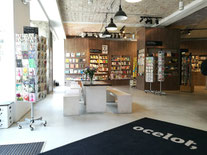 Ocelot, not just another bookshop
Like the name of the shop suggests, Ocelot is not the usual bookstore. Situated in Mitte next to the very nice and small Weinbergs park. I thoroughly recommend the following for the day: go to have lunch or brunch in one of the very tasty restaurants in the area, buy a book and sit at the fountain in the park to take in the sun and read. You can find a lot of choices, the children section is my favourite and I already bought lot of books for my nephews. They have lot of choices also in English, so do not worry to find one of your favourite book there. You can find also a very nice coffee shop nearby.
Brunnenstraße 181, 10119 Berlin (Mitte), +49 30 97 89 45 92, www.genialokal.de, Station: U8 Rosenthaler Platz, Mon–Sat 10:00–20:00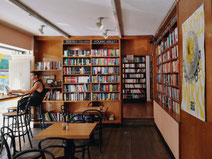 Shakespear and Son
If you want to put together bagels, books and co-working space this bookstore is the place to be. Situated in the vibrant Friedrichshain neighbourhood, in one of the more important streets, Warschauerstrasse and you've had enough of partying, you can find peace and good food in this place. It is very large, looks like a library hall, with very big window where you can watch the bike riders and of course a very large selection of English books. Still haven't bought any books there but tried their bagels , the best ones I tasted outside of New York!
Warschauerstraße 74 ,10243 Berlin (Friedrichshain), www.shakesbooks.de, Station: U5 Frankfurter Tor, U1, U3, S3, S5, S7, S9, S75 Warschauerstraße, daily 8:00–20:00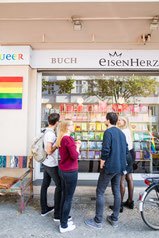 Bookshop Prinz Eisenherz
If you want to dig into some special literature and discover a special place in Berlin then Eisenherz is the place you are looking for. Especially true if you want to know more about queer culture and literature you will have a lot of choices. It is also a place with it's own interesting history. It opened in 1978, yes 40 years ago, in a very important moment for the gay movement in Berlin and created one of the most known gay neighborhood in the world, Schöneberg. No books to suggest in this case, but an entire section, the erotic one. Have fun!
Motzstraße 23, 10777 Berlin ( Schöneberg), +49 30 31 39 936 www.prinz-eisenherz.com,Station: U1, U2, U3, U4 Nollendorfplatz, Mon–Sat 10:00–20:00
In this bookshop you can also buy the QueerBerlin map ;).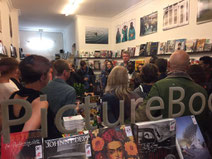 Picture Books
If you are not in Mitte, but in my favourite hood, Neukölln, then you have to go to Picture Books. You'll find the familiar style for design, art, graphics and kitchen books, but also a very important section of illustrated book for children's. It is a very small one and very recently opened. I would suggest taking a book or a magazine and walk through the street to one of the nice living room cafes with handmade cakes and read your book there. I would recommend Seydou Keita's photography book.
Friedelstraße 26, 12047 Berlin (Neukölln), +49 30 627 32 543 www.picturebooksberlin.com, Station: U8 Schönleinstraße, Mon–Fr 12:00–19:00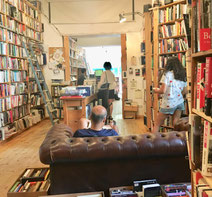 Saint George's
Now it's time to talk Prenzlauer Berg and this very cosy little store crammed with English books, old and new, from fiction to non-fiction. The owners opened shop in 2003 when Berlin was still an idea and Prenzlauer Berg was at the beginning of big changes. The store focuses on philosophy, theory, fiction and German history and you can also find a poetry section. They have almost daily shipments from the UK and US, so you can order books that will arrive in a flash. If you are a book worm Saint George's is definitely worth a visit.
Wörther Straße 27, 10405 Berlin (Prenzlauer Berg), +49 30 81 79 83 33, www.saintgeorgesbookshop.com, Station: U2 Senefelder Platz, Mon—Fr 11:00—20:00, Sat 11:00—19:00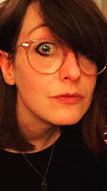 Author: Carmela was born in Sicily 34 years ago. She moved out from her tiny village at the age of 20 and lived in Italy and around Europe. She considered herself a nomadic until she decided to move to Berlin seven years ago. When she does not buy a book she feels lost and even if she can't read it all she loves to accumulate them on her reading desk and look at them like they are her next goal in life. If you would take away good food and good wine from her life she would literally die. She works in a hotel for the last two years so if you're looking for a place where to sleep and for the best advice on Berlin give her a ring. "Dream dream my daughter" her father used to say, and this is now her motto in life.