When birthday parties and bar hangs aren't possible during the novel coronavirus lockdown, care packages can be one way to pass along some joy to loved ones. And with no more dine-in service, many local restaurants and cafes are supplementing their business by offering boxed breakfast sets to boost sales during the corona. Whether sending somebody — or yourself — a pick-me-up treat, here are a few breakfast boxes  that may feel more celebratory than a standard grocery order. See our "Top 5 breakfast boxes during lockdown" below.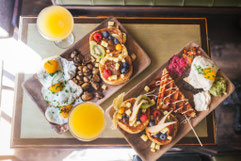 Geist im Glas
If I had to choose one breakfast spot in Berlin to eat for the rest of my life, it would have to be Geist im Glas! On weekends you can even enjoy the full delicious experience right from the comfort of home. I recommend their chicken and waffles or their Kimchi Florentine (available for limited time only!). And if you need some booze for the weekend, they offer fabulous drinks too! Place your order through their website, Instagram account or the delivery service Khora Berlin, a collective that delivers food exclusively by bike.
Geist im Glas, Lenaustraße 27, 12047 Berlin (Neukölln), +49 177 40 14 538, geistimglasberlin@gmail.com, www.geistimglas.de, Station: U8 Schönleinstraße or U7, U8 Hermannplatz, Sat, Sun 10:00–14:00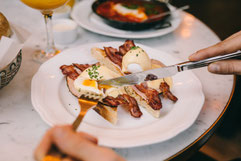 Benedict Berlin
Maybe you crave stuffing your tummy with everything an indulgent breakfast has to offer? Well, I got you covered! Benedict Berlin offers a bunch of different breakfast boxes for every craving. You can pick up the boxes within an hour of ordering online or during a preferred time frame at their restaurant in Charlottenburg. Their boxes are for 3 to 4 people and mostly include their incredibly delicious pancake stacks for example.
Benedict, Uhlandstraße 49, 10719 Berlin (Charlottenburg), +49 30 99 40 40 997, www.benedict-breakfast.de, Station: U3 Hohenzollern Platz, Wed–Tue 10:00–19:00, pic by Markus Braumann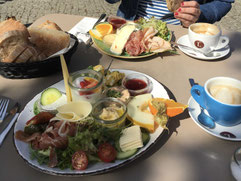 Lula Deli & Grill
Lula Deli isn't just famous for their moist cinnamon rolls, but also for their sweet and savoury breakfast dishes. During spring and summer, I enjoy sitting out front of their cafè and watching the Friedenauer people passing by. To bring home some of this cozy feeling, Lula Deli offers their breakfast in boxes you can enjoy at home. You can find their breakfast menu on their website or Instagram account.
Lula Deli & Grill, Lauterstraße 14–15, 12159 Berlin (Friedenau), +49 30 85 10 57 89, www.lula-berlin.de, Station: M48, M85 Breslauer Platz, daily 9:00–15:00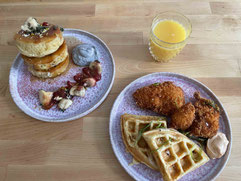 Eigengrau
Whenever I open my Wolt delivery app, there's one café/bar that always pops up first: Eigengrau. Scanning their menu, I was delighted to find eggs benny in every conceivable variation, fluffy Japanese pancakes and even several vegan options. You can even order breakfast all day long. Who says you have to eat breakfast in the morning?
Eigengrau, Skalitzer Straße 45, 10997 Berlin (Kreuzberg), +49 30 28 63 81 23, www.eigengrau-bar.de, Station: U1, U3 Görlitzer Bahnhof, Tue–Fr 12:00–23:00, Sat 11:00–23:00, Sun 11:00–22:00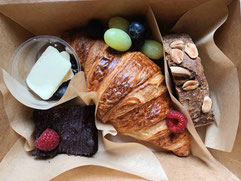 Café Flo
Café Flo just recently stepped into the game offering breakfast boxes for self-pick up. Just drop them a DM via Instagram with your preferred box a day in advance. Right now they offer 3 different boxes: the breakie box vegan, the breakie box sweet and the breakie box classic. And if you get the chance, grab one of their creamy matcha croissants on top!
Café Flo, Eberswalder Straße 29, 10437 Berlin (Prenzlauer Berg), www.instagram.com/cafefloberlin, Station: U2, M10 Eberswalder Straße, Tue–Fr 9:00–16:00, Sat, Sun 10:00–17:00
---
The CoffeeBerlin map is a must-have for all true coffee enthusiasts! Featuring experimental conceptual coffee laboratories like Happy Barista, artistic cafés like Oslo Kaffebar and minimalist modern coffee shops, I hope my list will satisfy all your coffee needs, whilst providing three walks to explore Berlin thus combining a good read, art and exercise with always the guarantee of one or two excellent coffee pit stops. The CoffeeBerlin map will support a journey of discovery as you explore this vibrant city; shaped by its unique history, cosmopolitan population, growing international tech scene and renowned laid-back, fun and welcoming attitude.
Nadine was born with an appetite and has an insatiable hunger for all things new and delicious. She's eating her way through Berlin, uncovering the cities hidden gems and spotting it's finest new additions with instincts only an Ur-Berliner could have. Keep an eye on her Instagram profile @hectoriousnaddel where her frequent tips will always leave you craving more.
Other awesome Coffee Spots in Berlin: