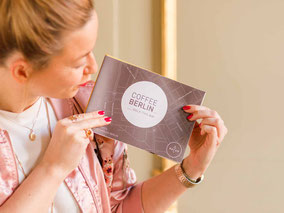 Brunch is a Big Deal in Berlin. On the weekends, cafes in the twelve districts of Berlin contain an endless sea of midday breakfast options, so it's not easy to tell which ones actually care about the food and the experience, or which are just serving some eggs and other brunch-y stuff to appease the masses. And of course, no one wants to travel far for the (kind of) brunch. With that in mind, here is a guide to excellent coffee and brunch, with options spread across Berlin - here are my 'Top 5 brunch places in Berlin'. Affordable, creative or straightforward. If you want to have more coffee recommendations check out my CoffeeBerlin map.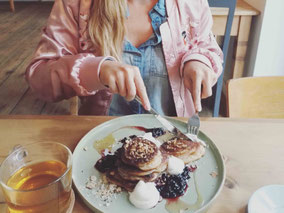 Brunch in Neukölln
Please reserve a table before traveling all the way to this lovely brunch place in Berlin Neukölln. This café is always packed. That could be because of the good cheese, the pretty dishes and its beautiful (very interesting) visitors? For brunch they serve plates, pancakes (which I highly recommend) or avocado and poached eggs. The owner Sarah is in the kitchen (it's an open kitchen so you can see) and prepares everything with love. If you can't make it for brunch, the dinner menu is also very charming. And coffee and sweet treats are available all day on the weekend. 
Hallmann und Klee, Böhmische Straße 13, 12055 Berlin (Neukölln), www.hallmann-klee.de, Station: S41, S42 Sonnenallee, lovely on the weekend!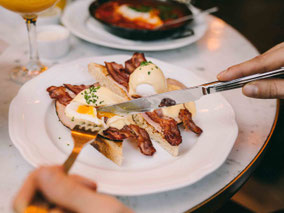 Brunch in Charlottenburg
You like a shakshuka, Croque Madame or avocado Bagel? Then café Benedict is the right place for you. But attention please on weekends you should reserve a table. Otherwise the Russian breakfast Zar's Delight, the Mini-Banana Pancakes and Eggs Benedict are to be recommended.
Benedict Berlin, Uhlandstraße 49 10719 Berlin (Charlottenburg), +49 30 99 40 40 997, www.benedict-breakfast.de, Station: U3, U9 Spichernstraße, open 24 hours long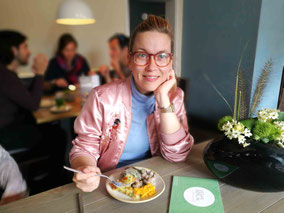 Brunch in Berlin Mitte
If you are searching for brunch places in Berlin Kopps is a must for every vegan gourmet. Be wowed by their innovative creations made from seasonal, organically farmed veggies and lots of love for detail. Tip: stop by early evening for their 'come together's' and get a great deal on 3-courses. Or come for their excellent weekend-brunch.
Kopps Berlin, Linienstraße 94, 10115 Berlin (Mitte), +49 30 43209775, kontakt@kopps-berlin.de, www.kopps-berlin.de, Station: U8 Rosenthaler Platz, Mon, Wed, Thu 12:00–24:00, Fr–Sun 12:00–2:00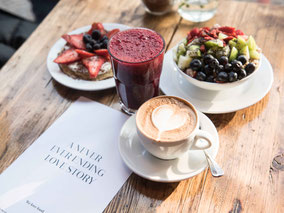 Brunch in Berlin Charlottenburg
Who is always searching for the never-ending love story? Rosé colored walls, rustic wooden tables and benches are waiting at this establishment for guests. In the mornings the café is crowded but the wait is definitely worth it. When the sun is shining you can even sit outside and enjoy its delightful coffee.
A never ever ending love story, Bleibtreustraße 5, 10623 Berlin (Charlottenburg) Station: S3, S5, S7, S9 Savignyplatz, daily 9:00–15:30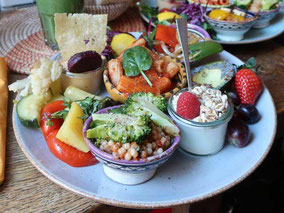 Brunch in Berlin Prenzlauer Berg
Prepare yourself for all the happy vibes, colorful coziness and flavor explosions! The unique combo of Senegalese and Italian vegan foods, that are grounded in the origin of the owners, you won't get anywhere else and you will surely crave when you're gone. AtayaCaffe is one of my favorite brunch places in Berlin Prenzlauer Berg :D.
AtayaCaffe, Zelterstraße 6, 10439 Berlin (Prenzlauer Berg), +49 30 33 02 10 41, info@atayacaffe.de, www.atayacaffe.de, Station: S8, S41, S42, S46 Prenzlauer Allee, Tue–Thu 10:00–18:00, Fr–Sun 10:00–20:00
---
The CoffeeBerlin map is a must-have for all true coffee enthusiasts! Featuring experimental conceptual coffee laboratories like Happy Barista, artistic cafés like Oslo Kaffebar and minimalist modern coffee shops, I hope my list will satisfy all your coffee needs and help you find the perfect breakfast or brunch place, whilst providing three walks to explore Berlin thus combining a good read, art and exercise with always the guarantee of one or two excellent coffee pit stops. The CoffeeBerlin map will support a journey of discovery as you explore this vibrant city; shaped by its unique history, cosmopolitan population, growing international tech scene and renowned laid-back, fun and welcoming attitude.
Other awesome Coffee Spots in Berlin:
If you want to find more organic markets in Berlin, check out my folding maps BertaBerlin and QueerBerlin. They are available in well-chosen locations all over Charlottenburg, Neukölln, Kreuzberg, Mitte and Prenzlauer Berg in Berlin and online. But for those of you, who want to stay up to date, feel free to follow me on INSTAGRAM, FACEBOOK or register for my NEWSLETTER BertaNews.