If you want to discover more secret spots and hidden gems of Berlin Neukölln, crafted so you can explore Berlin with ease by way of simply suggested city walks or more spontaneous choose-your-own-adventure routes, you can also check out my BertaBerlin map of Neukölln.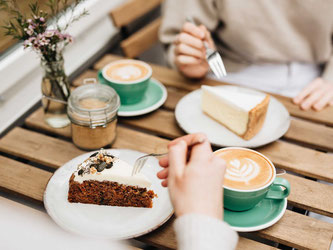 Wilke  
At Café Wilke you can sit, drink coffee, cappuccino or tea, work or just relax. The Wilke gets its coffee from Fjord Coffee Roasters, a roastery in Kreuzberg. Their carrot cake is freshly baked and very tasty! If you like it hearty, you should order Carolin's classic avocado toast or the open-faced sourdough sandwich with beet and feta cream, sautéed mushrooms and a poached egg. While the classics remain, the menu changes often enough to give you a reason to make Wilke your regular. Everything here is homemade - that applies to the food as well as to the furnishings. The interior is simple and restrained, but seems anything but cold. The many wood, plants and the colorful meadow bouquets give the Wilke a warm atmosphere. 
Boddinstraße 10, 12053 Berlin (Neukölln), Station: U8 Boddingstraße, Tue–Fr 9:00–17:00, Sat–Sun 10:00–17:00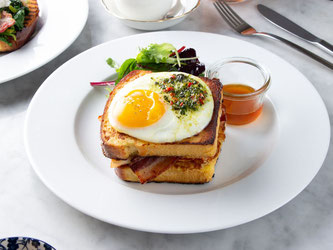 YaMe NumNums 
YaMe NumNums combines the best of both worlds. Brunch classics are paired here with Southeast Asian ingredients and influences. What does that mean exactly? Sourdough bread meets avocado, chili and Thai basil, for example. Some dishes are based on old family recipes. The other dishes, such as the insanely fluffy coconut milk pancakes with coconut sorbet, the okonomiyaki, a savory Japanese pancake, or the French toast with kimchi are at least inspired by the connection to Asia. It's not only different, it's also incredibly delicious. The interesting mix also continues with the drinks. The café describes its menu itself as "modern brunch with a Southeast Asian twist." 
Flughafenstraße 46, 12053 Berlin (Neukölln), www.yamenumnums.com, Station: U7 Rathaus Neukölln, Sat 10:00–17:00, Sun 10:00–15:00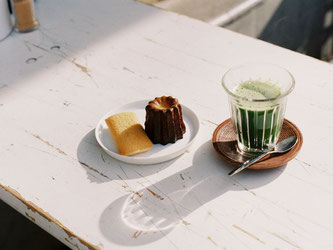 Two and Two
It's the mix that does it. This café not far from Sonnenallee in Neukölln is as unusual as it is delicious. Eri from Tokyo and Tose from Paris, have created a place in Berlin where you can enjoy authentic French pastries and food while browsing exclusive Japanese stationery and coffee-making equipment. The cannellés - a sweet specialty from Bordeaux - are particularly popular. All the dishes are homemade, but of course the coffee is also impressive. At Two and Two, you get the feeling that even regular filter coffee is an absolute highlight. Besides coffee specialties, there is also a whole range of other drinks like juices and teas. The store itself convinces with its attention to detail and the friendly staff always has a smile on their faces.
Pannierstraße 6, 12047 Berlin (Neukölln), www.twoandtwoberlin.com, Station: U7, U8 Hermannplatz, daily 11:00–18:30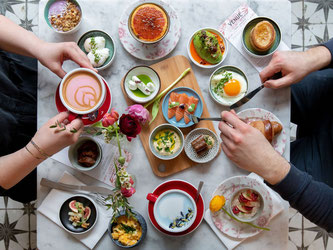 Venue Café & Bistro
The Venue café offers breakfast and brunch, you can compose your breakfast individually in tapas-style. From sweet to salty - whether pancakes with caramel sauce, scrambled eggs with bacon or black vegan croissant - there is something for every taste. The so-called 'Morning Plate' consists of delicacies such as green vegetables, egg dishes, yoghurt, bacon and fish or e.g. waffles. The breakfast tapas are then served individually in small bowls so that each course is skilfully presented.  In the venue, patterned tiles in vintage look, a green wooden counter, a floral wallpaper in coral, decorative mirrors and eucalyptus as a small table decoration provide a nice ambience.
Weserstraße 172, 12045 Berlin (Neukölln), Station: M41 Fuldastraße, daily 10:00–17:00, breakfast 10:00–15:00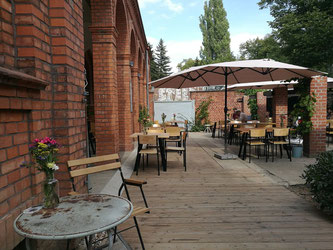 21 gramm cafe
The 21gram is different and that starts with the location. The café is located in a former cemetery chapel, in the middle of Berlin Neukölln, away from the busy streets. Here nothing is ordinary: In a beautiful courtyard and a graceful chapel with high ceilings you can enjoy extraordinary breakfast and a good strong coffee. It is a casual, traditional restaurant with brick terrace, cocktails, bar snacks and all-day brunch. What delicious things are served there? A select range of breakfast specialties, around the clock. So breakfast lovers like me can choose from salmon, porached eggs and avocado on sourdough bread and pancake specialties with warm fruit all day long. Coffee lovers will find everything their heart desires.
Hermannstraße 179, 12049 Berlin (Neukölln), www.21gramm.berlin, Station: U8 Leinestraße, Tue–Thu 10:00–22:00, Fr–Sun 10:00–23:00