Prenzlauer Berg, also known as "Prenzlberg," transformed itself after reunification into a trendy district and then into a well-situated family district. Trendy cafés, pubs, restaurants, bars and clubs turn day into night and also make the district a tourist magnet. The areas around Kollwitzplatz and Helmholtzplatz are particularly popular. The district is the largest contiguous area of old Wilhelminian-style buildings in Germany. Discover the cozy cafés in that area and know where to rest after a great walk through the picturesque squares and streets with thoroughly renovated blocks of houses, along with green spaces with playgrounds.
To make the choice a little easier for you, we have searched for the hidden gems of Berlin Prenzlauer Berg in my BertaWalks App I will also design a walking tour through Berlin Prenzlauer Berg for you. If you want to stay up to date, register for my BertaBerlin newsletter! For now I would like to introduce you to my Top 5 cafes in Berlin Prenzlauer Berg.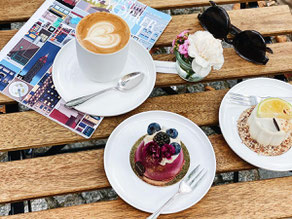 Café be sweet
Enjoy an incomparable 100% vegan patisserie making French pastries like tarts, pies, and mini cakes, accompanied by tasty coffee and hot chocolate. The best is to come with some friends, so you can share the pastries and tartelettes and try more of them. All cakes and cupcakes are handmade with love from the best natural ingredients. 
Through the online store you can also easily customize your cake. Cakes without gluten and without sugar, as well as cakes made in the raw food process are also part of their assortment. If you love chocolate as much as I do, for sure you should try the "Schwarzwälder Kirsch Kugel" or the "Saftige Sünde", it's beyond delicious!
be sweet, Kollwitzstraße 37, 10405 Berlin (Prenzlauer Berg), +49 177 5733669, info@be-sweet.store, www.be-sweet.store, Station: U2 Senefelder Platz, online-shop, Wed-Thu 13:00-19:00, Fri 12:00-19:00, Sat 10:00-19:00, Sun 11:00-18:00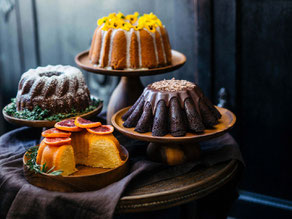 Café dilekerei
The name of this outstanding café is a wordplay of the owner's name Dilek and Leckerei (=yumminess) and Bäckerei (=bakery). It's a perfect place for everyone, for old and young, for international guests, as well as local guests. 
The cakes drive every sweet tooth crazy, her self-painted cookies are far too beautiful to eat and her café is as cozy as grandma's living room. Only by passing by and looking into the window you won't probably be able to resist. All the cakes, tartes, cupcakes are a work of art and definetely worth a sin. If you can't get enough of it, you can buy her baking book with her favorite recipes and try them at home. 
dilekerei, Eulerstraße 11b, 13357 Berlin (Prenzlauer Berg), +49 30 92900122, info@dilekerei.de, www.dilekerei.com, Station: U8 Pankstraße, S1, S2, S8, S25, S26  Bornholmer Straße, online-shop, Sat-Sun 12:00-18:00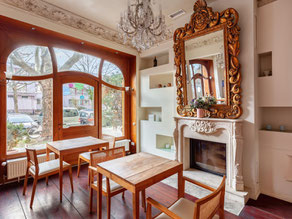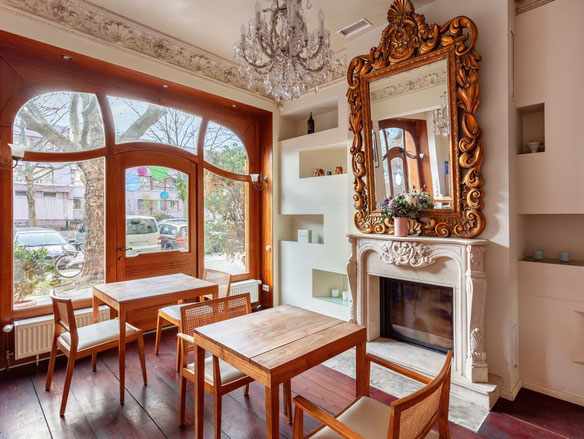 Marie's Café
Hidden behind an old wooden storefront in Prenzlauer Berg you will find Marie's cozy café, where she uses her passion for baking to delight you wiht her sweet creations like the Tarte au Chocolat, Carrot Cake, and Grapefruit Bun. Watch out for the addictive potential! Also delicious and homemade are the pear jam, granola and savory (vegan) dips to complement the bread from an organic bakery. On the weekends, a Boozy Brunch with eggs benedict and a breakfast burger sgould be your first choice, accompanied by a delicious coffee of course. The sunlit terrace also invites you to a enjoy a cup from her selected wines. The perfect location to slowly let your day end in a very relaxed atmosphere.
Marie's Café, Belforter Str. 24-25, 10405 Berlin (Prenzlauer Berg), +49 30 44337683, mariescafe24@gmail.com, www.mariescafeberlin.com, Station: U2, Senefelder Platz, online-shop, Tue-Sun 8:30-16:00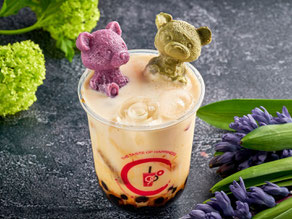 90 Degree C Bubble Tea & Café
90 Degree C invites you to enjoy "the taste of happiness". The design of the interior itself is already outstanding and rare to find. The wall painting and the neon lights are just super cool and create a great atmosphere. Here you can sit comfortably with friends and enjoy the bubble tea or even Japanese cheesecake or small pancakes. The bubble tea itself, if you drink it on the spot, is served in eco-friendly glasses and with metallic stainless steel straws. The varieties offered are definitely something special, something different than the standard that you know from other bubble tea stores and of course you can choose other toppings to your bubble tea. Apart of that you can influence the taste by determining the amount of sugar and ice yourself. Really yummy!
90 Degree C, Novalisstraße 1 Ecke, Torstraße 207, 10115 Berlin, +49 174 9401742, 90degree.de@gmail.com, www.90degree.de, Station: U6 Oranienburger Tor, online-shop, Mon–Sun 12:00-20:00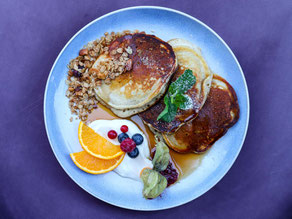 Greenfinch
I first visited the Greenfinch facilities in Bötzowkiez when they still resembled a construction site. Vincent - owner and face of the café - and his esprit made it easy to sense the positive atmosphere even then. In the meantime, Greenfinch has established itself as a vegan café that stands out above all for its individual interior. The legendary Memphis style of the 1980s gives the place a fresh atmosphere. For brunch, pancakes, toasted banana bread with peanut butter and jelly, and fresh croissants are convincing. As lunch offerings they do have for example stuffed sweet potatoes. "We want to impart a conscious and sustainable lifestyle - without feeling like you have to give up anything" says Vincent. That's why the café concept is complemented with yoga classes and meditation that take place in the Greenfinch Backyard - and the option to co-work together is also designed to bring guests with a similar mindset together. I'm telling you: positive vibes.
Greenfinch, Käthe-Niederkirchner-Straße 10, 10407 Berlin, +49 30 7544 0225, www.greenfinch.berlin, Station: U2 Eberswalder Straße, S8, S42 Greifswalder Straße, online-shop, Tue-Fri 9:00-16:00, Sat 9:00-17:00, Sun 10:00-17:00