As it is World Chocolate Day I would like to show you some chocolate shops in Berlin. Lets celebrate chocolate especially the chocolate shops in Berlin, which makes this sweetener accessible to us.
Bring Berlin back home with a box of pralines or specialty candy from one of Berlin's top chocolate shops. These boutiques offer exceptional chocolate and can be found only in Berlin. Chocolates make great Valentine's Day and anniversary presents, but you can also enjoy something sweet while you are discovering Berlin.
Here are my Top 5 chocolate shops in Berlin. If you want to get to know Berlin and more hidden gems, you can also pick of one my maps, preferable my BertaBerlin map.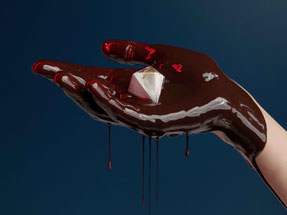 PARS Pralinen
With a PARS praliné you hold a very special delicacy in your hands, which stands for sensual seduction, as well as for a moment of pause. For enjoyment to unfold in all its dimensions, the ingredients are invaluable. The praliné is produced in the spirit of a sustainable agriculture. Except for few ingredients they get all the ingredients from farmers in the Berlin area. With PARS pralinés the artist Kristiane Kegelmann creates (abstract) individual chocolate with exciting flavor compositions by hand. At the moment you can get this gems in her chocolate shop online, but soon they will be available at KaDeWe.
PARS Pralinen, Schönleinstraße 6, 10967 Berlin (Neukölln), info@parspralinen.com, www.parspralinen.com, This online chocolate shop is open 24 hours ;)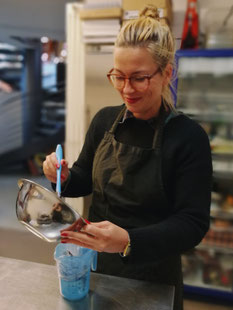 Dubenkropp Pralinen
Dubenkropp Pralinen & Schokoladen is a chocolate shop with a glassy chocolate atelier, where you can buy very delicate handmade truffles, enjoy a tasty hot chocolate or cappuccino in a warm atmosphere or take a workshop. You learn about milk chocolate, dark chocolate and what is important to look at when you buy chocolate. Sabine, the owner, also reveals her recipes how to make pralines which my friends and I did enjoy the whole week, as you can take them with you!
Grolmanstraße 20, 10623 Berlin (Charlottenburg), +49 30 31 38 33 0, info@dubenkropp.com, www.dubenkropp.com, Station: U2 Ernst-Reuter-Platz, Mon 12:00–18:00, Tue–Fr 10:00–18:00, Sat 10:00–14:00
Preußisch süß
Preußisch süß ("Prussian sweet") combines my love for chocolate as well as my sociological interest in Berlin. The 22 chocolate flavors try to catch the character and spirit of Berlin's different districts. Here you can figure out, how Moabit, Kreuzberg and other districts of Berlin taste like! To make the choose easier the chocolate bars are named like "Kreuzberg" or "Prenzlauer Berg". My personal highlight is that the chocolate bar "Wedding" is partly out of beer!
Wohlfarth Schokoladen (Gläserne Manufaktur und Geschäft), Choriner Straße 37, 10434 Berlin (Prenzlauer Berg), kontakt@preussisch-suess.de, www.preussisch-suess.de, Station: U2 Senefelder Straße, Tue–Fr 14:00–18:00, Sat 11:00–16:00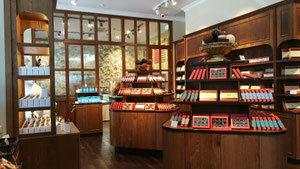 Rausch Schokoladenhaus
From fresh ingredients to mini tortes in the store and café you can buy lovely handmade chocolates. The mini tortes from their own patisserie are unrivaled in their variety and sophistication.
Charlottenstraße 60, 10117 Berlin, +49 800 03 01 918, www.rausch.de, Station: U2, U6 Stadtmitte, Café: daily 11:00–20:00, chocolate shop: Mon–Sat 10:00–20:00, Sun 11:00–20:00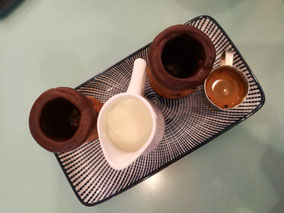 Cookies & Co
Mira and Ori bake really delicious, juicy and crispy cookies. Chocolate chip, white chocolate with cranberries, double chocolate with walnuts and organic peanut butter cookies, you name it. Just by looking at all these chocolate options, here you can enjoy something sweet while you're touring through Berlin. Chocolate and cocoa is from Callebaut and comes from Belgium. My favorite in this shop is the chocolate shot (cold or hot chocolate in a cookie form). Only in Berlin.
Senefelderstraße 4, 10437 Berlin (Prenzlauer Berg), cookiesandco.eatbu.com, Station: S41, S42, S46 Prenzlauer Allee, Wed–Fr 9:00–18:00, Sat–Sun 10:00–18:00
If you want to find more organic markets in Berlin, check out my folding maps BertaBerlin and QueerBerlin. They are available in well-chosen locations all over Charlottenburg, Neukölln, Kreuzberg, Mitte and Prenzlauer Berg in Berlin and online. But for those of you, who want to stay up to date, feel free to follow me on INSTAGRAM, FACEBOOK or register for my NEWSLETTER BertaNews.