Finding the perfect Christmas gift ideas for dad is always a challenge! What does he like... doesn't he like...what if he has it all already?! So in my case, I always search for an activity for my dad and I to do together! Hopefully, I can also help you find Christmas gift ideas for your dad. Here are my "Top 5 Christmas gift ideas for dad".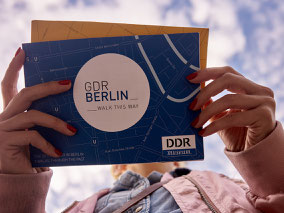 Christmas gift ideas for dad, who loves history
If your dad loves history and is interested in everyday life in former East Germany, tickets to the DDR Museum (Deutsche Demokratische Republik) would be a great Christmas gift idea for your dad. This museum on Berlin's museum island encourages its visitors to touch, feel, even interact with a wide range of GDR (German Democratic Republic) relics encompassing the Berlin Wall, the Stasi and much more. Maybe you could also find a free spot on their tours through Berlin, which are also highly recommend. If not you could gift him my GDR Berlin map for Christmas with three exclusive GDR walks (which you could walk together) and two tickets to the museum!
Karl-Liebknecht-Straße 1, 10178 Berlin (Mitte), +49 30 84 71 23 731, besucherbetreuung@ddr-museum.de, www.ddr-museum.de, Station: S3, S5, S7, S9 Hackescher Markt Sun–Fr 10:00–20:00, Sat 10:00–22:00, pic by Benjamin Egerland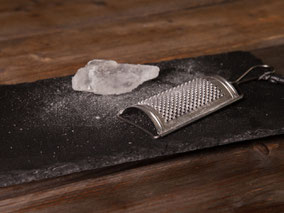 Von und zu Tisch at Christmas
One large table with many exquisite delicacies spread on top. Katerina and Sebastian Vetter run this little gourmet shop on Auguststraße, they painted the walls white and the shelves black, then filled the latter with finds from their distant travels. With their unique shop, they have given Berlin one of the most aesthetic delicacy stores, and the perfect place to find a Christmas gift idea for your dad. Everything is hand-picked: from olive oil directly drawn from Greek farmers, unparalleled Willams Christ "gold", creamy truffle moliterno, air-dried filet of Iberian pigs, African ducca, delicious walnut pesto or volcanic salt from Hawaii, to just name a few highlights. They also offer gift boxes to make your choice even easier, as well as this you can also book tastings in their delicacy heaven. During the evening you and your dad will try one or another delight for the first time. Get to know culinary rarities from different regions, without the travelling fare. If you can't find the perfect Christmas gift idea here, you won't find it anywhere ;).
Von und Zu Tisch, Auguststraße 52, 10119 Berlin, info@vonundzutisch.de, www.vonundzutisch.com, +49 30 24 62 68 97, Mon–Sat 12:00–19:30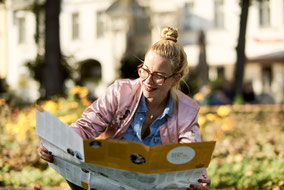 Perfect Christmas gift ideas for a dad who loves beer
As I published my second BeerBerlin map this year, I realised that beer fans do not only want to drink beer, they also want to fully experience its history and how it is produced. So if your dad is a beer fan (and you too), here is an amazing Christmas gift idea. At Marienpark you can find the DogTap Berlin, a brewery, taproom, and epic beer garden. Take your dad to this 2,500 m2 taproom: the ultimate beer-haven, pouring freshly brewed beer alongside epic food. They also have a range of beer-related activities available such as: Home Brew lessons, Olympic sized shuffleboards and brewery tours! So this Christmas why don't you wrap up a BeerBerlin Map with two tickets for their brewery tour for your dad accompanied with a nice refreshment afterwards in their taproom?!
Im Marienpark 23, 12107 Berlin (Marienfelde), dogtapberlin@brewdog.com, www.brewdog.com, Station: S2 Attilastraße, U6 Alt-Mariendorf, Mon–Thu 10:00–23:00, Fr 10:00–24:00, Sat 9:00–24:00, Sun 9:00–22:00, pic by Benjamin Egerland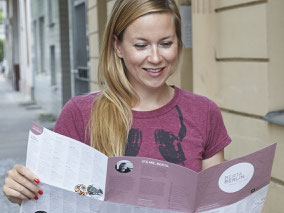 Berlin's underground as a Christmas gift idea!
If you are a Berliner, with family living in town, or if your dad is planning a trip to Berlin, why not invite them to a unique tour into Berlin's underground! "Berliner Unterwelten" offers different tours. You can go on a tour through the bunker of Humboldthain. The bunker in Humboldthain was not completely destroyed due to its proximity near the city railway. Tickets may be purchased on the day of the tour and only payment with cash is possible. The 'F' tour, for example, takes place in the Fichtebunker in Kreuzberg. It is the only surviving large bunker of its kind in Germany. In World War II the former gasometer was converted into a large bunker for families. Don't forget warm clothes as it is quite cold in the bunker. I recommend their tours on my BertaBerlin Kreuzberg or BertaBerlin Mitte – so maybe a Christmas gift idea for your dad is, purchase a map and besides the invite through the bunker tour plan a day trip with a dinner or lunch place close by.
www.berliner-unterwelten.de
pic by Maria Dominika
Christmas gift ideas for dad, who loves stars
Discover the universe and explore the stars with your dad this Christmas! Under its huge dome, the Zeiss Planetarium offers 360° planetarium programs where scientific findings are presented in an entertaining and artistic setting. Besides the comic crime stories "Drei Fragezeichen", you can see stars from antique Greece, explore sun system or familiarise yourself with the life cycle of stars. If your dad is interested in stars, you could invite dad to see a show at the planetarium and check out some more ideas on what to do close by the planetarium in my BertaBerlin Prenzlauer Berg.
Zeiss-Großplanetarium, Prenzlauer Allee 80, 10405 Berlin (Prenzlauer Berg), +49 30 42 18 45 10, www.planetarium.berlin, Station: S8, S41, S42, S85 Prenzlauer Allee, pic by Natalie Toczek
If you want to find more hidden gems in Berlin, check out my folding maps BertaBerlin and QueerBerlin. They are available in well-chosen locations all over Charlottenburg, Neukölln, Kreuzberg, Mitte and Prenzlauer Berg in Berlin and online. But for those of you, who want to stay up to date, feel free to follow me on INSTAGRAM, FACEBOOK or register for my NEWSLETTER BertaNews.