It's the most wonderful time of the year, but also stressful. Luckily for my readers, I can help with some Christmas gift ideas! In November I will be publishing four articles about where to search for affordable Christmas gift ideas and grand experiential Christmas gift ideas from Berlin's attractions, which you can visit together as a Christmas present! Consider me as your personal (Christmas gift idea) elf! This week we start with "Top 5 Christmas gift ideas for her"!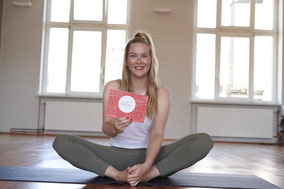 Hotpod Yoga as a Christmas gift
A lovely Christmas gift idea for her - from my perspective - is a yoga class which can be done together. If you are a first timer, its the hotpod looks like a bouncy castle and it's kind of dark inside (so no one really sees you ;). With 37 degrees, the heated hotpod makes your heartbeat, but it's not as hot as  other hot yoga classes! Expect to be transported a million miles from the world outside into the perfect hot yoga environment. What better Christmas gift idea is there where you can do some activity together and stay healthy during winter at the same time! They offer single tickets but also class passes. When you leave the studio on the right there is a falafel shop in which you can get Berlin's best rice pudding, better then a Christmas cookie ;). The gift could be combined or expressed by combining my YogaBerlin map with even more activity recommendations!
Hotpod Yoga Berlin, Karl-Marx-Straße 75, backyard, 4th floor 12043 Berlin (Neukölln) www.hotpodyoga.com, Station: U7 Rathaus Neukölln, pic by Maria Dominika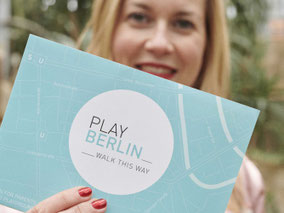 Visiting the Naturkundemuseum
As I love Christmas, I always think of awesome Christmas gift ideas ahead of time and a gift does not always have to be a product. In my case I love to gift my maps combined with a visit of a place. If the person you are looking for a Christmas gift idea has kids or loves to explore nature history, the Naturkundemuseum is the place to be! The tyrannosaurus rex in this museum is the Michael Jackson of dinosaurs. It is the only original skeleton of a T-Rex on display in Europe. But there are many more exciting exhibits, and the palace of the museum (1889) has a long history of its own. This museum is also recommended in my PlayBerlin map, where you will find even more tips for families and which could be wrapped combined with tickets to the Naturkundemuseum in some Christmas wrapping ;).
Naturkundemuseum, Invalidenstraße 43, 10115 Berlin (Mitte), +49 30 20 93 85 91, info@mfn-berlin.de, naturkundemuseum.berlin, Station: S1, S2, S25, S26 Nordbahnhof, Tue–Fr 9:30:00–18:00, Sat–Sun 10:00–18:00, pic by Maria Dominika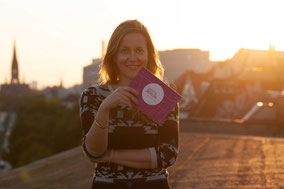 Visit an art exhibition
If she likes art and exhibitions a nice Christmas gift idea for her could be inviting her to the C/O Berlin gallery, maybe even combining it with a guided tour! This exhibition venue for photography and visual media shows is the perfect Christmas gift idea. It displays works by renowned artists and promotes emerging talent. You can check the website for exhibition tours.
At their bookshop is some awesome reading material, where you can maybe find another Christmas gift idea for her! Of course here you can also buy my BertaBerlin Charlottenburg to round up your Christmas gift and create a lovely day in Charlottenburg. After the visit at C/O Berlin you could for example stroll to Café Kranzler and enjoy a coffee with a Christmas cookie and enjoy the fabulous view over the Kurfürstendamm from there.
in Amerika Haus, Hardenbergstraße 22–24, 10623 Berlin (Charlottenburg), Station: U2, U9, S3, S5, S7, S9 Zoologischer Garten, daily 11:00–20:00, pic by Marcel Dykriet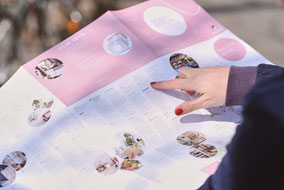 Finding some beautiful Christmas gifts
If you want a beautiful Christmas gift idea for you, you will most definitely find it with Karin and Fabian at Urban Cosmetics Berlin! This brand stands for handmade, vegan and cruelty free natural cosmetics. All products are unisex (suitable for all skin types), and made by selected ingredients of natural organic origin, manufactured in Berlin. They welcome their guests with their own mixed beauty teas and freshly squeezed wheatgrass juice. Why not give her a little bit of wellness by buying bath salts with coconut milk, rosemary and rose petals or the three-step facial care set which includes a facial cleanser, a hyaluron moisturizing serum and a facial raspberry seed oil! You can also get the BeautyBerlin map with even more beauty tips in Berlin at here. If you are hungry now, the Markthalle Neun is not far, especially on Thursdays you will have a lot of delicious food options!
Urban Cosmetics Berlin, Lausitzer Platz 11, 10997 Berlin, +49 30 23 56 69 17, office@ucberlin.com, www.ucberlin.com, Station: U1, U3 Görlitzer Bahnhof, Tue–Fr 12:00–19:00, Sat 11:00–17:00, pic by Maria Dominika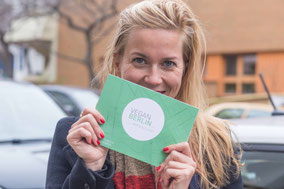 Get inspired at Berlin's biggest concept-store
If she is into fashion, but sustainably, then LOVECO would be a great Christmas gift idea for her. Filled with energy, it is Berlin's biggest concept-store for eco-fair vegan fashion. The aesthetic interior, an amazing swing hanging in the middle of the shop and smiley staff just make you wanna stay. Clothes, jewelry, accessories - everything they sell is hand-selected. If you're not sure, why not make Christmas gift a joined visit of the shop and have dinner at Wildeküche afterwards! If you want more vegan recommendations for Berlin, you can also get the VeganBerlin map to get more Christmas gift ideas.
Manteuffelstraße 77, 10999 Berlin (Kreuzberg), hello@loveco-shop.de, www.loveco-shop.de, Station: S3, S5, S7, S8, S41, S42, S75, S85 Ostkreuz, Mon–Fr 12:00–20:00, Sat 11:00–19:00, pic by Gili Chen for Adira be fearless
If you want to find more hidden gems in Berlin, check out my folding maps BertaBerlin and QueerBerlin. They are available in well-chosen locations all over Charlottenburg, Neukölln, Kreuzberg, Mitte and Prenzlauer Berg in Berlin and online. But for those of you, who want to stay up to date, feel free to follow me on INSTAGRAM, FACEBOOK or register for my NEWSLETTER BertaNews.