Christmas is always a time where people start running around in shops and trying to get the best products, so I wrote my "Top 5 Christmas gift ideas for mom" to show also what activities work well as Christmas gifts! I hope you get inspired!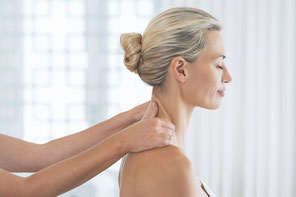 Christmas beauty gift ideas for mom
If you want to relax and recover, you and your mom should enter the feel-good atmosphere of the NIVEA Haus in Berlin. Besides a huge versatile range of beauty products, they also offer wellness and beauty treatments. Various manicures and pedicures round off the wide range of body massages and nourishing cosmetic treatments. I tried the massage with my mom as a Christmas gift idea, but next time we will try the manicure together. Here you will also find the ideal place for Christmas gift ideas for your mom but I also recommend the "Latte Massagio" (a coffee with a massage), to recover from any Christmas stress. This place as well as some other beauty tips can be found in my BeautyBerlin map!
Nivea Haus, Unter den Linden 28, 10117 Berlin (Mitte), +49 30 20 45 61 60, www.nivea.de, Station: U55, S1, S2, S25, S26 Brandenburger Tor, Mon–Sat 10:00–20:00, pic by Tom Gläser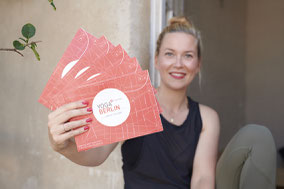 Christmas gift ideas for mom, who loves yoga
If you want to gift your mom a day off, but are on a budget for Christmas gift ideas, here is my suggestion: If your mom likes yoga – the City West Store of lululemon offers free yoga classes on Thursdays from 18:30-19:30. Afterwards you can browse through Kurfürstendamm, enjoy the best Cheesecake in town at Cheesecake Princess or invite your mom to a coffee at café Kranzler. As it is a very well recognized coffeehouse in West Berlin and situated with a 360 degree view over Kurfürstendamm, you can watch the hustle and bustle of Berlin.
More yoga studios to explore in Berlin can be found in my YogaBerlin map. I did, for example, gift her map and let her choose to which studio / type of yoga class your mom wants to go to.
Kurfürstendamm 24, 10719 Berlin (Charlottenburg), +49 30 72 61 69 14, citywest-store@lululemon.com, Facebook: lululemonBerlin, Station: U2, U9, S3, S5, S7, S9 Zoologischer Garten, Mon–Sat 10:00–19:00, pic by Maria Dominika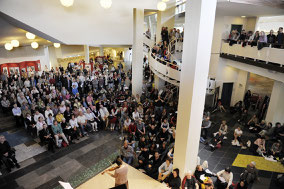 Musical Christmas gift ideas for mom
If your mom loves music, she most likely would be amazed to be invited to the Berliner Philharmonie! In my BertaBerlin Mitte and Neukölln map you could also find some more tips what to do for Christmas, and also what to do before and after a concert in this established city landmark. You can check for concert online. If you are on a budget, I have another tip for you, every Tuesday at 13:00 they offer a Lunch concert for free, no registration needed.
Berliner Philharmonie, Herbert-von-Karajan-Straße 1, 10785 Berlin (Tiergarten), www.berliner-philharmoniker.de, Station: U2, S1, S2, S25 Potsdamer Platz, free concert: Every Tuesday at 13:00, pic by Stefanie Loos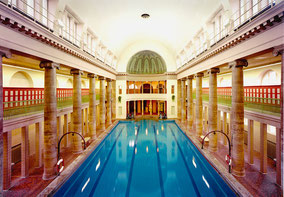 Wellness Christmas gift ideas
Why not celebrate Christmas for mom with a girl's night out?! Stadtbad Neukölln is one of Berlin's most beautiful places to swim and sauna! Since 2009 the historic swimming pool has been open in new splendor. The swimming hall is high and spacious, adorned with high columns and mosaics. Try Monday, as it is women day from 12:00–22:30. As German winter can get very could, you could even buy 10-er tickets ;). This unique place among other hidden gems in Neukölln, can be found on my BertaBerlin Neukölln map, perfect to find ideas for a gift or to be used as a Christmas gift ;).
Stadtbad Neukölln, Ganghoferstraße 3, 12043 Berlin (Neukölln), www.berlinerbaeder.de Station: U7 Rathaus Neukölln, Monday is women day from 12:00–22:30, pic by Große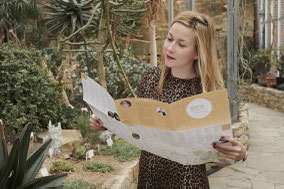 Relaxing dinner as a Christmas gift idea for mom
Nowadays, spending time together with mom is the best Christmas gift idea. Probably the best spot in Moabit for a nicely plated fine dining experience is the Restaurantschiff Patio! The ship restaurant is located on the river Spree with a fantastic view and neatly served food but still kept young with all the service staff. In summer you can enjoy the beautiful sunset drinking wine on the deck, in winter you can sit around the cozy fire places on the upper- and lower deck. This restaurant and more tips close by are to be found in my MoabitBerlin map, which is of course also a nice Christmas gift itself for mom or anyone else! ;)
Schiffsrestaurant Patio, Helgoländer Ufer / Kirchstraße, 10557 Berlin (Moabit), +49 30 40 30 17 00, info@patio-berlin.de, www.patio-berlin.de, Station: S5, S7, S41, S42, S46 Beusselstraße, Mon–Sat 17:30–23:00, Sun 15:00–23:00, pic by Maria Dominika
If you want to find more hidden gems in Berlin, check out my folding maps BertaBerlin and QueerBerlin. They are available in well-chosen locations all over Charlottenburg, Neukölln, Kreuzberg, Mitte and Prenzlauer Berg in Berlin and online. But for those of you, who want to stay up to date, feel free to follow me on INSTAGRAM, FACEBOOK or register for my NEWSLETTER BertaNews.