A night at the movies is a common past time for many, so if you're wondering which cinema to visit this week then I've found just the places for you! Support small, local cinemas with stunning interiors, exciting film programmes and relaxed atmospheres. Berlin is home to many incredible hidden cinemas and I've listed 5 of my favourites to share with you and inspire you to discover the best cinema spots in the city. Keep reading for my top 5 cinemas in Berlin!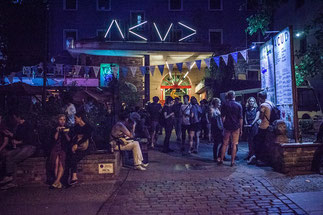 Acud
In 2014, the initiative 'Acud macht neu' saved the Kunsthaus Acud from bankruptcy and has since set in motion interdisciplinary projects in their cinema, gallery and club. The Acud theatre organises festivals and initiates multicultural events on political themes as well as making precarious experimentation possible. At this cinema location, you also find the Max Fish bar with its beer garden. 
Veteranenstraße 21, 10119, Berlin (Mitte), info@acudmachtneu.de, www.acudmachtneu.de, Station: U8 Rosenthaler Platz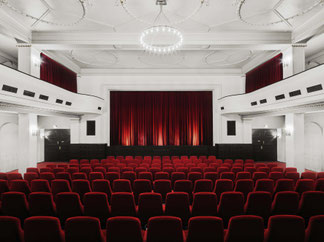 Passage
This cinema, famous for its central chandelier is adorned with red velvet and golden stucco features. The Passage cinema is undoubtedly a darling of the historical scene of Neukölln, Berlin. The cinema is located behind the big round arch windows of 1910's buildings and is situated close to the Neuköllner Oper and Heimathafen. In any of the four halls, visitors can watch original versions of many films. This cinema also offers a children's programme most mornings too, have a look at their website for more information.
Karl-Marx-Straße 131, 12043, Berlin (Neukölln), +49 30 68 23 70 18, www.yorck.de/kinos/passage, Station: U7 Karl-Marx-Straße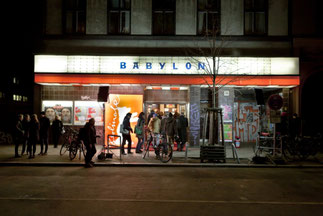 Kino Babylon
The Babylon cinema is known for having one of the best film programes in Berlin. This cinema  is definitely not one to miss. Here, a first-class selection of independent and unusual films are shown, often in their original languages. Why not pair your cinema visit here with a visit to the bar Würgeengel just next door. Here you could get a drink and chat about whatever wonderful showing you've just seen!   
Rosa-Luxemburg-Straße 30, 10178 Berlin (Mitte), +49 30 24 25 969, www.babylonberlin.eu, Station: U8 Weinmeisterstraße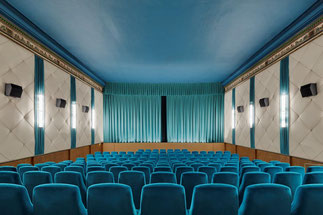 Neues Off
One of the nicest cinemas in Neukölln is to be found only a few meters from Hermannplatz and is well hidden behind facades of apartment blocks. The elegant ambience of the fifties and the high-class movie selection with films shown in their original language with subtitles make Neues Off a unique cinema. After the movie, Neukölln invites you to discover even more hidden gems and an evening to remember after exploring a truly magnificent cinema in Berlin. 
Hermannstraße 20, 12049 Berlin (Neukölln), +49 30 62 70 95 50, www.yorck.de/kindo/neues-off, Station: U7, U8 Hermannplatz, pic by Daniel Horn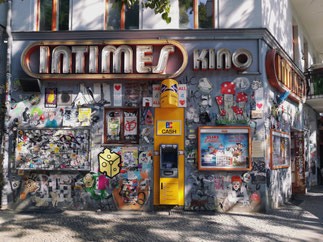 Intimes
This cinema with its striking neon lettering in the style of the 70's is located in Friedrichshain. The traditional cinema is one of the few in Berlin that has been able to maintain their viewing operations almost continuously since the beginning of the 20th century. This cinema was founded in 1909, under the name 'Lichtspiele des Ostens'  as a typical retail cinema. It was one of the smallest cinemas in Berlin with originally only 151 seats and was therefore nicknamed the 'Intimes Theater' from the very beginning. One thing has not changed since this cinema opened, that being its reputation as one of the best examples of educational language films and the almost private character of cinema. Currently, this cinema has 83 comfortable seats in a hall with cosy '70s flair.
Boxhagener Straße 107, 10245 Berlin (Friedrichshain), www.kino-intimes.de, Station: U5 Samariterstraße
If you want to find more organic markets in Berlin, check out my folding maps BertaBerlin and QueerBerlin. They are available in well-chosen locations all over Charlottenburg, Neukölln, Kreuzberg, Mitte and Prenzlauer Berg in Berlin and online. But for those of you, who want to stay up to date, feel free to follow me on INSTAGRAM, FACEBOOK or register for my NEWSLETTER BertaNews.