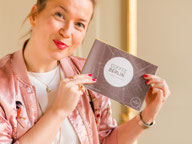 Welcome to Berlin's coffee wonderland: As I have recently published a CoffeeBerlin guide to Berlin's best craft coffee spots, I have scoured the streets of Berlin to bring you the very best cafés to go to for great coffee.
The CoffeeBerlin is the best guide to Berlin's best craft coffee bars. I hope the CoffeeBerlin map will inspire you to visit exciting coffee bars around the German capital. The map is a must-have for all true Berlin coffee enthusiasts!
Featuring experimental conceptual coffee laboratories like Happy Barista, artistic cafés like Oslo Kaffebar and minimalist modern coffee shops, I hope my list of recommendations will satisfy all your coffee needs and inspire you to visit new cafés in Berlin. Here you have already my "Top 5 coffee spots in Berlin".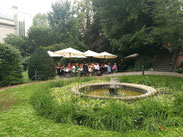 Literaturhaus
Literaturhaus is located in a 19th century townhouse and holds readings and other literary events around their fireplace in the villa's parlour regularly. A good coffee drink can be found here too.
Fasanenstraße 23, 10719 Berlin (Charlottenburg), +49 30 88 25 414, literaturhaus@literaturhaus-berlin.de, www.literaturhaus-berlin.de, Station: U1 Uhlandstraße, daily 9:00–0:00
Café Espera
Starting your day with a coffee at café Espera is definitely an excellent idea. Their cakes are delicious and they also offer various sandwiches with freshly baked bread and homemade sauces. Whilst running in for your coffee my recommendation would be to pick up one of Café Espera's cinnamon buns as they bake the best in the world! If you're coming here for a delightful espresso and a sweet treat to go with it, you definitely won't be disappointed.
Sonnenallee 35, 12045 Berlin (Neukölln), Station: U8, U7 Hermannplatz, Mon–Fr 7:00–19:00, Sat, Sun 9:00–19:00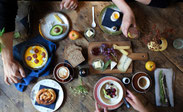 Linnen café
This café serves organic coffee and coffee-based beverages. They offer several tasty pastries, my recommendations would be to try one of their refreshing coffees. Also the café is very sweet to sit and calm down. One thing is for sure and that is that this café and delicious coffee spot has a menu that is as playful as the space itself.
Eberswalder Straße 35, 10437 Berlin (Prenzlauer Berg), +49 30 47 37 24 40, www.linnenberlin.com, Station: U2 Eberswalder Straße, daily open in the morning!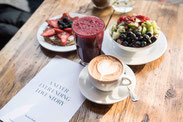 A Never Ever Ending Love Story
Who isn't always searching for a never-ending love story? Rosé coloured walls, rustic wooden tables and benches beautifully set the scene of a lovely brunch at this great coffee spot. In the mornings, this café is crowded but the wait is definitely worth it. When the sun is shining you can even sit outside and enjoy its delightful coffee.
Bleibtreustraße 5, 10623 Berlin (Charlottenburg), www.anevereverendinglovestory.de, Station: S3, S5, S7, S9 Savignyplatz, daily 9:00–15:30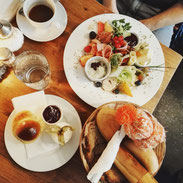 Restaurant Bastard 
The café and brilliant coffee location, in the heart of Kreuzberg Berlin, is decorated with simple decor both inside and out. The bread at this coffee spot is freshly baked and each coffee is lovingly prepared.
Reichenberger Str. 122, 10999 Berlin (Kreuzberg), +49 30 54 82 18 66, eat@bastard-berlin.de, www.bastard-berlin.de, Station: U1 Görlitzer Bahnhof, Thu–Mon 9:00–16:30 (is due to the coronavirus closed)
---
The CoffeeBerlin map is a must-have for all true coffee enthusiasts! Featuring experimental conceptual coffee laboratories like Happy Barista, artistic cafés like Oslo Kaffebar and minimalist modern coffee shops, I hope my list will satisfy all your coffee needs, whilst providing three walks to explore Berlin thus combining a good read, art and exercise with always the guarantee of one or two excellent coffee pit-stops. The CoffeeBerlin map will support a journey of discovery as you explore this vibrant city; shaped by its unique history, cosmopolitan population, growing international tech scene and renowned laid-back, fun and welcoming attitude.
Other awesome Coffee Spots in Berlin:
If you want to find more organic markets in Berlin, check out my folding maps BertaBerlin and QueerBerlin. They are available in well-chosen locations all over Charlottenburg, Neukölln, Kreuzberg, Mitte and Prenzlauer Berg in Berlin and online. But for those of you, who want to stay up to date, feel free to follow me on INSTAGRAM, FACEBOOK or register for my NEWSLETTER BertaNews.