Where can I do some coworking in Berlin? A question that people asked me quite a bit in the last few month. This is why I created a Top 5 coworking spaces in Berlin, partly for free and partly open during the weekend ;).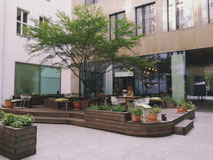 Quartier Zukunft
"The growth of ideas and companies" – this is the intended purpose of the Greenhouse at Quartier Zukunft, the coworking space of Deutsche Bank in Berlin. Established companies, start-ups or creatives can all make flexible use of temporary work stations. Internet access and office materials are available while experts from Quartier Zukunft are ready to take questions and have discussions. If you only one person to cowork its for free! Note: In this bank you will find a café (spoiler alert: they don't accept cash), you can book meeting rooms and and they also offer child care!
Costs: for free
DB Privat- und Firmenkundenbank AG, Quartier Zukunft, Friedrichstraße 181, 10117 Berlin (Mitte), www.deutsche-bank.de, Mon–Fr 10:00–18:00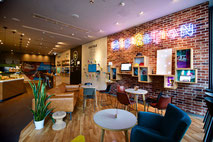 The Digital Eatery
This coworking space makes freelancer hearts beat faster! In the Digital Eatery design, gaming, coworking and good food can be found. There are enough sockets on every corner, chic, comfortable design furniture and even meeting boxes if you want it a bit quieter.
Costs: for free
The Digital Eatery, Unter den Linden 17, 10117 Berlin (Mitte), www.microsoft-berlin.de/the-digital-eatery, Mon–Fr 11:00 - 15:00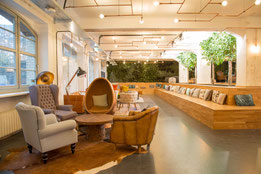 Factory Berlin
Factory Berlin is a private members' club for startups and offers its members a platform to connect and collaborate. They provide community spaces for innovators to work, relax, socialize, and make positive connections. They are located in Berlin Mitte and Kreuzberg at Görlitzer Park. Here you can enjoy access to an inspiring environment to work and mingle. Drop into work for a few hours, make use of their snazzy meeting rooms, mingle in their lounge and deliberate your next strategy in their brainstorm corners. As a non-member you can visit The Factory Café for free.
Rheinsberger Straße 76/77, 10115 Berlin (Mitte)
Lohmühlenstraße 65, 12435 Berlin (Kreuzberg)
www.factoryberlin.com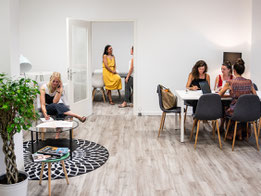 Wonder Coworking
Benefit from the wonderful women's network within a coworking space in Berlin. They take over the organization, you just have to decide to participate. For 59 Euro you can book "part time", with which you can work at any desk on two days a week. 
Costs: 59 Euro per month
Prenzlauer Allee 186, 10405 Berlin (Prenzlauer Berg), www.wonder-coworking.de, +49 30 55 12 23 88, service@wonder-coworking.de, Mon–Fr 9:30–16:00. If you book your own permanent desk (Fix Desk, 209 Euro) you have 24-hour access, as you get your own key for the cowering space.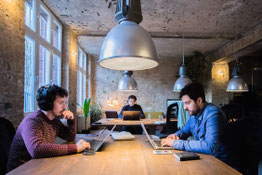 mitosis coworking
This coworking space for everyone operates two locations in Berlin Neukölln. For them coworking means more than sharing space. They regard themselves as a friendly, hard-working, but also lively celebrating community.
Costs: 170 Euro per month (for floating desk + tasty coffee from professional espresso machine)
info@mitosis.co
Weserstraße 165, 12045 Berlin (Neukölln)
Sonnenallee 67, 12045 Berlin (Neukölln)
www.mitosis.co