Where can I go for some coworking in Berlin? This is a question that people ask me often when they come to Berlin. This is why I met Björn Budack. Not only does he own coworking spaces, he is also co-organizer of the COWORKING FESTIVAL in Berlin. As a souvenir from the festival or to find your perfect coworking space in Berlin we created this map with coworking spaces, partly accessible with day tickets as well as partly open during the weekend.
Coworking Festival in Berlin
The Coworking Festival takes place from the 9th until the 13th of September 2019. The CoworkingBerlin Maps will be available in the following spaces and in my online shop.
In this coworking guide you will find three walks through Berlin's most creative neighborhoods and a selection of our favorite restaurants, cafés and activities close by the coworking spaces where you will have the best time. For now I want to show you my "Top 5 coworking spaces in Berlin".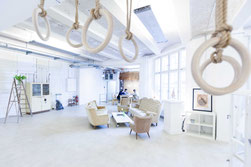 Áhoy Berlin
Áhoy Berlin is a space for coworking and innovation, where individuals and companies can rent fully equipped work stations, quiet offices and organize events under flexible terms in a playful and cosy environment. There is a big diversity of  community events, free meeting rooms, coffee, tea and fruit water are part of all memberships they offer. From serial entrepreneurs to freelancing digital nomads, everyone brings their individual experience and expertise to the table, resulting in a diverse and stimulating environment.   
Wattstraße 11, 13355 Berlin, +49 30 20 84 97 40, info@ahoyberlin.com, www.ahoyberlin.com, Station: U8 Voltastraße, Mon–Fr 9:00–18:00, 24/7 for members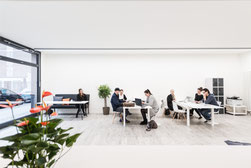 Amapola Coworking
Amapola has been created for freelancers, commuters, employers and small start-ups who look for a stylish, flexible and payable coworking space in Berlin-Mitte. They offer a space for the connection of creativity, work, networking and fun. They manage the space and organize everything needed. All workstations are fully furnished and include high-speed internet. Besides free limitless coffee, they offer soft drinks and snacks for every taste in the kitchen. Scanning, printing and copying are free of charge too. You can expect an uncomplicated, relaxed working atmosphere in a gorgeous coworking space with nice people.
Scharnhorststraße 24, 10115 Berlin, +49 30 55 24 97 71, info@amapola-coworking.de, Station: U55, S3, S5, S7, S9 Hauptbahnhof, daily 9:30–16:00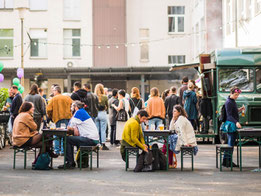 betahaus Neukölln
betahaus Neukölln is the newest coworking space in Berlin, located in the iconic Geyer Werke building. With a mix of team rooms, coworking areas, event spaces and creative studios, the house in Neukölln is all about going back to their roots. It's a space where startups, makers, freelancers, and large teams can work side by side, just like the good old days.
Harzer Straße 39, 12059 Berlin, +49 157 39 49 68 22, frontdesk.nk@betahaus.de, www.betahaus.com, Station: S41, S42 Sonnenallee, daily 9:00–20:00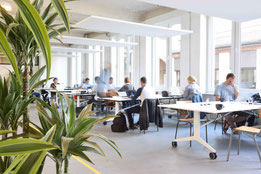 Ringbahn Coworking
This is a new, flexible workspace and coworking spot located directly at train station Tempelhof (5 stops from Mitte, i.e. 10 minutes) and close to Kreuzberg's Bergmannkiez and the beautiful Tempelhofer Feld. Ringbahn Coworking offers team rooms and flex desks combined with meeting rooms, phone booth, coffee lounge (coffee flat included) and more. Everything is fully furnished and there is fast WiFi and 24/7 access via an app. Their event space and meeting rooms are also open to external booking without membership. Come and join them for a free day of coworking!
Ringbahnstraße 32–34, 12099 Berlin, +49 152 23 91 09 04, coworking@intertempi.com, www.intertempi.com/ringbahn, Station: U6, S41, S42, S46 Tempelhof, 24/7 for members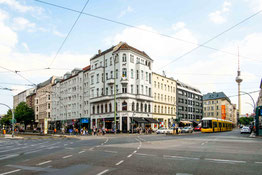 St. Oberholz
Starting with the launch in 2005 the Rosenthaler Platz located St. Oberholz remains well-known in German Startup circles. It's almost (but only almost) the developing place of the Coworking concept and several Startups (e.g. Soundcloud, Brands4Friends, and HelloFresh) took their first steps here.
Rosenthaler Straße 72a, 10119 Berlin, +49 30 55 57 85 95, info@sanktoberholz.de, www.sanktoberholz.de, Station: U8 Rosenthaler Platz, Mon–Thu 8:00–22:00, Fr 8:00–24:00, Sat 9:00–24:00, Sun 9:00–22 :00