Where do you get the best currywurst in Berlin? On the hunt for my new BertaBerlin maps, I come across some nice currywurst spots in Berlin. There is even a museum in Berlin dedicated to the history of currywurst, with a lot of tasting samples ;). Currywurst is steamed and fried pork sausages cut into small pieces. Then topped with a sweet curry ketchup and a sprinkle of curry spice. Most likely Herta Heuwer is the inventor of the currywurst. She used ingredients given to her by British soldiers, for this delicious 1949 Berlin creation.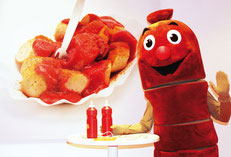 Deutsches Currywurst Museum
The museum presents the legendary snack creation and the invention of the Currywurst in the late 1940s. Since almost everything in the museum is interactively designed, you can touch and taste the history.
And you can WIN 5 x 2 TICKETS to go there. Just follow @currywurstmuseum and @walkthisway.berlin on Instagram or Facebook and tag a friend under this post. Or comment on this website! The winners will be messaged by 30th of September!
Schützenstraße 70, 10117 Berlin (Mitte), +49 30 88 71 86 47, info@currywurstmuseum.com, www.currywurstmuseum.com, Station: U6 Stadtmitte, daily 10:00–18:00
Attention: This museum will only be open until the 21rst of December 2018!
Curry 36
Curry 36 on Mehringdamm is the Mecca of Berlin's Currywurst. The legendary bistro is serving their currywurst for more than 30 years, always with or without casing! And of course you can get more than just currywurst here, fries red/white, bockwurst and a Berlin Bulette.
Mehringdamm 36, 10961 Berlin (Kreuzberg), +49 30 25 17 368, www.curry36.de, Station: U6, U7 Mehringdamm, daily 8:00–5:00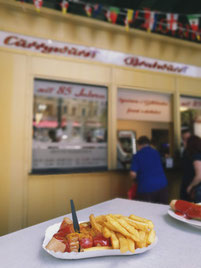 Konnopke Bistro
This family owner currywurst bistro serves their classics like bockwurst, knackwurst and the Berlin Bulette, a type of burger. since over 80 years, going back to Max Konnopke who started the bistro selling sausage in Berlin in 1930. Konnopke was probably the first bistro to start selling currywurst in East-Berlin in the 1960s. It's a legendary bistro and can only be recommended.
Schönhauser Allee 44 B, 10435 Berlin (Prenzlauer Berg), +49 30 44 27 765, info@konnopke-imbiss.de, www.konnopke-imbiss.de, Station: U2 Eberswalder Straße, Tue–Fr 10:00 - 20:00, Sat 12:00–20:00, Sun 12:00–18:00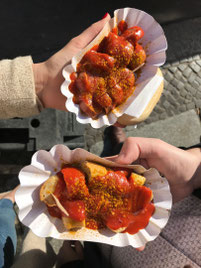 Curry 61
For many people this is the best currywurst in Berlin. Especially loved by British people this wurst is worth trying. For vegetarians they offer a tasty sausage alternative and lovely fries.
Oranienburger Straße 6, 10178 Berlin (Mitte), +40 30 40 05 40 33, www.curry61.de, Station: S3, S5, S7 Hackescher Markt, Mon-Sat 11:00–0:00, Sun 12:00–22:00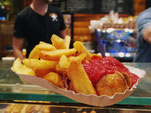 Ketch'up35
This place has been offering delicious curry wurst since 1961. Their curry sauce is produced freshly every day without preservatives and is unique in its taste. The sausages are lactose free and made out of high quality farm land meat.
Gradestraße 35, 12347 Berlin (Neukölln), +49 30 62 72 73 50, info@ketchup35.de, www.ketchup35.de, Station: U7 Blaschkoallee, Mon-Sat 9:00–1:00, Sun 11:00–0:00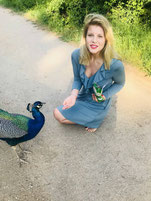 Thank you to my dear co-writer Paulina Czujko, who helped me scouting and writing this piece! I met her in Berlin on one of my KiezWalks, because she studied Nutritional Sciences here, but in September she will be my base in Hamburg and open the Hot Yoga Studio 'Hot Yoga Norderstedt'.