Owning a dog in Berlin is no walk in the park (even when it's exactly that). You love your dog, and the last thing you want is for your furry pal to stay cooped up in a tiny Berlin apartment all day. Briana, Quigley and I have good news: Berlin is an incredibly dog-friendly city! With an estimated 100,000+ pet dogs living in the German capital, there are plenty of things to do with your dog (including many that won't cost you a dime). Here are our Top 5 dog-friendly places in Berlin. If you want to know more dog-friendly places in Berlin, no problem: Briana, Quigley and I will publish a Dog-friendly Berlin-Guide soon. Here is a link to preorder the guide.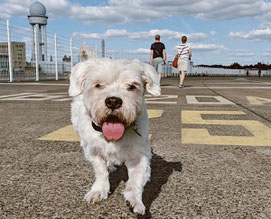 Dog-friendly Tempelhofer Feld
The former Tempelhof airport was once one of the world's busiest transport hubs located in Berlin. In 2008, it closed permanently and became a community park, where barbecues, sports and other social events are held around the twin runways. You're free to skate, run, bike or just enjoy a drink in the beer garden with your dog by your side. If your dog wants to socialize, there is a dog park in the northeast corner of the park.
Tempelhofer Damm 106, 12099 Berlin (Neukölln) There are other entrances at Columbiadamm and Oderstraße. They are open from sunrise to sunset. Station: U6, S41, S42, S45, S46 Tempelhof, www.thf-berlin.de, rental: www.mobilcenterberlin.de, pic by Briana Moore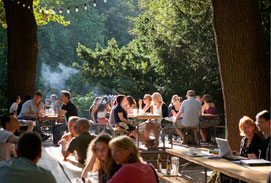 Dog-friendly café at Tiergarten
If you feel like an evening dog walk in the midst of nature and then relaxing with a beer, you must check out Café am Neuen See. Right in the middle of Tiergarten (one of the biggest parks in Europe), sit under the shade of the giant trees and enjoy a variety of beers and food, from breakfast to dinner. The beer garden has something special to offer in every season. Dogs can join their owners in the rowing boat rentals in the warmer months. During the winter, bundle together with your dog around the firepits, with a glass of Glühwein (humans only), before playing a round of Eisstock.
Café am Neuen See, Lichtensteinallee 2, 10787 Berlin (Tiergarten), +49 30 25 44 930, www.cafeamneuensee.de, Station: U2, U9, S3, S5, S7, S9 Zoologischer Garten, daily 09:00–00:00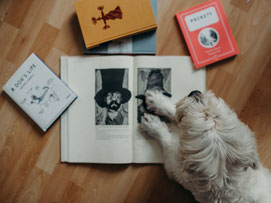 Dog-friendly reading in Berlin
In the vibrant Friedrichshain neighbourhood, you can find Shakespeare and Sons, a café, bookshop, and dream come true for bibliophiles. Selling a wide variety of new and used books, this space is a cozy haven amidst the typically chaotic Warschauerstraße, East Berlin. If you want to put good food, great reads, and a friendly co-working space, this bookstore is the place to be. The bagels are the best in the city, the seats are cozy, and the large windows are a perfect place for your dog to people watch while you get lost in a book.
Shakespeare and Sons, Warschauerstraße 74 ,10243 Berlin (Friedrichshain), www.shakesbooks.de, Station: U5 Frankfurter Tor, U1, U3, S3, S5, S7, S9 Warschauerstraße, daily 8:00–20:00, pic by Briana Moore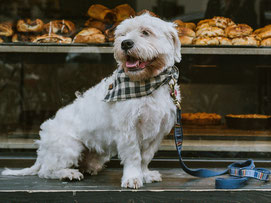 Dog-friendly shopping in Berlin
The general store for dogs and cats - best all-natural, healthy treats, bespoke leashes, quality beds and toys as well as special accoutrements. The Sonnenberg team is one-hundred-per cent committed to the company philosophy of providing only the best for your dog and cat. They love their four-pawed customers and know what is good for them – all customers on four legs and two are supported and thoroughly attended to.
Sonnenberg, Lietzenburger Str. 62, 10719 Berlin, +49 30 88 70 96 40, post@sonnenberg.berlin, www.sonnenberg.berlin, Station: U1, U9 Kurfürstendamm, Mon–Fr 10:00–19:00, Sat 11:00–18:00, pic by Briana Moore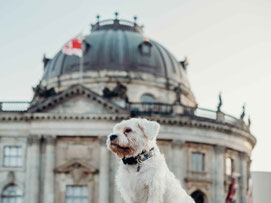 Dog-friendly museums in Berlin
Berlin's Museum Island is a unique ensemble of five museums, including the Pergamon, Altes, Neues, Bode, and the National Gallery, as well as the breathtaking Berliner Dom. While dogs are not allowed inside the buildings, an afternoon on the island with your dog is still not to be missed. The grounds provide a beautiful space to soak in some of Berlins finest architecture and rich history. Sunbathers and picnickers can be found lounging on the Lustgarten, while people watchers tend to perch among the grand statues of the Altes steps. Across the river in James-Simon Park, you can grab an aperol spritz and relax in the many riverside lounge chairs. Every Saturday in front of the Bode Museum is also an Antiques and Book Market, which is an ideal place for some relaxed treasure hunting.
Am Kupfergraben 1, 10117 Berlin (Mitte), www.antik-buchmarkt.de Station: S1, S2, S25 Oranienburger Straße, Sat and Sun 11:00–17:00, pic by Briana Moore
If you want to find more hidden gems of Berlin, check out my folding maps BertaBerlin and QueerBerlin. They are available in well-chosen locations all over Charlottenburg, Neukölln, Kreuzberg, Mitte and Prenzlauer Berg in Berlin and online. But for those of you, who want to stay up to date, feel free to follow me on INSTAGRAM, FACEBOOK or register for my NEWSLETTER BertaNews.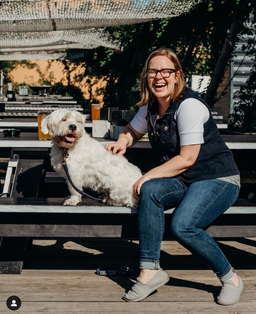 Briana is a freelance photographer & writer specializing in community-driven storytelling, with a focus on sustainable travel, portraiture (including pets!), and socially conscious brands. Quigley is a terrier, rescued from the USA. As a travel ambassadog, his warm personality brings joy to people around the world; both in-person and through his wildly popular Instagram account travelswithquigley.