With spring just around the corner and March the 12th being National Plant a Flower Day, this post is  dedicated to sharing my top 5 flower shops in Berlin! Each year this day is dedicated to planting flowers as well as looking forward to the season of Spring. Flower gardening has become a hobby for many, young and old, and with National Plant a Flower Day tomorrow, here's a post with all of the spots where you can buy the most stunning flowers to gift a friend or to bring spring into your home.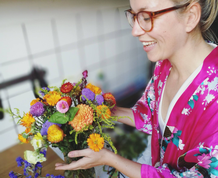 When was the last time you treated yourself or a loved one to a colourful bouquet of flowers? Whatever your budget, I have found the best flowers for you. If you think it's about time to do so again, then one of my top 5 flower shops in Berlin might be your best bet to find exactly what you're looking for.
Since we live in the urban jungle of Berlin, it can be hard to find fresh flowers anywhere other than the best parks in Berlin. But there is a solution: flower shops! Berlin is flooded with bodegas and markets which sell lovely bouquets outside on the pavement but if you're celebrating a special occasion such as a wedding anniversary, Valentine's Day or Mother's Day, you'll need to visit a flower expert! The next time you want to make someone smile, refer back to my top 5 flower shops in Berlin ;).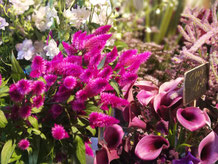 Blumen- und Gartenkunst
This flower spot feels like a secret garden flowering kingdom – once you've entered Blumen- und Gartenkunst (flower and garden art) you will feel as if you are in a small, enchanted wonderland. More than 20 years ago Thomas and Andreas opened the flower shop in Moabit, only a few houses away from the prison. This flower shop is colourful! Flowers and plants are sorted into different corners or even rooms in matching colours whilst also offering many ideas for decoration. You don't even have to buy flowers to recover from the Berlin hectic in this oasis.
In this flower shop, you will find Celosia spicata 'Purple Flamingo', Sanguisorba officinalis 'great burnet' and the most beautiful roses of Berlin. Above all, the many outdoor roses dazzle the senses. Every day they offer hundreds of fresh flowers: not only for display in a vase but also for gardens. Blumen- und Gartenkunst even waters and plants most of Berlins rooftop gardens. In this flower shop, you cannot only buy the most beautiful bouquets of flowers, but you can also receive advice about your garden's design.
Alt-Moabit 21–22, 10559 Berlin (Moabit), +49 30 39 03 00 88, www.blumen-und-gartenkunst.de, info@blumen-und-gartenkunst.de, Station: S3, S5, S7, S9 Bellevue, Mon–Fr 9:00–18:30, Sat 9:00–16:00, Sun 10:00–13:30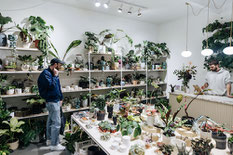 Plantcircle in Berlin Mitte
This is so much more than just your everyday flower shop. At Plant Circle, you will learn "How to not kill your plants": where to place them, how to water them correctly plus more great tips on how to keep plants or flowers alive and thriving for the years to come. All participants receive plants or cuttings at the end of the fun, informative class. With each purchase at this flower shop, you also support trees being planted somewhere on the planet.
Torstraße 62, 10119 Berlin (Mitte), hi@plantcircle.co, www.plantcircle.co, Station: U8 Leinestraße, Tue–Sat 12:00–19:00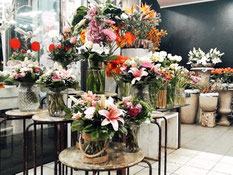 Samanyolu in Berlin Mitte
Samanyolu has been a go-to flower shop in Berlin since 1999. You can see and smell their passion for everything floral as soon as you enter the shop. You'll find a wide selection of beautiful seasonal bouquets and fresh flowers. No matter what occasion you want to buy flowers for, the friendly staff are always happy to help you find exactly what you need so that you'll leave with a smile on your face.
Markgrafenstraße 64/65 (enter via Rudi-Dutschke-Straße 18), 10969 Berlin (Kreuzberg), +49 30 25 92 27 93, www.blumen-samanyolu-berlin.de, Station: U6 Kochstraße/Checkpoint Charlie, Mon–Fr 8:00–19:00, Sat 9:00–16:00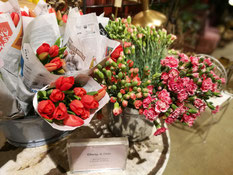 Marsano in Berlin Mitte
Pretty flowers call for matching vases! That's why alongside unique bouquets at Marsano, they also offer vases that perfectly complement flowers. No matter if you're looking for something classy or extravagant you will definitely find it in this modern flower shop. Another tip I would give is to visit one of their workshops and learn how to make exceptional bouquets yourself or become a pro at keeping your own little garden on your balcony.
Charlottenstraße 75, 10117 Berlin (Mitte), +49 30 20 61 473, info@marsano-berlin.de, www.marsano-berlin.de, Station: U2 Stadtmitte, Mon–Fr 10:00–19:00, Sat 10:00–16:00
Blumeninsel Nelles
Blumeninsel definitely is one of the prettiest flower shops in Berlin. The particularly friendly staff will go out of their way to fulfil almost all wishes. Whether treating yourself to some nice flowers, surprising loved ones with a dazzling bouquet or need a florist for a special event, Martina Nelles and her colleagues will make your wishes come true.
Blumeninsel Nelles by Martina Nelles, Suarezstraße 5, 14057 Berlin (Charlottenburg), +49 30 32 23 615, www.blumeninsel-berlin.de, blumeninsel@snafu.de, Station: U2 Sophie-Charlotte-Platz, Mon–Fr 8:30–18:00, Sat 8:30–14:00
If you want to find more organic markets in Berlin, check out my folding maps BertaBerlin and QueerBerlin. They are available in well-chosen locations all over Charlottenburg, Neukölln, Kreuzberg, Mitte and Prenzlauer Berg in Berlin and online. But for those of you, who want to stay up to date, feel free to follow me on INSTAGRAM, FACEBOOK or register for my NEWSLETTER BertaNews.