Berlin, as many of us already know, is a city with a vibrant and exciting culinary scene. From Asian restaurant delights to Mexican street-food spots, there are so many hidden-foodie-gems in Berlin to please anyone but there's also a sometimes overlooked hub of traditional German restaurants. Whether you're a tourist who wants to experience Germany's finest dishes right in the heart of Berlin, or a local who's looking for a new spot for this week's date night. You're sure to be blown away by my Top 5 German restaurants in Berlin!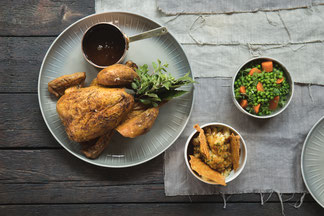 Tisk Speisekneipe
The philosophy behind this beautiful restaurant in Neukölln combines the qualities of a modern restaurant with those of a Berlin corner pub. Its young creative Berlin chefs unite modern German cuisine with traditional classics. Everything is designed in such a way that this drive is implemented in the best possible way. The restaurant concept consists of three parts and includes a 3 to 5-course menu at the counter and Berlin classics with a familiar atmosphere at the tables. Well, AND, it is the most delicious cuisine I have been allowed to enjoy for a long time!
Neckarstraße 12, 12053 Berlin (Neukölln), +49 30 39 82 00 01, tisk@tisk-speisekneipe.de, www.tisk-speisekneipe.de, Station: U7 Rathaus Neukölln, Tue–Sat from 18:00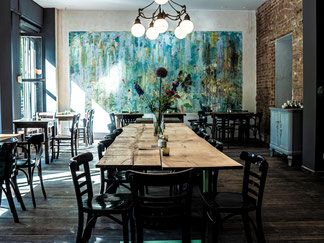 Lausebengel
Located in the charming Graefekiez, Lausebengel restaurant delights visitors with their Berlin cuisine and beer variety. As you would expect from a "food pub" (Speisekneipe), there is a large selection of local and international craft beer, handmade and homemade "Happen" (snacks). Dishes such as black pudding croquettes, mustard egg and potato salad are served next to Berliner Stullen (Sandwich). They are also the only restaurant in Germany that offers coconut cider! This is a must-try! With a large group of friends, you can sit at the community table or when the sun is shining on their large terrace.
Grimmstraße 21, 10967 Berlin (Kreuzberg), +49 151 18 30 39 05, info@lausebengel.berlin, www.lausebengel.berlin, Mon–Fr 17:00–0:00, Sat–Sun 16:00–0:00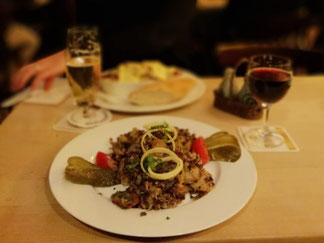 Restaurant Wendel
This restaurant in Charlottenburg, Berlin, is a bedrock in the form of a 100-year-old pub. In a cultivated old Berliner atmosphere, culinary classics can be tried like black pudding with fried potatoes and pork knuckle with sauerkraut. Here you can also choose from twelve kinds of draft beer!
Richard-Wagner-Platz 57, 10858 Berlin (Charlottenburg), Station: U7 Richard-Wagner-Platz, Mon–Fr from 16:00, Sat from 17:00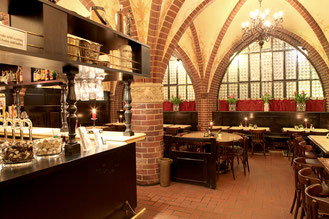 Zur Gerichtslaube
The new-old courthouse powerfully symbolises legal autonomy of old Berlin, and it is also a lovely restaurant. Zur Gerichtslaube is situated in one of the city's oldest buildings, it was first built in 1270. In a rustic atmosphere, you'll find traditional Berlin and Brandenburg cuisine on the menu.
Poststraße 28, 10178 Berlin (Mitte), +49 30 24 15 697, info@gerichtslaube.de, www.gerichtslaube.de, Station: U Hausvogteiplatz, daily from 11:30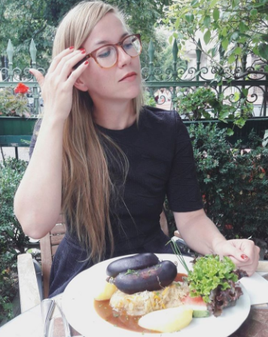 Villa Rixdorf
The German restaurant, Villa Rixdorf, is located at the Richardplatz - in the setting of beautiful buildings from the 18th Century. They serve my favorite food; Blutwurst with Sauerkraut from Fleischermeister Marcus Benser from Blutwurstmanufaktur, which is just around the corner. In summer you can sit outside, on the terrace of this historic restaurant from 1870 or in their beer garden and enjoy the sun.
Richardplatz 6, 12055 Berlin (Neukölln), +49 30 68 08 60 00, www.villa-rixdorf.com, Station: S41, S42 Sonnenallee, daily 11:00–1:00