Winter is coming and we all need some inspiration for Christmas gifts... well, here are some shops where you will not only find Christmas gifts, but also some other specialities! In these five shops in Berlin I can usually find last minute birthday gifts and (sometimes) treat myself ;).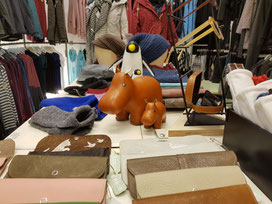 Promobo Berlin
At this gift shop you will find selected gifts from young designers and manufacturers. There is nothing off the rack and of course, they also offer my travel guides of Berlin ;).
Hackesche Höfe, 10178 Berlin (Mitte), +49 30 34 76 71, info@promobo.de, www.promobo.de, Station: S5, S7, S75 Hackescher Markt, Mon–Sat 10:00–21:00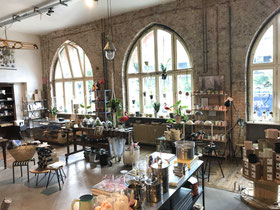 Hallesches Haus
This gift shop is a café and a beautiful interior design shop. The delicious aroma of coffee will greet you from far and in the café next to the furniture shop you will find fresh snacks and delicious breakfast as well as a lunch menu that changes daily. In the idyllic and green outdoor area you can enjoy the sun with good food. Inside the shop you will find everything your heart desires, because this gift shop not only sells lamps and other furniture, but also trendy accessories for the apartment. Huge vintage posters, cushions, candles and numerous decorative items can be found here on wooden shelves, which inspire you to browse and spend idyllic time here!
Hallesches Haus, Tempelhofer Ufer 1, 10961 Berlin, hello@hallescheshaus.com, www.hallescheshaus.de, Station: U Hallesches Tor, Mon–Fr 10:00–19:00, Sat 10:00–18:00, Sun 10:00–17:00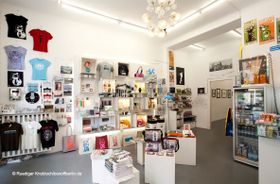 bob - boxoffberlin
A great, unexpected find in the touristy area surrounding Checkpoint Charlie is boxoffberlin in Berlin-Kreuzberg. It's an amazing mix of an design store, art gallery and espresso bar. The store offers extraordinary souvenirs and cool gifts made by local designers and crafts people, a far cry from the mass produced selection in other shops in the tourist areas of the city. Definitely a place for that unusual Berlin gift. The back of the shop is a gallery with changing exhibitions of contemporary art and more from Berlin-based artists. A fascinating place since 2007, run by Ariana Mirza and Stephan Schmidt.
Zimmerstraße 11, 10969 Berlin, +49 30 47 98 21 71, info@boxoffberlin.de, www.boxoffberlin.de, Station: U6 Checkpoint Charlie, daily 11:00–18:00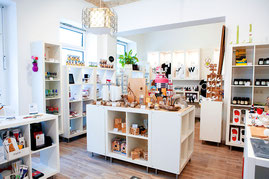 Erfinderladen
There are things in erfinderladen you won't find anywhere else. Prototypes, unique gifts, crazy inventions and good ideas for any occasion.
Lychenerstraße 8, 10437 Berlin, +49 30 54 71 33 06, office@erfinderladen.de, ww.erfinderladen.com, Station: U2 Eberswalder Straße, Mon–Sat 11:00–20:00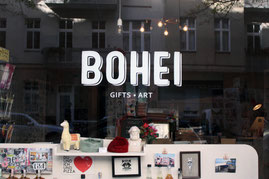 Bohei Shop
With a diverse selection of shirts, bags, illustrations, photography and design pieces, Bohei stocks mainly Berlin handmade products -- things that Jan Oster, owner of Bohei, assures you that you will not find anywhere else. Bohei is definitely a must for design lovers!
Weserstraße 43, 12045 Berlin, order@bohei-shop.de, www.bohei-shop.de, Station: U7 Rathaus Neukölln, Mon–Sat 10:00–19:00