Where to see cool graffiti in Berlin? Graffiti is nothing new here: The city has long acted as a blank canvas to artists, who have left their mark in a variety of formats and places. Just take a few moments to acknowledge Berlin's street art and you will realize that you don't need to shell out too much money at Berlin's museums to enjoy a bounty of modern art. Just take a stroll around the following neighborhoods.
If you're interested in taking a guided tour of art, check out www.berlinkultour.de alias Tobi, who I recommend in my travel guides BertaBerlin and is my favorite guide in Berlin.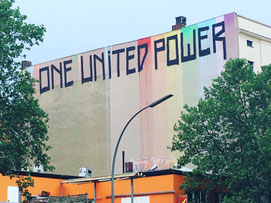 1UP graffiti in Berlin
1UP is short for One United Power and you have probably seen a piece by them. They always try to push it one level further and their big crew is capable of spectacular projects such as the 2018 Graffiti Olympics in Athens. Here is a youtube video. You probably won't find a crew with more graffiti in Berlin. Although Berlin is their homebase, they can be found all over the globe - even with an artificial reef in Indonesia.
Revaler Straße 7, 10245 Berlin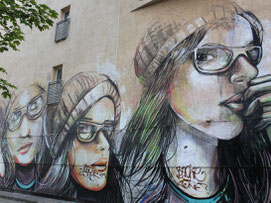 Mural Alicé in Berlin
It is one of my favourite pieces in Berlin made by the female street artist AliCé from Rome. I really like her unique style, where she is trying to blend in the surroundings of into her painting. You can see that at the the skin tone oft he character and also at her shirt which is blending into the wall color and the bushes around her. Unfortunately a lot of the piece is already covered in graffiti and/or hidden behind a fence. But it is still beautiful.
Warschauer Straße 47 / Ecke Mühlendamm, 10243 Berlin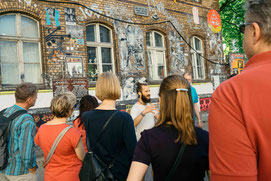 "It's time to dance" SOBR
The third "piece" which is not on just one wall, but graffiti is also about changing the way you see and discovering new things (or pieces). With his project "It's time to dance" from 2012 the French artist SOBR hit Berlin as this project fits perfectly in its infamous nightlife. You will find his people dancing with confetti all over the city – also because every once in a while he is just putting up some new ones.
Revaler Straße , 10245 Berlin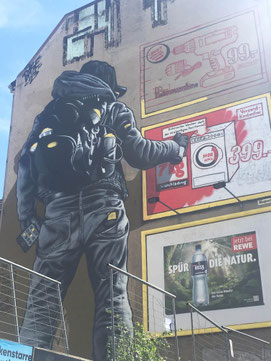 "There is no such thing as bad publicity" MTO
MTO is a also a French artist who put this mural up during the Berlin Mural festival in the year 2018. He  criticizes the typical better, cheaper, cooler advertisements surrounding it and at the same time how street art nowadays can be involved in graffiti is also about reclaiming your city from advertisements. In this case the artist is criticizing how street art is used as advertisements and also the bigger, better, cheaper attitude of adds in general.
Warschauer Straße 58, 10243 Berlin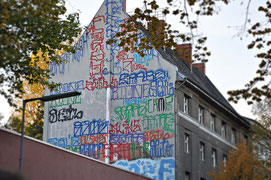 Berlin Kidz graffiti
The Berlin Kidz are everywhere in Berlin. When you see one of the mostly horizontal lines in a stlye which is resembling hieroglyphs you can be almost sure it is a piece by the Berlin Kidz. The style is called Pichacao, has a political connotation and it's origins in Sao Paolo. The Berlin Kidz try to conquer new areas of the city with there vertical lines and you will find them all over Kreuzberg and other quarters.
Köpenicker Straße 186, 10997 Berlin
If you want to find more hidden gems of Berlin, check out my folding maps BertaBerlin and QueerBerlin. They are available in well-chosen locations all over Charlottenburg, Neukölln, Kreuzberg, Mitte and Prenzlauer Berg in Berlin and online. But for those of you, who want to stay up to date, feel free to follow me on INSTAGRAM, FACEBOOK or register for my NEWSLETTER BertaNews.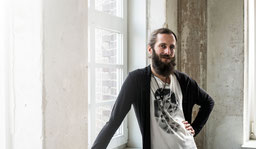 Whether you choose a historical tour, the street art tour or the tour about the culture and art scene: Berlin Kultour alias Tobi will lead you to the most beautiful and most interesting sites of Berlin. As both an art historian and author of a book about Berlin migration history, he has gained theoretical knowledge and practical understanding for history, art and culture.
Most importantly, Tobi is a private enthusiast for history and all the buildings and art treasures that emerged as a product of their specific historical setting. Last but not least, with Berlin Kultour you will find out for yourself why "Berlin is a city, condemned to be eternally evolving, and never to just be."It can be relieved with Berlin Kultour again and again.