For tourists, there are thousands of attractions in Berlin to put on your list of 'things to do'! However, every now and again, it's great to explore something a little different or less well known. In this post, I'l be sharing the top 5 hidden gems for tourists in Berlin. By incorporating a few of these locations into your visit to the city, you're sure to experience Berlin like a local and unearth the real charm of the city. From Cold War relics to the best views over Berlin and local and charming book shops, it's all here. Continue reading to discover your next favourite areas in Berlin!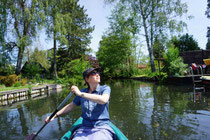 New Venedig - Neu Venedig
Neu-Venedig, meaning New Venice, has a lot of canals. Visitors are recommended to hire a boat from the local boatyard and swap the road for the water. Although you can cross the small, curving bridge on foot, and then take a longing look over the water from the bridge before descending the dusty dirt path to the little settlement. Until the 1920s, this area was no more than marshy meadowland. Then, the meadows on the Spree were drained by means of a dense network of channels and divided up into plots. Tip: Try the fresh fish in the Rahnsdorf smokery every weekend when the local fisher comes back from the lake!
Area between Rialtoring and Lagunenweg, 12589 Berlin (Köpernick), Station: 161 Bus to Schönblicker Straße or Lagunenweg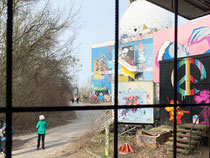 Teufelsberg
A cold war era spy station turned art colony, the radar station on Teufelsberg is located on the second highest elevation of Berlin. Formerly abandoned, the current tenants have breathed new life into this historical site, offering historical tours, historic torchlight hikes at night and access to Europes largest street art gallery and a sensationally panoramic view. Dogs are allowed in all areas of the commune, provided they remain on a leash.
Teufelsseechaussee 10, 14193 Berlin, teufelsberg-berlin.eu, Station: S3, S5, S9 Heerstraße, Radar station: Wed–Sun 11:00–19:00, historical tours in English: Saturday and Sunday 15:00 (no reservation required)
pic by Melissa Lorz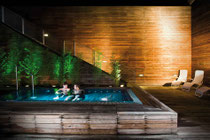 Liquidrom spa
Liquidrom spa features multiple saunas, just to the west of Potsdamer Platz. Located inside the unique spiked architecture of the spa building, which was based on a circus tent. This spa's special feature is a saltwater pool where you can float effortlessly while listening to underwater classical or electronic music. A full-day pass is just 29.50 Euros – or just 15 Euros on your birthday! Float effortlessly in a saltwater pool while listening to underwater music - underneath a dome ceiling dancing with lights, or outside looking up at the clouds go by. This liquidrom also offers multiple sauna rooms, massages and a cafe-bar - and it's half-price entry on your birthday if you bring ID to prove it!
Möckernstraße 10, 10963 Berlin (Mitte), +49 30 25 80 07 820, info@liquidrom-berlin.de, www.liquidrom-berlin.de, Station: S1, S2, S25, S26 Anhalter Bahnhof, Sun–Thu 9:00–0:00, Fr–Sat 9:00–1:00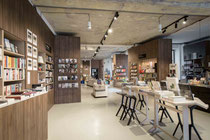 Ocelot, not just another bookshop
Like the name of the shop suggests, Ocelot is not the usual bookstore. This hidden gem is situated in Mitte next to the very nice and small Weinbergs park. I thoroughly recommend the following for the day: go to have lunch or brunch in one of the very tasty restaurants in the area, buy a book and sit at the fountain in the park to take in the sun and read. At this book shop, you can find a lot of variety, the children section is my favourite and I have already bought a lot of books for my nephews. They have also a lot of choice of books in English, so do not worry about finding your favourite books there. You can find also a very nice coffee shop nearby.
Brunnenstraße 181, 10119 Berlin (Mitte), +49 30 97 89 45 92, www.genialokal.de, Station: U8 Rosenthaler Platz, Mon–Sat 10:00–20:00, pic by Simone Hawlisch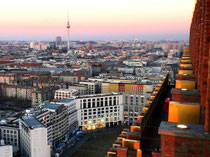 Panoramapunkt
Welcome to the best views of Berlin, the fastest elevator in Europe, a multimedia open-air exhibition, and spectacular roof terrace - an experience you and your dog won't find anywhere else! Since it opened in 1999, Panoramapunkt has been one of the main tourist attractions in the new Potsdamer Platz district. This tourists hidden gem has had around 3 million visitors in the last 10 years!
Potsdamer Platz 1, 10785 Berlin (Tiergarten), www.panoramapunkt.de, Station: U2, S1, S2, S25 Potsdamer Platz, café in summer 11:00–19:00, in winter 11:00–17:00
Discover the world, without traveling! If you are interested in my upcoming book "Traveling the world in Berlin" just message me via email info@walk-this-way.net. The book will be released by November 2020 - just on time for Christmas ;).