As my beloved boyfriend is Chinese, I visited his hometown Shanghai this year! Now I like to give your all the (secret) highlights of our trip! Let's start with some basics.
When to go? The best seasons to visit Shanghai are definitely sunny spring (March–May) and autumn (September–November), when the weather is starting to cool down.
What to see? In Shanghai, you can immerse yourself in quite a few things. There is theater and art, there are lots museums, gardens, sights such as the city wall, the Bund and the Pudong skyline, old water towns like Zhujiajiao, historic temples like Jing'an Temple and the Jade Buddha Temple, tea houses, and loads and loads of restaurants and shopping options.
Getting around: If you haven't heard of Didi (they pushed Uber out of China) then now is a good time to look them up, this cab system worked really well for us. Also, the Shanghai subway or metro has 16 lines and is one of the best ways to get around, combined with walking, you will explore Shanghai in a heart beat!
What to read before? I would also highly recommend to read "Die Chinesen" from Stefan Baron and Guangyan Yin-Baron, its a book about Chinese culture and history which I read in one week because it was so exciting (more about the book you can find here)!
Here you go, my personal "Top 5 highlights of Shanghai".
Shanghai wall in Old City of Shanghai
If you want to see a wall, you don't have to travel to Berlin or Beijing, you can also find it in Shanghai! It is in the Old City of Shanghai, which was formerly known as the Chinese city. After Shanghai was made an trade city, it was attact and robed several times before it become a city defensive wall. Notable features include the City God Temple which is located in the center of the Old City and is connected to the beautiful Yuyuan Garden. With the exception of two short sections, the walls were demolished in 1912: the southern half was named the "Zhonghua Road" and the northern half the "Minguo Road" (we went here).
No.218 Anren Street, Huangpu District, near Fuyou Road, Shanghai 200010, China, station: Line 10 Yuyuan Garden, daily 8:45–16:15
Coffee with a panoramic view of Shanghai
The Shanghai Tower is a 632-metre in Lujiazui - Shanghai. It is the highest building Chinas and the second highest in the world and at the Duo Yun bookshop you can order a coffee (for 48 RMB) and enjoy the view over famous Pudong! The bookstore in the 52nd floor of Shanghai Tower houses more than 60,000 books and features an amazing panoramic view of Shanghai. Afterwards you can walk along the river Huangpu promenade and watch the sun go down. 
501 Yincheng Middle Rd, Lu Jia Zui, Lujiazui Residential District, Pudong, Shanghai, China, station: Line 2 Lujiazui, daily 10:00–21:30
1933 Old Millfun
Built in 1933 in pre-Communist Shanghai, the former slaughterhouse was designed by British architects Balfours and built by Chinese developers with British concrete. Today the building is an eerie Gotham-Deco achievement in concrete, glass, and steel, and the last remaining of its design in the world. The complex hosts galleries, cafés, restaurants and shops in Hongkou district of Shanghai. Today you can set in a café and watch the hipsters taking photos or join them ;).
10 Shajing Rd, Hongkou, Shanghai, China, station: Line 4 or 10 Hailun Lu, daily 9:00–23:00
Chinese art in Shanghai
Contemporary Art Museum in Shanghai
Built in 1897, renovated from the former Nanshi Power Plant, PSA was once the Pavilion of Future during the 2010 Shanghai World Expo. The Power Station of Art is a contemporary art museum in Shanghai. Its 165 metres high chimney now famously serves as a thermometer for the city showing the day's temperature. The museum is located by the river, a bit hard to get too, a lot of concrete and a huge cavernous space - all depends on exhibitions, but if you go up on the top floor L3, you have a great views of the river and Shanghai from its roof top. The entry is free.
No.200 Huayuan'gang Road, Huangpu District, Shanghai, China, station: Line 8 South Xizang Road, Tuesday–Sunday 11:00–19:00, last entry at 18:00
China Art Museum
The building is colloquially known as the Oriental Crown, because of its resemblance to an ancient Chinese crown, and was the largest national pavilion at the Shanghai Expo. The architectonic feature of the building was inspired by the Chinese roof bracket known as the dougong as well as the Chinese ding vessel. The dougong is a traditional wooden bracket used to support large overhanging eaves which dates back nearly 2,000 years. It symbolizes unity and strength. The ding was a vessel used by Chinese emperors to make offers to the gods. The exterior is painted in Chinese red, symbolizing Chinese culture and good fortune. After the end of the Expo 2010, the building was converted to the China Art Museum, the largest art museum in Asia.
I absolutely loved the art work and display inside, unfortunately there is only a few description in English! The entry is also free.
World Expo Park, Shangnan Road, Pudong New District, Shanghai, China, Station: Line 8 Zhonghua Yishugong, Tuesday–Sunday 10:00–18:00 (no entry after 17:00)
Starry Gallery of Shanghai
The Starry Gallery of Shanghai is located in a shopping center along the riverfront in Shanghai's Huangpu. Inside you will find many amazing rooms designed to play with your perspective. For example, there are booths incorporating mirrors or placing objects at specific angles to trick your perception of space. Other rooms include lights and mirrors designed to invoke a sense of traveling through spacetime. The exhibition is a lot of fun and a great place for photos!
in Shopping Center Pier 16, Floor B2, Shiliupu Wharf, No. 531, Zhongshan East 2nd Road, Huangpu District, Shanghai, daily 10:00-21:00 (admission stopped at 20:30)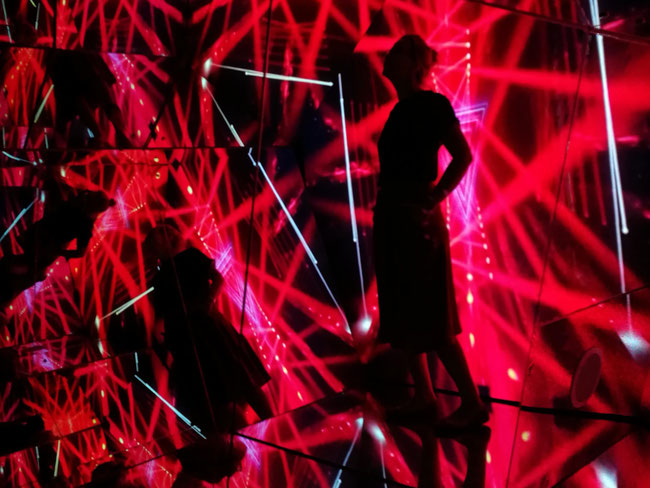 Even more hidden gems in Shanghai
Speakeasy bars in Shanghai
Speak low
Laundry Co.
Flask
Sober company
The bunker by Flask
Senator Saloon
Brunch in Shanghai
(western style)
All day brunch bistro

Rac bar

Breakfast company

O'mills bakery&bistro
Lokal
Fine Fan zakka canteen (Japanese)
Fuchun Xiaolong (Chinese)
WanShou Zhai (Chinese)
If you want to meet expats (for dinner) in Shanghai:
People 7
Vue Bar
Flair
Cloud Nine
Massage after dinner in Shanghai:
Massage at People Square - Tao Yuan Xiang Zhuan ye an mo, Jiu Jiang Road 595, 5th floor in a hotel (professional & affordable massages)
Dragonfly (more expensive, but in English)
Close by Shanghai
For visitors looking to get beyond Shanghai's urban core, among the main attractions are the water towns which surround Shanghai. The name refers to the bygone reliance of these towns on water for transport, especially in the form of canals. Billed as ancient villages, the popular destinations tend to be packed with visitors, with traditional foods and curiosities.
Zhaojialou
This old water town is flying a bit more under the radar. I was the only foreigner on the whole market! A half-day jaunt to Zhaojialou offers many opportunities for snacking. Located about 20 km away from Shanghai, the area is reachable by taxi (ca. 60 RMB from downtown). The city was was mostly redone in 2008, when the farmers' houses were turned into snack stalls and shops. You can also find souvenirs here. We for example saw a grill in a cage. Long told me, that his grandfather used to put a grill in his nursery to help him falling asleep.
More Chinese destinations: 
Hang Zhou (1,5 hours by train from Shanghai)
Suzhou Stadt (1,5 hours by car from Shanghai)
Moganshanzhen (2,5 hours by car from Shanghai
Chongqing (3 hours by plane from Shanghai, labyrinth in buildings)