Holy places are places that people consider holy or a religion considers to be of special religious significance. I am not a religious person, but I do cherish peaceful places which can be holy to everyone. Today I want to show you holy places in Berlin.
König Galerie
A gallery in a former holy church built in the 1960s in the Brutalist style, where large-scale exhibitions take place in two different spaces, the former chapel and nave.
Alexandrinenstraße 118, 10969 Berlin (Kreuzberg), +49 30 26 10 30 80, info@koeniggalerie.com, koeniggalerie.com, Station: U6 Kochstraße, Tue–Sat 10:00–18:00, Sun 12:00–18:00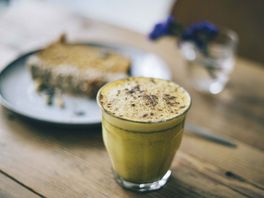 Holy Coffee
To find this holy breakfast paradise you have to walk down Sonnenallee and leave the Arabic-Turkish part behind you. Since 2017, Martin and Orkan from Holy Coffee have served friends fine coffee and delicious breakfast.The coffee comes from Andraschko, Bonanza or Röststätte, which makes Holy Coffee always the place where to be for top-notch coffee in Berlin.
Sonnenallee 132, 12059 Berlin (Neukölln), contact@holycoffee.de, www.holycoffee.de, Station: U7 Rathaus Neukölln, M41 Geygerstraße, Mon–Fr 7:00–20:00, Sat–Sun 9:00–20:00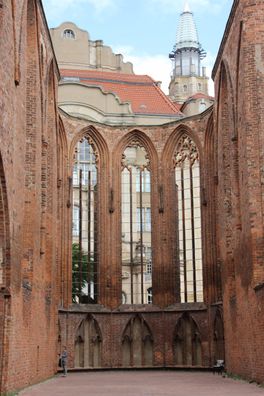 Klosterruine
One of the last obtained architectural monuments of Berlin, which is publicly accessible and culturally used. Since 2016, [statement & dialogue] has been backdrop for various site-specific formats of contemporary art that discuss the architecture and history of the monastery ruins. In this context, a performance program will take place in the summer, with an exhibition planned in the fall focusing on contemporary poetry. Visit this holy location for a unique experience in Berlin.
Ruine der Franziskaner, Klosterkirche at Klosterstraße 73a, 10179 Berlin (Mitte), www.klosterruine.berlin, Station: U2 Klosterstraße, April–Oct Daily 12:00–18:00, free admission, pic by Caro Lenhart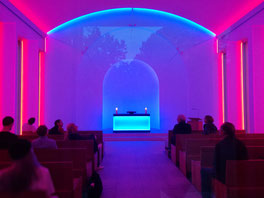 Dorotheenstädtischer cemetery
Built in the 18th century this listed holy site was located in front of the Berlin city wall of Berlin, while today it is located in the middle of the city. Its name comes from Dorothea, the Great Elector, Friedrich Wilhelm's second wife. At over 250-years-old Dorotheenstädtischer cemetery is now considered a celebrity cemetery and shines through its artistic tombs that show a cross section of the eras. Here you will find the graves of the philosophers Georg Wilhelm Friedrich Hegel and Johann Gottlieb Fichte, Bertold Brecht or Johannes Rau. With two simple field stones mark the Bertolt Brecht's grave and Helene Weigel is opposite from his grave, as it was one of Brecht's last wishes. At the entrance to the cemetery is the Bertolt-Brecht-Haus, where the pair lived their last years. One of Berlin's most notable sculptors was Johann Gottfried Schadow, who designed his own grave, and his contemporary Christian Daniel Rauch lie also not far away in this holy location. Berlin's greatest architects, Karl Friedrich Schinkel and Friedrich August Stüler are also buried in the Birkenallee. Take part in this peaceful cemetery tour and get to know the connections of the people during their lifetime.
Dorotheenstädtischer Friedhof Berlin Stadtmitte, Chausseestraße 126, 10115 Berlin, Station: U6 Naturkundemuseum, Daily 8:00 until sunset
A real hidden holy gem of Berlin
This chapel as well as a light installation by James Turrell are further highlights and hidden gems at holy location in Berlin. Light in all its magic and light as a divine being are represented by the artist James Turrell's installation in the chapel, which was restored in 2015. Just as in mediaeval Gothic holy churches, the blazing, coloured light is a sign from God. This fascinating light installation begins every evening after sunset. Guided tours and viewings are available without booking in advance.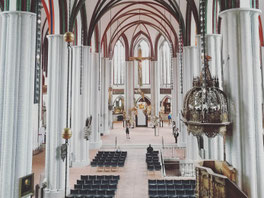 Nikolaikirche Berlin
Once a holy church, now museum, the Nikolaikirche has been a holy location, and landmark of the Berlin city centre for over 800 years. Free admission the first Wednesday of each month./p>
Nikolaikirchplatz, 10178 Berlin (Mitte), +49 30 24 00 21 62, www.stadtmuseum.de/nikolaikirche, Station: U2, U8, U5, S5, S7, S9 Alexanderplatz, daily from 10:00–18:00
If you want to find more hidden gems in Berlin, check out my folding maps BertaBerlin and QueerBerlin. They are available in well-chosen locations all over Charlottenburg, Neukölln, Kreuzberg, Mitte and Prenzlauer Berg in Berlin and online. But for those of you, who want to stay up to date, feel free to follow me on INSTAGRAM, FACEBOOK or register for my NEWSLETTER BertaNews.