Find yourself searching for the perfect ice cream shop? No worries, I was scouting Berlin looking for the best destinations to have fun with children. From ice cream shops, farms for children to the Teddy's concert at Deutsche Staatsoper Berlin or the flashlight tour for children at Museum für Naturkunde; I found so many awesome spots that I reveal in my map PlayBerlin for parents and children. I hope you enjoy the selection! For now here is the Top 5 of ice cream shops in Berlin.
Woop Woop IceCream
The guys from Woop Woop Icecream conjure really tasty ice cream for you from fresh ingredients and cold liquid nitrogen. They offer my favorite chocolate Brownie ice cream but also vegan sorbets. Note: Every friday you can get a cocktail sorbet.
Rosenthaler Straße 3, 10119 Berlin, www.woopwoopicecream.de, Station: U8 Rosenthaler Platz, Mon–Thu, Sun 12:30–20, Fr–Sat 12:30–22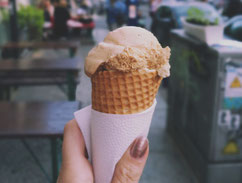 Hokey Pokey ice cream shop
This ice cream patisserie sells splendid ice cream made by a professional pastry chef. Try their name-giving flavor of the store!
Stargarder Straße 73, 10437 Berlin, www.hokey-pokey.de, Station: U2, S8, S41, S42, S85 Schönhauser Allee, daily 12–22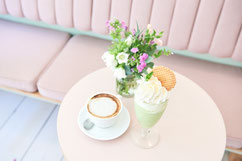 Lecko Mio Gelateria
This ice cream salon is a family business run by Nadja. Together with ice cream maker Luciano she brings the creamiest ice cream recipes to Berlin, for you. They also serve vegan Spaghetti ice!
Graefestraße 80, 10967 Berlin, www.leckomio-gelateria.de, Station: U8 Schönleinstraße, Tue–Sun 13–18, summer until 21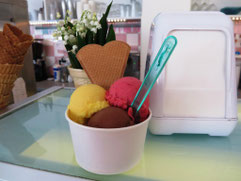 Fräulein Frost ice cream shop
Strawberry-Basil, Chocolate-Ginger – their creations appeal above all to friends of the frozen.
Friedelstraße 39, 12047 Berlin, Station: U8 Schönleinstraße, Mon–Fr 13–22, Sat–Sun 12–22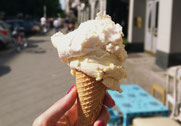 Tanne B ice cream shop
Since 2004 they create high-quality handmade ice cream in the heart of Kreuzberg. In the morning you get fresh French croissants, canapé and bagels, pastels de natas, muesli and yoghurts.
Eisenbahnstraße 48, 10997 Berlin, www.tanneb.de, Station: U1, U3 Görlitzer Bahnhof, Nov–March daily 9–20, summer until 22