Find yourself searching for an ice cream store in Berlin or even two ice cream stores ;)? No worries, I am always looking for the hidden gems in Berlin. This year I found awesome ice cream stores all around Berlin, some of which are also reveal in my PlayBerlin map for parents and children or my district BertaBerlin maps. I hope you enjoy the selection! For now here is the Top 5 of ice cream store in Berlin.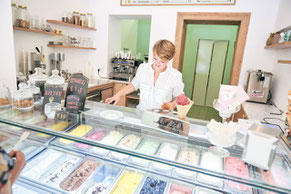 Lecko Mio Gelateria
This ice cream salon is a family business run by Nadja. Together with ice cream maker Luciano she brings the creamiest ice cream recipes to Berlin, for you. They also serve vegan Spaghetti ice!
Graefestraße 80, 10967 Berlin (Neukölln), www.leckomio-gelateria.de, Station: U8 Schönleinstraße, Thu–Mon 13:00–18:00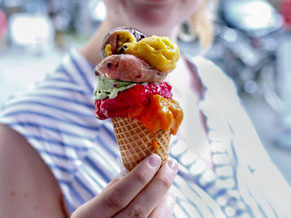 OAK & ICE
Natural artisanal ice cream is conquering Berlin - and the lovely Polish couple behind OAK&ICE make pure, handcrafted flavors to die for. Intense fruity sorbets and seasonal specials like dark chocolate will make you salivate on sight. No matter the time of the year, this place is always a good idea. Did we mention it's also vegan friendly?
Schönhauser Allee 52, 10437 Berlin (Prenzlauer Berg), +49 30 52 10 41 10, hello@oakandice.com, www.oakandice.com Station: U2 Eberswalder Straße, daily 13:00–19:00; they also have ice cream store at Wilmersdorfer Straße 46, open from Thu–Sat 12:00–18:00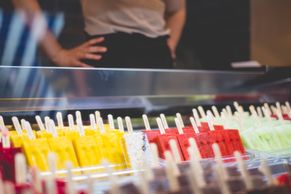 Paletas ice cream store
Paletas is a real diamond amongst the local ice makers. These Berlin manufacturers specialising in ice popsicles ice make their yummy paletas from whole fruits and fresh ingredients since Sommer 2012. Enjoy the paletas ice lolly happiness in many cafés throughout Berlin or in their own shop in Friedrichshain. With lots of vegan varieties (fruit sorbets as well as flavorsvarieties based on coconut) we promise you taste explosions of blueberry cheesecake, strawberry-lime, buttermilk-lemon, mango coconut, raspberry-vanilla. Topped with toppings! Look out for their popsicles at all types of events, markets or concerts - such as the legendary Green Market Berlin - or invite them to cater your own summer party. Anywhere and anytime - Paletas is an "I scream, ice cream" experience!
Wühlischstraße 26, 10245 Berlin (Friedrichshain), +49 30 51 65 46 31, info@paletas-berlin.com, www.paletas-berlin.com, Station: Tram M5, M13 Wühlischstr. / Gärtnerstraße, Mon–Fr 13:00–19:00, Sat–Sun 12:00–21:00 (March–Oct)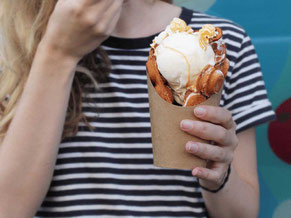 Woop Woop IceCream
The guys from Woop Woop Icecream conjure really tasty ice cream for you from fresh ingredients and cold liquid nitrogen. They offer my favorite chocolate Brownie ice cream but also vegan sorbets. Note: Every Friday you can get a cocktail sorbet.
Rosenthaler Straße 3, 10119 Berlin (Mitte), www.woopwoopicecream.de, Station: U8 Rosenthaler Platz, daily from 13:00–20:00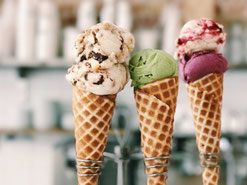 Jones Ice Cream
Berliners take their ice cream very seriously, and many argue over who is the best. My vote: artisinal ice cream and cookie shop, Jones. A small ice cream truck turned fantastic ice cream shop in Schöneberg, the space is bright, welcoming, and smells of freshly baked ice cream cones. Enjoy a cone inside, or order one to go, indulging the delicious flavors while strolling with your dog through nearby Heinrich-von-Kleist Park. All of their egg-free ice creams and sorbets are made from scratch.
Goltzstraße 3, 10781 Berlin (Schöneberg), www.jonesicecream.com, Station: U7 Kleistpark, daily 12:00–19:00