Berlin is one of the most multicultural cities in Europe, it hosts several communities from all over the world. One of the biggest is for sure the Italian one which, with its twenty thousands habitants, is the third largest in Berlin. If you are visiting Berlin or living here and you want to have a taste of the country of La Dolce Vita, you have many opportunities.
Here are the top 5 places you can visit if you want to find Italy, in Berlin.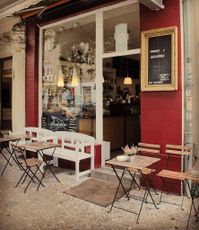 Caffeggiando
You can start with a true Italian breakfast and have 'caffé e cornetto' at Caffeggiando. The owners and workers are authentic Italians and have created a menu to reflect their origins. It is a very small café with the opportunity to sit outside in the summer. You can sample a true Italian breakfast by having a shot of espresso and a fast croissant without even sitting. Of course you are very welcome to spend half an hour on the terrace outside and if you say some words in Italian the owner will spoil you a bit with some treats.
Anzengruberstraße 19
12043 Berlin (Neukölln)
Station: U7 Karl-Marx-Straße
Mon-Fri 8:30–19:00, Sat 9:30–19:00, Sun 10:00–18:00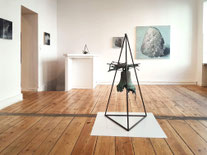 Luisa Catucci Gallery
After a nice Espresso you have now the energy to explore some Italian art in the Schiller Kiez again in Neukölln. Luisa Catucci gallery, named after her creator, is the perfect spot where to dig into some new art. Opened in 2017, the gallery is focused on European art with special eye to Italian artists inspired by ecological, social and existential matters. Follow this perle in the heart of Neukölln to find out which is the next multidimensional event and you won't be disappointed.
Allerstraße 38
12049 Berlin (Neukölln)
Station: U8 Leinestraße
+49 176 2040 46 36
www.luisacatucci.com
Tue-Fri 10:00–18:00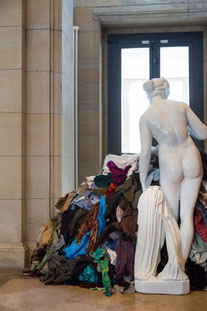 Italienisches Kulturinstitut
If you haven't had enough of art then it's time to go towards the centre of the city to visit the Italian Cultural Institute that, together with the Italian embassy, is hosting an exhibition inspired by one of the most important modern Italian artist Michelangelo Pistoletto. It starts the 1st of June to celebrate the 85th birthday of the artist and will go on until the 29th of September. One of the major works of Michelangelo is 'La Venere degli stracci', a sculpture representing the Venere surrounded by rags originally shown at the Biennale of Venice in 2017 and at the MAAM in Rome. 'Michelangelo Pistoletto und Cittadellarte. Spiegelungen und Widerspiegelungen' presents all the major works of the artist from all his different artistic periods. It's a chance you can't miss if you want to know more about Italian art in the 60's.
Hildebrandstraße 2
10785 Berlin (Mitte/Tiergarten)
Station: U2, S1, S2, S25 Potsdamer Platz
+49 30 26 99 410
iicberlino.esteri.it
Mon, Tue, Fri 10:00–14:00 Wed, Thu 10:00–16:00
MINI, wine, food and cult movies
Now, It is Aperitivo time, this is a very serious matter in Italy! In some regions it is considered like an evening brunch, in others it is just a way to prepare your belly for dinner with small appetisers and a light drink. You can find this and more at Mini in Kreuzkölln. It is a brand new restaurant already showing a lot of potential. You can find one of the best Aperol Spritz in Berlin and also the special cocktail Gin Rosa, my personal favourite. Regarding the food, I would recommend the Farinata which is simply delicious! The owner also organises Aperitivo's events with DJ sets and special discounts for the summer with screenings of cult movies for the colder winter months.
Urbanstraße 126
10967 Berlin (Kreuzberg)
Station: U7/U8 Hermannplatz, U8 Schonleinstraße
www.minicultbistro.de
Wed-Sun 11:00–23:00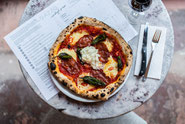 Gazzo Berlin
This Neuköllner Pizzeria Gazzo serves Berlin's best sourdough pizza. Through slow fermentation Robert, Mikel and Mikael transform organic flour into most delicious pizzas. At first glance the sourdough pizzas look like the Neapolitan version. But the sourdough makes the pizzas much more digestible, especially for people with wheat intolerance. The buffalo burrata with tomatoes and Berlin's most delicious soft ice cream made from Brandenburg buffalo milk with olive oil and sea salt for dessert should also not be missed.
Hobrechtstraße 57
12047 Berlin (Neukölln)
Station: U8 Schönleinstraße
www.gazzopizza.com
Daily 12:00–22:00
I hope you've enjoyed your Italian adventure in Berlin and I imagine after all that Aperol and pasta you are ready for bed, ciao bella/o.
If you want to find hidden gems of Berlin, check out my folding maps BertaBerlin and QueerBerlin. They are available in well-chosen locations all over Charlottenburg, Neukölln, Kreuzberg, Mitte and Prenzlauer Berg in Berlin and online. But for those of you, who want to stay up to date, feel free to follow me on INSTAGRAM, FACEBOOK or register for my NEWSLETTER BertaNews.

Author: Carmela was born in Sicily 34 years ago. She moved out from her tiny village at the age of 20 and lived in Italy and around Europe. She considered herself a nomadic until she decided to move to Berlin seven years ago. When she does not buy a book she feels lost and even if she can't read it all she loves to accumulate them on her reading desk and look at them like they are her next goal in life. If you would take away good food and good wine from her life she would literally die. She works in a hotel for the last two years so if you're looking for a place where to sleep and for the best advice on Berlin give her a ring. "Dream dream my daughter" her father used to say, and this is now her motto in life.