One of the most impressive trips I have taken was to Japan. It is simply a completely different world in which hardly anyone understood me and in which there are so many things and places to discover. Because Japan is very far away, I have researched Japanese places in Berlin for my book.
In my book, I have compiled the most beautiful Japanese places in Berlin. Until the book is published, I want you to get a taste of Japan in Berlin by introducing my "Top 5 Japanese places in Berlin". 
In case you want to pre-order the book,
just check out my online shop for "TRAVEL THE WORLD IN BERLIN".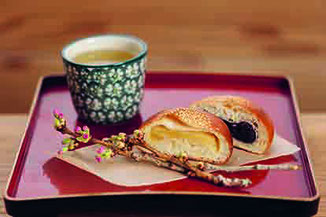 kame Japanese bakery
Under the name 'kame' – turtle, a Japanese symbol for long life, a Japanese bakery offers hearty and sweet Japanese pastries, along with naturally frothy matcha tea. Perfect to start your trip to Japan. From matcha cheesecake to eclairs with a hearty Houjicha filling and tiramisu with green tea, you will find a wide selection of Japanese delights in the Kame.
Leibnizstraße 45, 10629 Berlin (Charlottenburg), www.kame.berlin, Station: U6 Oranienburger Tor, Mon–Sat 11:00–19:00, Sun 11:00–17:00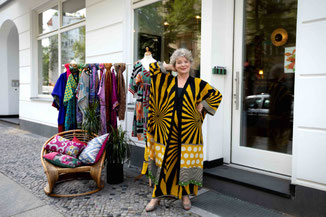 Peggy Lukac Design
Everyone knows two things when they think of Japan: Sushi and the kimono. Originally, the word kimono referred to all kinds of clothing. Today's kimono took shape in the 8th century. In this colourful fabric and design shop of the Berlin actress Peggy Lukac, you can try on lots of kimonos made of traditional fabrics.
Steifensandstraße 9, 14057 Berlin (Charlottenburg), www.peggylukacdesign.com, Station: U2 Sophie-Charlotte-Platz, Wed–Fr 12:00–19:00, Sat 12:00–16:00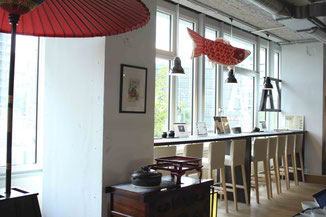 Chaya
More than 1,500 Japanese products welcome you in this shop, be it things made of porcelain, ceramics, glass, wooden textiles, cast iron or paper. Since green tea is an essential part of the Japanese lifestyle, they have christened their shop Chaya, which means tea shop. In addition to accessories for a Japanese tea ceremony, the shop also offers a high-quality selection of genuine Japanese green tea such as Sencha and Hoshino-Matcha.
Budapester Straße 38–50, Berlin (Charlottenburg), www.chaya.de, Station: U2, U9, S3, S5, S7, S9 Zoologischer Garten, Mon–Sat 10:00–20:00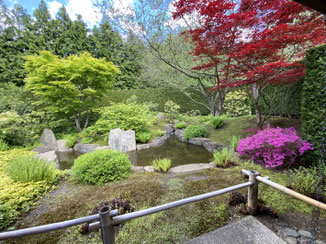 Japanischer Garten in den Gärten der Welt
The Japanese Garden of Merging Water, located in the 'Gardens of the World', is designed in the style of classical Japanese garden art with stone setting, dry waterfall, the Zen garden and a pavilion (chaya). The garden consists of three areas representing the past, the present and the future, connected by paths like a time axis. The garden is laid out as a circular path. The ever-new impressions of the garden should inspire you to talk to yourself: about your life and your perspectives in the future.
Gärten der Welt, Blumberger Damm 44, 12685 Berlin (Marzahn), www.gaertenderwelt.de, Station: M8, M17 Adersleber Weg (Berlin), daily from 9:00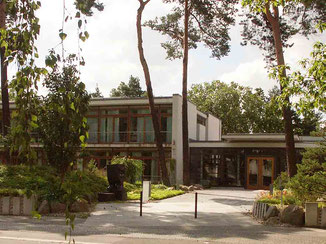 Japanisch-Deutsches Zentrum
Founded in 1985, the Japanese-German Center Berlin serves to promote and deepen Japanese-German cooperation in the fields of science and culture. Here you can attend cultural and scientific events and Japanese language courses. During the open day, there are Japanese taster courses, calligraphy classes, an Ikebana exhibition (the art of flower arranging), music evenings and Japanese specialities. The library and its exhibition are also worth visiting.
Saargmünder Straße 2, 14195 Berlin (Zehlendorf), www.jdzb.de, Station: U3 Oskar-Helene-Heim, library: Tue, Wed 11:00–17:00, Thu 10:00–17:00
More Japanese places in Berlin: