The possibilities of discovering different cultures in Berlin are endless. As I am scouting for restaurants in Berlin, I am always finding new highlights aka hidden gems, which I love to point out! I was recently day dreaming about cherry blossom, beautiful temples and of course delicious Japanese specialties like sushi and ramen, which made me think about a Top 5 of Japanese restaurants in Berlin. So here are my favorite Japanese restaurants in Berlin that will allow you a quick getaway to Japan without hopping on a plane.
Zenkichi
(Japanese restaurant)
Featuring the largest selection of premium Junmai sake in Germany and specializing in modern Tokyo style cuisine, Zenkichi is known for its unique ambiance and respect for Japanese cuisine and craftsmanship. Modelled after typical Tokyo dining establishments, surrounded by bamboo and jazz, this Japanese brasserie has been offering its guests an unforgettable semi-private and elegant dining experience in Berlin since 2015, with roots in Brooklyn since 2006. The ambiance is accompanied by the warmth of Japanese hospitality, contemporary but authentic dishes and a unique selection of sakes personally curated by Zenkichi's founder and sake sommelier Motoko Watanabe. Last order at 22:30.
Johannisstraße 20, 10117 Berlin (Mitte), +49 30 24 63 08 10, www.zenkichi.de, Station: U6, S1, S2, S5, S7, S9, S25 Friedrichstraße, Mon–Sat 18:00–24:00, Sun 17:30–23:30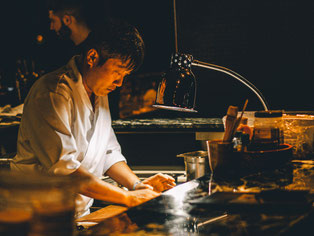 893 Ryotei
(Japanese restaurant)
From the outside you see a building covered in graffiti, but when you walk inside this low-lit Japanese restaurant in Berlin, adorned with marble counter tops and plush interiors you will be blown away. Their menu stretches across many kitchens, taking you on a long journey from Tokyo to Lima, and back via Mexico City. More information you can find on my upcoming BertaBerlin map from Charlottenburg.
Kantstraße 135, 10625 Berlin
 (Charlottenburg), +49 30 91 70 31 21, www.893ryotei.de, Station: S3, S5, S7, S9 Savignyplatz, Tue–Sat 18:00–22:00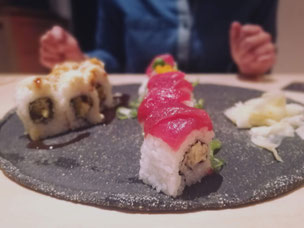 Sasaya
(Japanese restaurant)
As one of many Japanese restaurants in Berlin Sasaya does not only serve fantastic sushi. The Omakase plate is highly recommend as well. Appetizers like the Tsukemono (pickled vegetables), the Takana (fried vegetables) and the Kukiwakame (seaweed salad) are also very tasty. So you better come hungry. Also to be found in my BertaBerlin map about Prenzlauer Berg.
Lychener Straße 50, 10437 Berlin (Prenzlauer Berg), +49 30 44 71 77 21, www.sasaya-berlin-de.tumblr.com, Station: U2 Eberswalder Straße, Mon, Thu–Sun 12:00–15:00, 18:00–23:30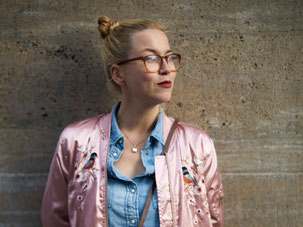 Cocolo Ramen
(Japanese restaurant)
When talking about Japanese restaurants in Berlin this temple of ramen worship cannot be left out. You can order a variety of the Japanese noodle soups. Most likely, you'll have to get in line to get a seat. But it is worth the wait, as you will be offered delicious, fresh noodles in a tasty broth, topped with meat or vegetables, eggs and wakame. More information can be found on my BeautyBerlin map.
Graefestraße 11, 10967 Berlin (Kreuzberg), +49 30 98 33 90 73, www.kuchi.de/restaurant/cocolo-x-berg, Station: U8 Schönleinstraße, Mon–Sat 12:00–22:00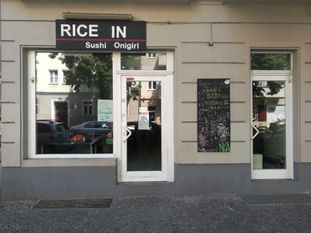 Rice In
(Japanese restaurant)
Are you fancy for sushi? Well then, a must try sushi restaurant in Berlin Friedrichshain is definitely Rice In. It is a very simple place, not fancy at all and the definition of Japanese cuisine is definitely well represented here. They not only serve sushi there but also bowls of sashimi and rice. If you want to drink beer, they have nice variety of Korean ones.
Grünberger Straße 88, 12045 Berlin (Friedrichshain), +49 30 85 61 69 33, Station: U5 Samariterstraße, Wed-Sun 15:00–23:00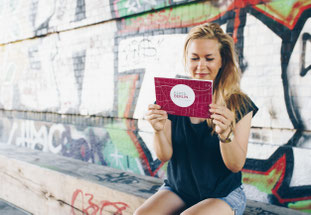 DoHo Sushi
(Japanese restaurant)
Take a break from festive see-and-be-seen scenes. The simple setting of DoHo enables you to fully concentrate on Japanese food, sake, and your dining companions. Once seated, you can savor Japanese seasonal small plates meant to be shared with the whole table. More information can be found on my BertaBerlin map about Charlottenburg.
Dahlmannstraße 14, 10629 Berlin, www.dohosushibar-berlin.de, Station: U7 Adenauerplatz, Mon–Fr 11:30–15:00, 17:00–23:00 Sat–Sun 17:00–23:00
Find more Japanese places in Berlin: