In Berlin, we are lucky enough to have an extremely vibrant and exciting food scene. Food and cuisine from all over the world can be found in this city including many Japanese restaurants. All of us have our favourite go-to dinner spots in Berlin but I believe that it's always a great idea to try out something new and discover a spot which you may never have known existed. That's why recently I've been searching for the best Japanese restaurants in Berlin. The best ramen, sushi and other delights are waiting for you at these spots, so without further ado, here are my top 5 Japanese restaurants in Berlin!
In my book I have compiled the most beautiful Japanese restaurants in Berlin. For now I want you to get a taste of Japan in Berlin by introducing my "Top 5 Japanese restaurants in Berlin".
In case you want to order the book,
just check out my online shop for "TRAVEL THE WORLD IN BERLIN".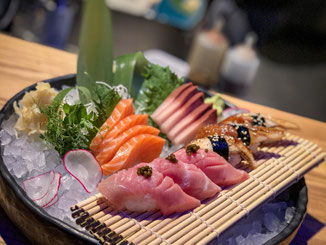 The Catch
The owners of The Catch a Japanese izakaya come to Berlin from Riga, where there opened their first restaurant. By the name you can already guess what you can get here: Yes, fresh fish. At The Catch you get high-quality raw fish in the form of sashimi and sushi. There is also Robata grilled seafood, meat and vegetables, as well as delicious selection of Izakaya and much more. Highly recommended is also the Shizo, Affila and the grilled octopus! Itadakimasu!
Bleibtreustraße 41, 10623 Berlin (Charlottenburg), +49 175 22 20 095, catchme@thecatch.berlin, www.thecatch.berlin, Station: S3, S5, S7, S9 Savignyplatz, Mon–Thu 12:00–23:00, Fr–Sat 12:00–24:00, Sun 18:00–23:00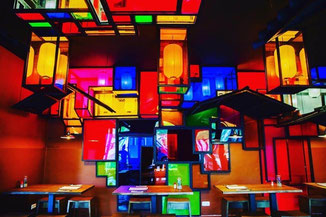 IRO Izakaya Berlin
IRO means colors. The name fits like a glove, because this pub-restaurant with its colourful lantern cubes could have been inspired by a Piet Mondrian painting. Japanese tapas such as fried taro root or delicious aubergines with miso sauce are prepared here, which you can enjoy in a cosy atmosphere.
Krossener Straße 19, 10245 Berlin (Friedrichshain), Station: S3, S5, S7, S9, S41, S42, S45, S85 Ostkreuz, daily 12:00–23:00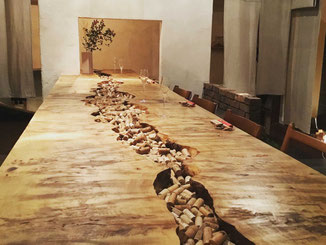 Kumami
A red lantern at the house will light your way even from a distance. A remnant of the burlesque bar Lillys Wonderland, which enchanted visitors here before the Japanese restaurant opened. The Kumami in Berlin-Köpenick offers a full twelve seats on a long table made of poplar wood. Only by reservation you can try the excellent salmon tartar, the delicious leg of venison with sesame sauce, trout in wine leaves and crème brûlée with roasted green tea. If you want to taste it all, the best choice is the eight-course menu for 69 Euros.
Kietzer Straße 3, 12555 Berlin (Köpernick), www.kumamiberlin.com, Station: Tram M63 Köpernick, March–Aug: Fr, Sat from 18:00, Sept–Feb: Thu, Fr, Sat from 18:00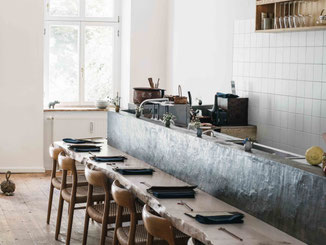 Shiori 
Shiori is a small Japanese restaurant in Berlin where up to seven guests can sit at the counter behind which Shiori Arai prepares his omakase menu. 'Omakase' is the Japanese word for when the guest trustfully places himself in the hands of the cook. Here you get to taste the whole variety of Japan, from scallops on a miso base, lobster dumpling with asparagus to tempura with sea urchin filling. A maximum of ten courses are served, but you have to be at the bar at 19:00 on time.
Max-Beer-Straße 13, 10119 Berlin (Mitte), www.shioriberlin.com, Station: U8 Weinmeisterstraße, Tue–Sat from 19:00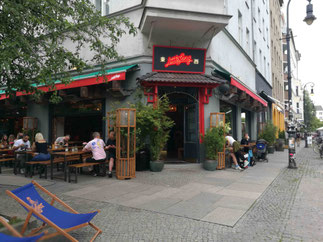 Little Long
As I am - for my travel guides BertaBerlin - always looking for the hidden gems in Berlin, I visited this hidden gem. From the outside, these Japanese restaurant with its open terrace and lanterns and plants looks relatively traditional Asian. You will be greeted by a large portrait of Bruce Lee, painted by the restaurant owner. Besides, there are many other paintings, so you feel like you're in a gallery. The menu offers a fusion of European dishes with an Asian twist and vice versa. For example, they serve Udon Carbonara: the typical Italian spaghetti sauce made from cream and egg is combined with the thick wheat noodles of Japanese cuisine. Very, very tasty. In addition to such fusion dishes, Little Long also offers traditional dishes such as ramen soups, sushi and yakiniku. Unfortunately I couldn't eat that this time, but I am very much looking forward to visit this cute restaurant again; soon!
Wiener Straße 60, 10999 Berlin (Kreuzberg) +49 30 69 51 53 32, info@littlelong.de, www.littlelong.de, Station: U1, U3 Görlitzer Bahnhof, daily 12:00–24:00
More Japanese restaurants: