People I meet in Berlin are curious about Jewish heritage and are often not aware of Jewish sites beyond the Neue Synagogue, the Holocaust Memorial and the Stolpersteine. Lately, I've been receiving requests for more tips about Jewish heritage sites as well as recommendations for good Israeli food. With trendy Israeli restaurants popping up all over town, it's hard to choose where to go. I met up with Shlomit Lasky, an Israeli Tour guide who specializes in Jewish heritage walks in Berlin. She has shared some of her favourite sites and told us which restaurant she goes to when she's homesick. We hit it off so well, we decided to write a Jewish map together. Meanwhile, enjoy and 'Beteavon!' (Bon appétit in Hebrew). Read more to discover Jewish Berlin beyond the Neue Synagogue and explore areas of the city which you might not have previously.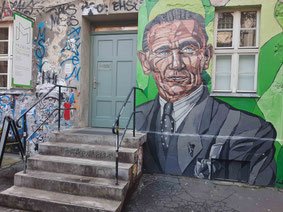 Otto Weidt Museum
Tucked away from the vibrant, gentrified, shopping street in a courtyard packed with some of Berlin's most notable street art, you will find Museum Otto Weidt's Workshop for the Blind. From the late 1930s and throughout World War Two, Weidt ran a small factory in the building, producing brushes and brooms employing mainly blind and deaf Jews. At great personal risk, he fought to save his workers from deportation. The museum presents the personal stories of the workers; the most moving exhibit is the former storage room where Weidt hid an entire family for nine months!
Although Anne Frank wrote her diary while hiding in Amsterdam, you can visit the exhibition "All about Anne" at the Anne Frank Centre next door. Don't leave Haus Schwarzenberg before taking some time to enjoy the street art which constantly changes thanks to the Haus Schwarzenberg non-profit organisation which runs this place. Have a drink at the gritty, cool bar at the back of the courtyard which will remind you of the 'Ruin Bars' in Budapest. Watch an original film at the quaint art house cinema next door or even venture downstairs to the Dead Chickens 'Monsterkabinett'- a bizarrely unforgettable show of rusty mechanical monsters!
Museum Otto Weidt's Workshop for the Blind, Rosenthaler Straße 39, 10178 Berlin (Prenzlauer Berg), +49 30 28 59 94 07, info@museum-blindenwerkstatt.de, www.museum-blindenwerkstatt.de, Station S3, S5, S7, S9 Hackescher Markt, daily 10:00–20:00, free admission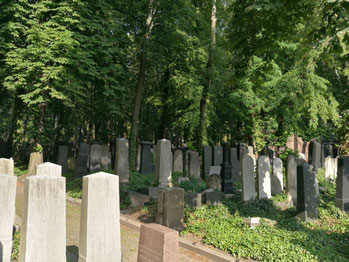 Jewish cemetery Schönhauser Allee
The ivy growing all over the dilapidated tombstones and birds chirping in the background give this cemetery a magical atmosphere. The cemetery opened in 1827 and was the second Jewish cemetery in Berlin. Painter Max Liebermann, composer Giacomo Meyerbeer, Otto von Bismark's financial advisor and banker- Gerson von Bleichröder, patron of the arts-(Henri) James Simon (whom the new visitor's centre on the Museum Island is named after in his honour) are only a few examples of prominent figures who lay here. Many of the headstones here follow Christian traditions rather than Jewish ones, baring evidence of Jewish assimilation in the 19th century. You can buy a guide book at the cemetery with information about the important people's grave and their location. At the entrance of the cemetery, you will find a lapidarium constructed in 2005 which houses gravestones vandalized during the Nazi era.
Jüdischer Friedhof Schönhauser Allee, Schönhauser Allee 25, 10435 Berlin (Mitte), Station: U2 Senefelderplatz, Mon–Thu 8:00–16:00, Fr 7:30–13:00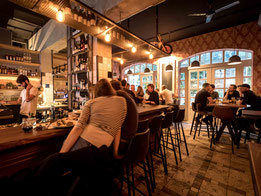 Night Kitchen
For a delicious contemporary Mediterranean meal, visit Israeli restaurant Night Kitchen, which originated in Tel Aviv. All ingredients are fresh and colourful, suitable for seafood lovers and meat lovers alike with dishes such as short ribs couscous or grilled calamari with radish, chickpeas, fennel and black lentil cream. This restaurant also offers plenty of good vegetarian options such as wood smoked aubergine or tomato Carpaccio. The prices of main courses range between 12-25 Euros, or you can let the chef surprise you with a personalized menu for 42 -56 Euros. Come hungry, as the portions are generous! The service is hospitable Tel Aviv style and the location is gorgeous, set in a former 19th-century redbrick horse stable at the serene Heckmann –Höfe (Heckmann Courtyards). On a warm summer evening, ask to be seated in their lovely patio. The courtyard complex connects between Oranienburger Straße, right next to the Neue Synagogue and August Straße, where you'll find the former Jüdische Mädchenschule (Jewish Girls' School) which is now home to several art galleries and restaurants.
Oranienburger Straße 32, 10117 Berlin (Mitte), +49 30 23 57 50 75, nightkitchenberlin@gmail.com, www.nightkitchenberlin.com, Station: S1, S2, S25, S26 Oranieburger Straße, daily from 17:00, pic by Arad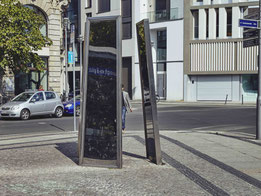 Memorial to the Fashion Centre at Hausvogteiplatz
Not many are aware that between 1836–1939 Berlin was a thriving centre of fashion, renowned particularly for its prêt-à-porter industry. A majority of these Berlin companies were owned by Jewish entrepreneurs and were confiscated, forced into liquidation and consecutively taken over by Nazi loyal fashion producers and designers. In 1994 a memorial for this forlorn industry was erected at the heart of the former garment district. As you climb up the stairs of the Hausvogteiplatz underground station, you will notice the writing on the steps- names of family-owned Jewish fashion businesses and their addresses, taken out of a 1935 telephone directory. Once you reach the street level, you will see your own reflection in three narrow mirrors that represent a tailor's mirror. If you would like to learn more about the history of Jewish fashion in Berlin, check out Uwe Westphal's beautifully designed and meticulously researched book: 'Fashion Metropolis Berlin'. Westphal was active in the foundation of the memorial.
Hausvogteiplatz, 10117 Berlin (Mitte), Station: U2 Hausvogteiplatz, pic by Uwe Westphal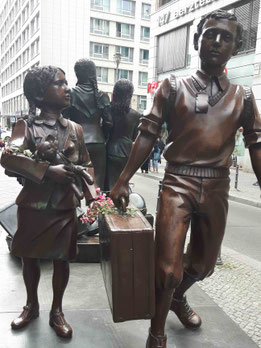 Trains to Life – Trains to Death Memorial
At Friedrichstraße station on the corner of Georgenstraße stands one of the most moving Jewish memorials in Berlin portraying the fate of Jewish children during the Holocaust. On one side of the sculpture, there are two children carrying a suitcase and wearing a name tag. They represent the lucky children who escaped to England on the Kindertransport, a mission that saved more than 10,000 Jewish children from Germany, Austria, Poland and Czechoslovakia between 1938–1939. The children travelling from Berlin left from this station; most of them were taken in by English families and never saw their parents again. On the other side of the bronze train track, there are five children who wear tattered clothes and shoes and have faces of despair. These figures represent the million and a half children who died in the Holocaust. The memorial was inaugurated in 2008, the sculpturer Frank Meisler, left Germany with the help of the Kindertransport.
Dorothea-Schlegel-Platz, 10117 Berlin (Mitte), Station: U6, S1, S2, S5, S7, S9, S25 Friedrichstraße
If you want to find more hidden gems of Berlin, check out my folding maps BertaBerlin and QueerBerlin. They are available in well-chosen locations all over Charlottenburg, Neukölln, Kreuzberg, Mitte and Prenzlauer Berg in Berlin and online. But for those of you, who want to stay up to date, feel free to follow me on INSTAGRAM, FACEBOOK or register for my NEWSLETTER BertaNews.

Shlomit Lasky
is a quintessential wandering Jewess. Born in Tel-Aviv, raised in Hong Kong, and studied screenwriting in London. After graduating she returned to Tel Aviv to establish herself as a lifestyle journalist. Since 2010, Berlin has been her home. Compelled by the city's history, she decided to turn it into her livelihood. Nowadays, her time is divided between her two passions—writing and guiding. She has recently completed her first novel 'The Jewish Girl's Survival Guide to Berlin,' with the help of Zurückgeben Foundation and is looking for a publisher. You can find out more about her lovely tours on www.yourberlinerguide.com. Once the COVID-19 restrictions are relaxed, she will offer Jewish heritage public walking tours for small groups (May-July 2020). Drop her a line at shlomitinberlin@gmail.com for more information.
pic by Stefan Maria Rother
More articles about Jewish places in Berlin