Because of the coronavirus, the Berlin marathon has been cancelled, but in reality, more people than ever are jogging through Berlin! One more reason to discover more jogging routes in Berlin. With its many parks, Berlin offers good opportunities to prepare for the running season. For my jogging map and to get some brief variety in my working day, I have scouted for the best jogging routes in Berlin – so you get a sneak peek today: Here are my "Top 5 jogging routes in Berlin".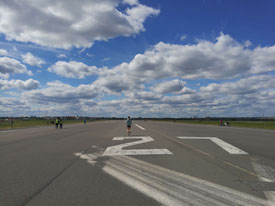 Jogging route in Tempelhof
Aeroplanes used to take off and land on this field, today athletes use the extensive whilst varied circuit for running. One lap around the Tempelhof field is about 6 kilometers. If you wish, you can follow the routes in Tempelhof marked with purple dots which passes by a sports park, barbecue areas, a bird sanctuary and vegetable gardens. Here, Berliners grow salad, flowers and carrots in wooden boxes and discarded bathtubs. If you still have enough energy for two more kilometers and a few climbs, continue jogging along the Columbiadamm on the right and behind the mosque on the left into the Volkspark Hasenheide.
Start: U6, S41, S42, S46 Tempelhof
End: U6, S41, S42, S46 Tempelhof
Length from 6 km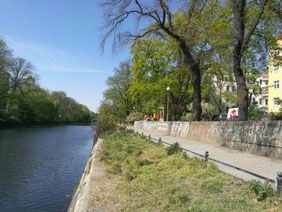 Jogging route at the canal
I believe that jogging by water gives you even more benefits than your usual run through Berlin. At the Landwehrkanal in Kreuzberg running parallel with the water offers very popular jogging routes, so maybe try to go early. From Hallesche Tor to (close by) Görlitzer Park is around 3,5 km, running in a kind of Bermuda triangle, where the city limits of Kreuzberg, Alt-Treptow and Neukölln meet. Along the canal, watch swans paddle on the water and if you want to have a break or simply end your jogging for the day early, there is also beer garden 'Brachvogel', and the boat restaurant 'van Loon' or the famous 'Ankerklause' on Maybachufer. This track is especially suited for jogging beginners like myself.
Paul-Lincke-Ufer in Berlin Kreuzberg / Maybachufer in Berlin Neukölln
Station: U1, U6 Hallesches Tor
Length: from 3,5 to 7 km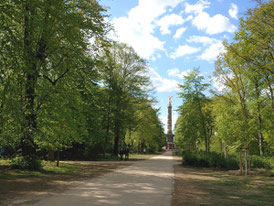 Jogging routes in Berlin Mitte
Why not combine a little bit of Berlin sightseeing with jogging? From the Siegessäule to Brandenburger Tor and back is a 4 km run - quick and easy. You could also spice it up by jogging back through the green lung of Berlin, Tiergarten. Runners will find plenty of space in this park and on hot days there is also shade for a relaxed run. You can decide for yourself on how big or small your jogging route here is. One jogging route within the park is to run past the Brandenburg Gate, the Soviet Memorial in the Tiergarten, Victory Column, Bellevue Palace and the Luisen Monument. After running, a cool drink and a snack will tempt you in the Teehaus or Café am Neuen See.
Brandenburger Tor at Pariser Platz, 10117 Berlin
Station: U55, S1, S2, S25, S26 Brandenburger Tor
Length from 4 km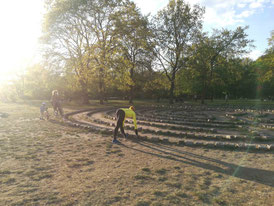 Jogging route in Berlin Kreuzberg
From Südstern you can run (through Lilienthalstraße) towards the Trümmerfrauen Memorial in Hasenheide. This park is the place where the German gymnastic movement began. The name of the park goes back to the use of the area as a rabbit ("Hase") enclosure and a place for hunting. In the middle of the park, you also find Marie's Labyrinth, which might be also nice to check out while running. This area is great for running and jogging routes alike and offers great opportunities for you too shake up your normal jogging route.
Südstern through Hasenheide and back
Station: U7 Südstern
Length from 3,5 km to 7 km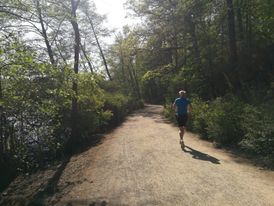 Jogging route around the Schlachtensee
The journey with public transport to S1 Schlachtensee is a little further out, but it is worth it! The jogging route along the Schlachtensee is one of the most popular in Berlin and attracts even joggers from Eastern Berlin. This 5-kilometer route will have you jogging past Paul-Ernst-Park and Die Fischhütte (where you could have a little snack in between). Ideally, the starting point of this jogging route is at the station Schlachtensee, as it is the easiest access. You could also end you jogging route with a dip in the lake at its bathing places. If you want to aim for an even longer jogging route, you could also choose the Grunewald-route: Schlachtensee, Krumme Lanke and Grunewald lake, and here you will run on firm forest ground that is particularly easy on the joints.  
Around the Schlachtensee or the Grunewald lakes
Station: S1 Schlachtensee or S7 Grunewald
Length:  6 km
If you want to find more hidden gems of Berlin, check out my folding maps BertaBerlin and QueerBerlin. They are available in well-chosen locations all over Charlottenburg, Neukölln, Kreuzberg, Mitte and Prenzlauer Berg in Berlin and online. But for those of you, who want to stay up to date, feel free to follow me on INSTAGRAM, FACEBOOK or register for my NEWSLETTER BertaNews.