Where do you get the best kebab in Berlin? On the hunt for my new BertaBerlin maps, I come across some nice kebab spots in Berlin. Coming to Berlin and missing out on kebab is a blasphemy. Kebab is kind of a Turkish pseudo-sandwich packed with juicy meat sliced from a vertical rotisserie and are a gluttonous late night institution. Berlin is covered in a million kebab shops, so to make life easier for you, I listed my Top 5 kebab shops in Berlin.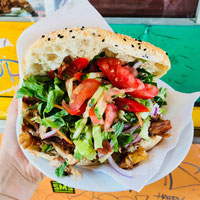 Rüyam Gemüse Kebab
This family business is one of Berlin's hidden treasures. Rüyam's concept is simple but the taste astonishing. A chicken kebab but different with an extra add of fried vegetables and special white cheese which makes it unique. Not the usual vegetable kebab! You'll never get the recipe and very seldom a spot to sit but you get an extra portion of happiness for sure.
Hauptstraße 133, 10827 Berlin (Schöneberg), Station: U7 Kleistpark, Mon–Sat 11:00–24:00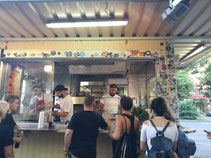 Mustafa's Gemüse Kebab
Yes! This place is hyped for its special taste vegetable kebab and probably the most visited one in Berlin. If you want to try it you got to bring a lot of time as the queue is always damn long - but it's worth it though. One inside hack: to skip the queue visit the one in Warschauer Straße.
Mehringdamm 32, 10961 Berlin (Kreuzberg), www.mustafas.de, Station: U7 Mehringdamm, Mon-Thu 10:00–2:00, Fr 10:00–5:00, Sat 11:00–5:00, Sun 11:00–2:00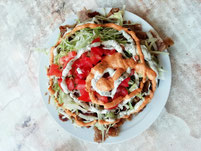 Orient Eck
A part of Kreuzberg since 1987! Its most popular dish- Spezi is a special kind of kebab platter that you will love. It's located in the heart of Kreuzberg directly at Kottbusser Tor and very easy to find. The prices are for wallets of all sizes.
Reichenberger Straße 176, 10999 Berlin (Kreuzberg), +49 30 21 46 83 91, Station: U1 Kottbusser Tor, daily 12:00–19:00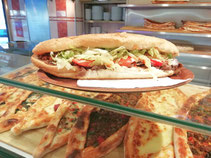 Imren
Imren is a pearl among Berlin's snack bars, the crispy bread and yoghurt sauce taste delicious. This kebab is a different quality than what you can find in almost every corner of Germany. Their kebab is homemade. Besides kebab they offer many other Turkish dishes, the vegetables look excellent and they always have a lamb soup steaming, which is highly recommended. As usual you can get a Turkish tea and excellent Ayran.
Karl-Marx-Straße 75, 12043 Berlin (Neukölln), +49 30 00 000, kms@imren-grill.de, www.imren-grill.de, Station: U7 Rathaus Neukölln, Mon–Sat 9:00–3:00, Sun 9:00–24:00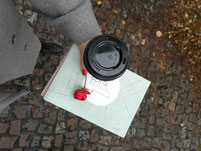 Maroush's kebab
Looking for a delicious Lebanese kebab? Maybe consider Maroush! Their menu is focused on traditional Lebanese staples such as Shawarma, Tabouleh, Fatoush, Humus and Babaganoush. The atmosphere is casual and chill. You can sit on the side walk, but they do have a cozy seating area on the back as well. Here you find a great late night dining spot for kebab. Don't miss the über elaborate tile work on the walls inside the kebab shop!
Adalbertstraße 93, 10999 Berlin (Kreuzberg), Station: U1, U8 Kottbusser Tor, Mon-Sat 11:00–24:00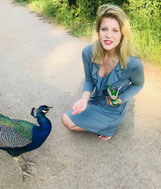 Thank you to my dear co-writer Paulina Czujko, who helped me scouting and writing this piece! I met her in Berlin on one of my KiezWalks, because she studied Nutritional Sciences here, but in September she will be my base in Hamburg and open the Hot Yoga Studio 'Hot Yoga Norderstedt'.