In this post, I'll be taking you through my recommendations of the top five Korean restaurants in Berlin. Whether you're looking for a quick spot for something to grab on the go, somewhere really extraordinary to enjoy a special meal or even for a new date-night restaurant to explore this week then I've got just the thing for you! Come along as I take you through the most authentic, beautiful and delicious Korean spots in Berlin.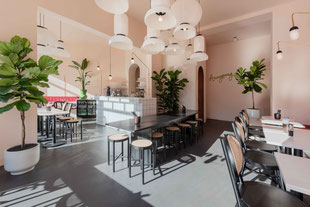 Coréen restaurant in Berlin
If you're on the lookout for delicious, uncomplicated Korean food then this is the place for you! Coréen Berlin is a place to relax in a laid back atmosphere and be treated to tasty Korean delights. Welcoming you at Coréen Berlin are goldern lantern lights and a neon green sign reading "Annyeonghaseyo" (Guten Tag in German). Visit this restaurant for hearty Korean feel-good cuisine with a smile. As well as the lunch bowl, I recommend the bibimbap which is served in a hot stone bowl accompanied with meat, fish, vegetable or tofu options. Whatever you do decide for here, be sure not to miss the homemade Mandus and the Bulgogi Ramyun! 
Torstraße 179, 10115 Berlin (Mitte), +49 30 28 88 38 88, info@coreen-restaurant.de, www.coreen-restaurant.de, Station: U8, M1, M8 Rosenthaler Platz, Montag − Samstag: 12−23 Uhr, Sonntag: 17–22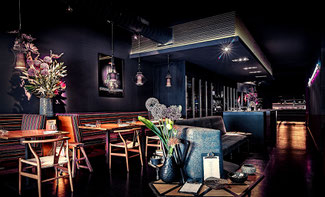 Dae Mon
Dae Mon near Hackescher Markt is a fine-dining (mainly) Korean restaurant with mild lighting, dark whitewashed walls and classic but colourful interior. In the back of the restaurant, you will find an open kitchen and also large pictures from Berlin artist Tina Winkhaus. Here, food is prepared with love in detail and up to a high standard. The menu offers vegetarian, meat and fish dishes. Dae Mon stands for successful Korean-Japanese fusion cuisine with a European influence. They also offer a very affordable lunch menu for 16 Euro (including entree, main course and dessert), which I can highly recommend.
Monbijouplatz 11, 10178 Berlin (Mitte), +49 30 26 30 48 11, mail@dae-mon.com, www.dae-mon.com, Station: S3, S5, S7, S9 Hackescher Markt, Mon–Fr 12:00–14:30, Mon, Fr, Sat from 17:30, Tue, Wed, Thu 18:30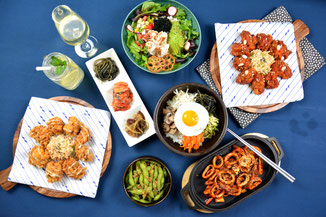 Paran Berlin
A new Korean restaurant has recently opened in Berlin, Neukölln. This Korean jewel serves most of the Korean classics like the bibimbap, bulgogis and absolutely fantastic Korean fried chicken! The owner has extended their menu by introducing a variety of vegetarian dishes like Japchae (a glass noodle dish) or Kimchi Jeon. This restaurant itself is very stylish and laid back with an open kitchen. Another tip would be to order the iced teas, they are really, really tasty!
Sanderstraße 17, 12047 Berlin (Neukölln), +49 30 63 31 70 00, reservation@paranberlin.de Station: U7, U8 Hermanplatz, Tue–Sun 17:00–23:00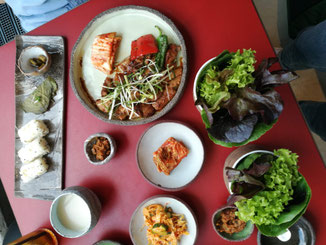 NaNum
NaNum Korean restaurant is located opposite the Jewish Museum and is definitely worth a visit. After her successful career as an alto, the passionate chef Jinok has created a place with a family atmosphere accompanied by authentic Korean cuisine. On the weekends, seasonal dishes such as cold buckwheat noodles and bibimbap as well as experimental desserts are served. Here everything is handmade and served in ceramic dishes especially made for the restaurant. These beautiful dishes are also distilled and exhibited on the second floor of the restaurant. Check their website before going as you don't want to miss out on the events like piano concerts they host!
NaNum, Lindenstraße 90, 10969 Berlin (Kreuzberg), nanumberlin@gmail.com, www.nanumberlin.com, Station: M41 Zossener Brücke (Berlin), Tue–Fr 12:00–14:30, Thu–Sat 18:00–22:30
Kimchi Princess
Another great, don't-miss Korean food spot in Berlin is Kimchi Princess. This is a buzzing Korean restaurant with delicious, sizzling BBQ grills. Whatever you do; make sure to try the Korean BBQ! If you are on a budget but want to try Korean Bibimbap in hot stone too, you could also go to Mercosy found at Dresdener Straße 11.
Skalitzer Str. 26, 10999 Berlin (Kreuzberg), www.kimchiprincess.com, info@kimchiprincess.com, Station: U1 Görlitzer Bahnhof, daily 12:00–22:30