Berlin has truly stunning lakes close by and in the city showcasing pristine natural beauty. Whether you are searching for water sports, a hike, or a relaxed and wellness break, you will find something to suit in my Top 5 most beautiful lakes close by and in Berlin.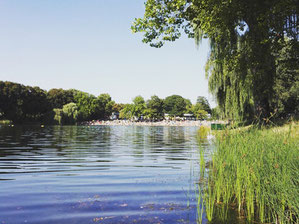 Orankesee
Strandbad Orankesee in Berlin Alt-Hohenschönhausen has a lot to offer, for example a playground, a beach volleyball court, an area to play ping-pong and a small snack bar. Bathing is permitted at the restricted area, the lake also has shallow water parts ideal for children. But the must-see attraction for children is the 52 m long water slide at the poolside, while others might look forward to relax in the comfy beach chairs.
Gertrudstraße 7, 13053 Berlin (Alt-Hohenschönhausen), www.strandbad-orankesee.de, Station: M4 Buschallee/Hansastraße, Daily 9:00–19:00, entrance fee is 5 Euro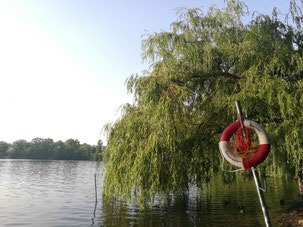 Weißen See at Pankow
The Weißer See (White Lake) is surrounded by a park, in which you can relax under trees, sun bath and have a swim in the lake. Strandbad Weißensee beach combines a white sand beach with a bamboo bar and restaurants. Toddlers can splash in the shallow parts of the lake; while more experienced swimmers can venture further out. If you like, you might treat yourself to a few barbecue specialities. The beach even offers public viewing of international football events so every member of the family won't miss out on the action. Strandbar Weißensee can also be booked for private functions and organizes musical events.
Berliner Allee 155, 13088 Berlin (Pankow), www.strandbadweissensee.de, Station: M4 Berliner Allee/Indira-Gandhi-Straße (Berlin), it is open in summer from 1rst of May until 31rst of August, Sun–Thu 10:00–23:00, Fr–Sat 10:00–24:00, entrance fee is 5,50 Euro (including deck chairs)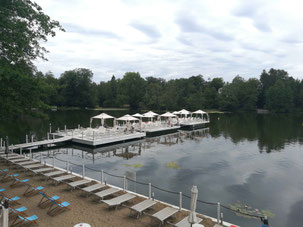 Halensee
Halensee is - in dry weather - one of the cleanest lakes in Berlin. Since 2016 you are allowed to swim in the lake! The lido is run as beach bar Ku'damm Beach by the host of the neighbouring restaurant Cappuccino Grand Café. The entrance fee with rent for a deckchair is twelve Euro. There you can enjoy a pleasant place full of hammocks, parasols and the pleasant shade of high trees. But drinks and food are not allowed, not even water!
Strandbad Halensee, Koenigsallee 5A, 14193 Berlin (Charlottenburg), station: S41, S42, S46 Halensee, daily 10:00–19:00 (01.06.2019 - 30.09.2019)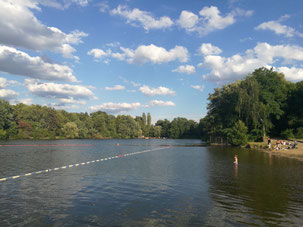 Plötzensee
The sandy beach at Plötzensee displays the chic of the twenties and close by Berlin. A 4 Euro entrance fee will get you in the Strandbad Plötzensee, including sand beach, Strandkörbe, a playground as well as a cocktail bar. In addition Plötzensee offers shallow parts for children and non-swimmers, and a very German nudist area.
Plötzensee, 13351 Berlin (Spandau), www.berlinerbaeder.de, Station: S41, S42, U9 Westhafen (by bicycle), take a 20 minute walk until the Strandbad Plötzensee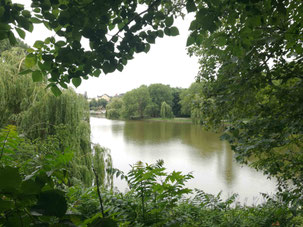 Lietzensee
After walking through the woods, down a steep and stony path you will find a lovely bathing spot which is a super hidden gem. Lietzensee is one of the most romantic lakes I discovered. It is a stunning lake day time or at night, surrounded by beautiful old buildings right on the water, trees branches that are falling into the lake. It is great place just to sit and watch the ducks or people go by, lie on the grass under the shade of the trees. 
Wundtstraße 40, 14057 Berlin (Charlottenburg), station: U2 Sophie-Charlotte-Platz
If you want to find more hidden gems in Berlin, check out my folding maps BertaBerlin and QueerBerlin. They are available in well-chosen locations all over Charlottenburg, Neukölln, Kreuzberg, Mitte and Prenzlauer Berg in Berlin and online. But for those of you, who want to stay up to date, feel free to follow me on INSTAGRAM, FACEBOOK or register for my NEWSLETTER BertaNews.