Berlin has truly stunning lakes close by and in the city showcasing pristine natural beauty. Whether you are searching for water sports, a hike, or a relaxed and wellness break, you will find something to suit in my Top 5 most beautiful lakes close by and in Berlin.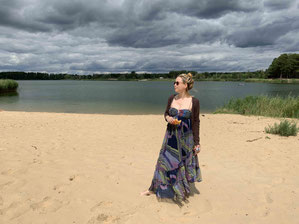 Bernsteinsee 
For those of you, who do not want to drive all the way to the Baltic Sea at the weekend, the Bernsteinsee in Ruhlsdorf is a good and nearby alternative. The quarry pond is located next to a pine forest in Schorfheide. The best access to the sandy beach and clear water is promised by the lido Bernsteinsee Ruhlsdorf with a sunbathing area, snack bar and beach volleyball field. Because it is not so easy to reach, it is quite lonely here, so you can truely relax and recover from the week!
The lake is located next to the town Ruhlsdorf.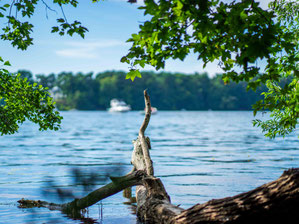 Flakensee 
The sandy beach stretches down to the Flakensee as in a small Mediterranean bay, flanked by pine trees, the view is directed towards the white boats anchored in the lake. In two places it goes quite long flat into the water. Directly on the shore there are a few shady spots under alder trees. The water of Flakensee is free of mud and algae on the right side of the bath. At dusk you can observe beavers on the shore. The water is clear despite the heavy boat traffic, the depth of visibility is usually over one meter. Here a romantic picture of the lake with lying boats and the wooded banks in which here and there a house roof gleams out.
Flakensee, Station: S3 Rahnsdorf, then Tram 87 Schleuse Woltersdorf; Restaurant: Gasthof Schleusenwirtschaft, An der Schleuse 2b, 15569 Woltersdorf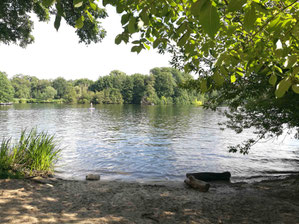 Tegeler See 
Located in the north of Berlin, in Reineckendorf, you will find Berlin's second largest lake—and one of the most beautiful: the Tegeler See with its seven islands, is a truly idyllic place: for taking walks or paddling or swimming. In the northern part of the lake, only a couple minutes away from Tegel-Ort, stands Berlin's oldest oak, the around 900 year old fat Marie. The Saatwinkel bathing area is a relatively large bathing beach with fine sand, which offers a beautiful view of the Tegeler See. The water is shallow and there is a swimming area marked by buoys.
Badestelle Saatwinkel, Im Saatwinkel 65, 13599 Berlin, Station: Bus 133 Maienwerderweg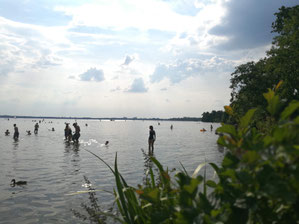 Strandbad Müggelsee
The Müggelsee is located in Köpenick on the north shore of the Müggelsee. The lido is under monumental protection. It was built at the beginning of the 20th century. Today there is a 500 m long beach with nudist area. At the moment the open-air bath is being renovated and is therefore free of charge. After completion of the construction work there will be a wellness area, a sauna garden and a bathing area. Besides a very nice sandy beach, there is also an extensive shallow water zone as well as a volleyball field and a beach kiosk.
Müggelseedamm 216, 12587 Berlin–Köpenick, Station: Tram 61 Freibad Müggelsee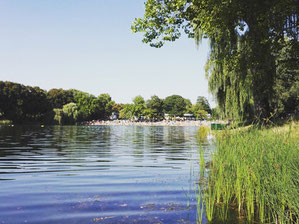 Orankesee
Strandbad Orankesee in Berlin Alt-Hohenschönhausen has a lot to offer, for example a playground, a beach volleyball court, an area to play ping-pong and a small snack bar. Bathing is permitted at the restricted area, the lake also has shallow water parts ideal for children. But the must-see attraction for children is the 52 m long water slide at the poolside, while others might look forward to relax in the comfy beach chairs.
Gertrudstraße 7, 13053 Berlin (Alt-Hohenschönhausen), www.strandbad-orankesee.de, Station: M4 Buschallee/Hansastraße, daily 9:00–19:00, entrance fee is 5 Euro
If you want to find more hidden gems in Berlin, check out my folding maps BertaBerlin and QueerBerlin. They are available in well-chosen locations all over Charlottenburg, Neukölln, Kreuzberg, Mitte and Prenzlauer Berg in Berlin and online. But for those of you, who want to stay up to date, feel free to follow me on INSTAGRAM, FACEBOOK or register for my NEWSLETTER BertaNews.