In Berlin there are some very authentic and traditional restaurants and places that will introduce you to Mexican cuisine. The colorful dishes dominated by corn and beans are very tasty and are sometimes spicy, if you overdo it with the hot sauces. It's best to try it out for yourself.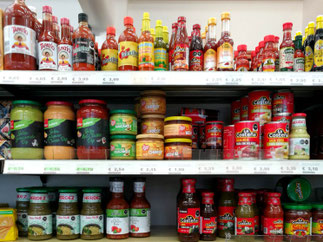 Super Iberico 
You want to do it yourself at home and are annoyed by the supermarket Tex-Mex department? Then take a look at Super Ibérico. Here you'll find lots of products from the Spanish-speaking world and hardly any South American foodie wish remains unfulfilled. So go shopping and make your own tacos! The assortment includes everything you need, such as salsas, wines, paella seafood, countless beers, Inca-Cola, Guaraná, Empanadas, Tortillias, Pão de Queijo and much much more. The cafeteria has a daily changing lunch menu with dishes from Spain, Portugal and South America.
Markgrafenstr. 68, 10969 Berlin, Mon-Fri 8:00-19:00, Sat 10:00-17:00 info@superiberico.de U6 Kochstraße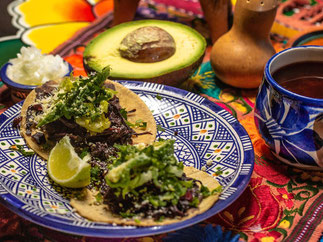 Sabor a mi 
The colorful food truck from Sabor a mí is currently at the ACUD not far from the Volkspark am Weinberg. Here you can get Mexican delicacies such as tacos with bean puree, salsa and either juicy meat (e.g. pork in achiote sauce and chicken in chile chipotle) or vegan-vegetarian (including fried hibiscus flowers and chile poblano in cheese sauce), quesadillas au gratin and caramel pudding as a sweet dessert. The dishes not only have fancy names - such as cochinita pibíl or paletita de jamaica - but also taste remarkably delicious. Everything is fresh as well as homemade and served with good humor.
Veteranenstraße 21, 10119 Berlin, www.aboramiberlin.com, saboramiberlin@gmail.com, +49 157 74 87 60 85, Wed–Fr 18:00–22:00, Weekends: 13:00–21:00, station: U8 Rosenthaler Platz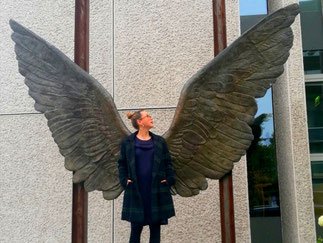 Golden Wings 
Insider tip: in front of the Embassy of Mexico two golden wings are waiting for amateur and professional photographers. You will get the best light effects at night as the wings will be illuminated at night. And for all those who love architecture - the building itself has been designed by Mexican architects, in a modern and stylish way. Close to the Mexican Embassy you will find a great opportunity to have either breakfast, lunch or dinner. Enjoy seasonal cuisine by the fireplace or outside by the water, from breakfast to pizza to cocktails
Klingelhöferstraße 3, 10785 Berlin +49302693230 mexale@sre.gob.mx Bus 100, 106, 187, 200, N26 Nordische Botschaften/Adenauer-Stiftung, www.cafeamneuensee.de Lichtensteinallee 2, 10787 Berlin sekretariat-cans@gastart.de +49 30 25 44 93 0, Daily 9:00–23:00
Taco Liebe 
Authentic Mexican food is vibrant, delicious, fresh and fun. It is also colorful, spicy and uses an amazing variety of chilies, both fresh and dried. Staples of Mexican cuisine include beans and corn. Corn is used to make masa, a dough for tortillas and tamales, while beans and corn play an important role in many dishes. Here you will find fresh homemade corn tortillas wrapped in a delicious blend of international ingredients and served with limes and a generous helping of salsa, the corn tortillas are also available as a keto version upon request.  CocoLiebe's philosophy is to create a space where everyone can feel comfortable, welcome and satisfied. 
Richardstraße 107, 12043 Berlin www.tacoliebe.com +493023581336 infococoliebe@gmail.com Mon – Fri 12:00 – 21:30 Sat 13:00 – 21:00 U7 Karl-Marx-Straße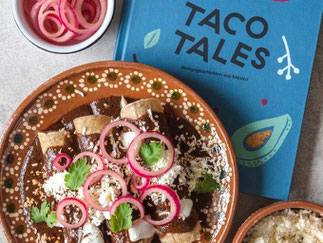 Taco Tales 
El mercado Ivette Pérez's Mexican grocery store Taco Tales has all the ingredients you need for a taco night, including hot sauce and fresh cactus leaves. She has also published her own cookbook, which features delicious recipes based on family tradtion. There are more than 50 recipes along wiht the history and traditions, so you will have more than just food. Try your hand at it;-)
Markthalle Pfefferberg, Schönhauser Allee 176, 10119 Berlin–Prenzlauer Berg;  www.tacotales.de tacotalesberlin@gmail.com, Tue–Sun 9:00–22:00