Besides the BertaBerlin maps, I have created the App BertaWalks, which will be released in August. It contains digital city walks through Berlin, for example in Neukölln. In my app, I have compiled the most beautiful places in Berlin Neukölln. Until the app is released, I want you to get a taste of Neukölln by introducing my "Top 5 places in Berlin Neukölln", which are structured as a small walk through the neighbourhood starting with a lovely breakfast.
In case you are interested register for my Newsletter and keep updated ;).
Two and Two
Eri from Tokyo and Tose from Paris, have created a place in Berlin Neukölln where you can enjoy authentic French pastries and food while browsing exclusive Japanese stationery and coffee-making equipment. Perfect for breakfast alongside a perfect cup of coffee and a wide range of speciality drinks. Besides coffee, they also offer Japanese Ippodo Tea Co. teas and matcha. A perfect place for a Japanese tea break.
Pannierstraße 6, 12047 Berlin (Neukölln), www.twoandtwoberlin.com, Station: U7, U8 Hermannplatz, daily 10:00–18:30
Pic by Kim Ji Uk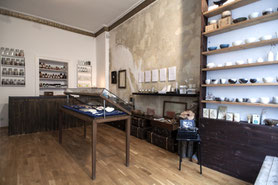 Ryoko sense salon
After breakfast, you can stroll to Ryoko. This salon is a Japanese boutique and at the same time a feel-good salon where you can make an appointment for massages as well as tea ceremonies or different kind of workshops such as Raku ceramic making. In this beautiful shop you can also just browse for natural skincare products, handcrafted pottery, scented related items such as incenses or natural perfumes and Japanese antiques and crafts.
Friedelstraße 11, 12047 Berlin (Neukölln), www.ryoko-berlin.com Station: U7, U8 Hermannplatz, Fr 13:00–18:00, Sat 12:00–18:00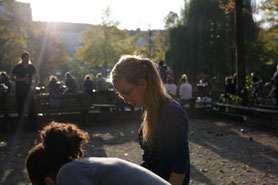 Bouleplatz
If you like to do some exercise, you can visit the boules court. Between Forster and Glogauer Straße are located three boules courts which can be used free of charge. If you only want to watch this is also fine ;). On sunny days it can still get quite busy, as up to 100 boules fans gather here frequently. But you can bridge the waiting time with a picnic (for example with baked goods from Salon Sucre, Görlitzer Straße 32A, 10997 Berlin), watch the others playing boules and enjoy the savoir vivre.
Paul-Lincke-Ufer 13, 10999 Berlin (Neukölln), Station: U8 Schönleinstraße; pic by Mathias Kutt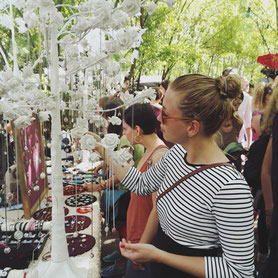 Turkish Market
Also nice to walk along is the Landwehrkanal. Capperi is directly at the canal, so you can just start walking after dinner. If it is Tuesday or Friday you can also visit the Turkish Market. At the Türkenmarkt on Maybachufer you can find almost everything that you can find on the Bosporus: Among the huge amounts of tomatoes and aubergines, fresh herbs, dates and jalapeños are also hidden gems at this Neukölln spot. The multicultural mix of this market reminds you of an oriental bazaar. The weekly market starts at the Ankerklause, where you are welcomed directly by large fruit and vegetable booths. For the smaller appetite on this Turkish journey through Berlin you can also buy a (vegetable) kebab and falafel at the market. If you like sewing, the fabric booths are also highly recommended.
Maybachufer, 10967 Berlin (Neukölln), www.tuerkenmarkt.de, Station: U8 Schönleinstraße Tue, Fr 11:00–18:30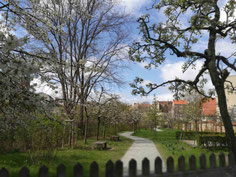 Comenius Garten
100 meters from all the falafel stalls on Karl Marx Street lies this secret garden. A stunning oasis to walk or sit on a bench in the sun, with fruit trees, rare plants and a small pond. You can even pick a few blackberries, quinces or plums if the season is right. The Garden itself is locked, but there's a bell which you can use to open the gate. Once a month, from spring to autumn, you can do guided tours on the botanical and historical aspects of garden, which is named after Comenius, the philosopher..
Richardstraße 35, in the middle of the former Böhmischen Dorf (Bohemian Village)