In 1963, Schöneberg was the center of the political West, which John F. Kennedy chose for his famous words "I am a Berliner."
Times have changed and today you will find a modern flair and many exclusive stores, little art galleries, Italian or French delicatessens, nice cafés and wine stores.
To make the choice a little easier for you, we have searched for the hidden gems of Berlin Schöneberg. in my BertaWalks App I will also design a walking tour through Berlin Schöneberg for you. If you want to stay up to date, register for my BertaBerlin newsletter! For now I would like to introduce you to my Top 5 places in Berlin Schöneberg.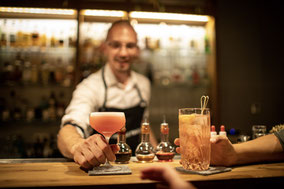 Fabelei Cocktailbar in Schöneberg
If you want to spend a great evening with friends in Schöneberg and enjoy a few delicious drinks, you should visit the Fabelei Cocktailbar. The menu is created with attention to detail and with a fine sense for small details. Each signature drink comes with a backstory and a drawing to match. You will find yourself in a friendly and cozy atmosphere, completed by a very attentive service. In addition to the cocktails you will be impressed by the freshly homemade small dishes. The tartar available on Thursdays is highly recommended.
Fabelei, Kyffhäuserstraße 21, 10781 Berlin (Schöneberg), +49 30 20 85 92 00, drink@fabelei.com, www.fabelei.com, Station: U4 Viktoria-Luise-Platz, daily orders until 16:00, pickup on the same day or to-go Fr 17:00–20:00, Sat 16:00–19:00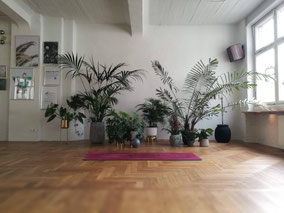 Yogafürdich Berlin
Victor founded Yoga für Dich five years ago in Berlin, and only few month later already a second yoga studio in Schöneberg. He and 30 other teacher are teaching mostly Power Vinyasa Flow Yoga, which makes you sweat – just as Baron Baptiste, the founder of Power Vinyasa Flow Yoga, describes it as the perfect blend of sweat and serenity. The practice is a powerful, energetic style of yoga where you fluidly move from one pose to the next while connecting your breathing to your movements. In Victor's classes you can also relax and laugh.  
Yogafürdich Berlin, Akazienstr. 28, 10823 Berlin (Schöneberg),
+49 178 1822882, willkommen@yfdBerlin.com, www.yfdberlin.com,Station: U7 Eisenacher Strasse
Café Schöngrau - Coffee & Interior
A very cute café with a variety of cakes, delicious coffee, great breakfast in the morning in a cozy area in the middle of Schöneberg. The interior concept shows that gray doesn't have to be a cool or uncomfortable color. Different shades of gray on the walls, subtle additional colors on furniture and accessories, lots of wood, a tiled counter and lots of flowers. This is how it becomes a beautiful gray. Cozy, unique and inviting. In addition to delicious small dishes like bagels with homemade spreads, salads and egg dishes, drinks and smoothies, there are wonderfully selected things to purchase, like glasses, ceramic vases, textiles, baskets, candles and even furniture and lighting, as well as flowers and plant decorations.
Café Schöngrau, Eisenacher Straße 79, 10823 Berlin (Schöneberg), +49 30 98 41 09 40, Station: U7 Eisenacher Straße, daily from 10:00–17:00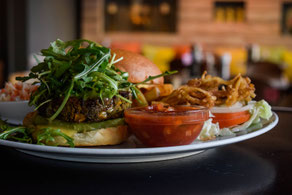 Zsa Zsa Burger
Perfectly and to the point roasted high-quality meat, homemade fries and a wide selection of delicious sauces is what awaits you at Zsa Zsa Burger. From the simple Classic Burger to the noble with teriyaki and sesame marinated Argentine beef fillet steak, everything is on the menu, as well as vegan dishes. With the associated burger buns, which are baked fresh daily, one can make the decision whether white or wholemeal buns. Also, they have a great choice of delicious cocktails. 
Zsa Zsa Burger, Motzstraße 28, 10777 Berlin (Schöneberg), +49 30 21 91 34 70, info@zsazsaburger.de, www.zsazsaburger.de, Station: U4 Viktoria-Luise-Platz, Mon–Fr 17:00–0:00, Sat–Sun 16:00–0:00
Brillenschatz 
Brillenschatz will present you eyewear treasures with exceptional materials, such as buffalo horn, fine gold or wood elevate your eyeglass frame to a distinct work of art. Go on a treasure hunt and let Abdullah Demir advise you personally. The top products of the top brands like Porsche or Chopard. Immerse yourself in the world of Alain Mikli. Let yourself be carried away on the creative wave of Ray Ban designers. Or take a look at the charming Cartier glasses, the rare Casanova frames and the enchanting models of other famous designers. Find here the collector's item, the sunglasses or the designer glasses for correcting your prescription that perfectly suits you. 
Brillenschatz, Potsdamer Straße 79, 10785 Berlin (Schöneberg), +49 30 61 65 37 02, kontakt@brillenschatz.com, www.brillenschatz.de, Station: U1, U2, U3 Kurfürstenstraße, online-shop, Mon–Sat 11:00–18:00