New Year's Eve in Berlin: for some, a good time to wear your dancing shoes, for others another reason to flee the city, crowded clubs and subways. If you belong to the first group, there are some places on the day after New Year's Eve you might want to avoid in Berlin: parks, which are covered in trash from the fireworks. Also, supermarkets, as well as many other stores, are closed on the 1st of January, so you better get everything beforehand. If you want to know where you should go and what's on after New Year's Eve in Berlin then the following places to recover from New Year's Eve might be of interest.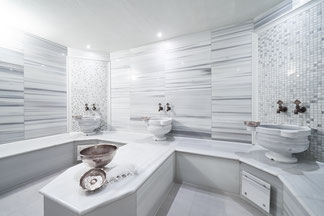 Sultan Hamam
Bathing in the Sultan Hamam Berlin means taking warm water from marble basins and pouring it over your body. In the center of the Hamam, "Turkish: Göbek Tasi" you will find a traditional "hub stone". The hub stone and all other marble benches are heated. The warmth of that natural stone will go through your body and will help you to fully relax. A perfect way of detoxing from New Year celebrations and making yourself feel better again.
Bülowstraße 56–57, 10783 Berlin (Schöneberg), +49 30 21 75 33 75, info@sultan-hamam.de www.sultanhamamberlin.de; open on New Year's Eve only for women from 11:00–18:00, 1st of January for women and men from 14:00–22:00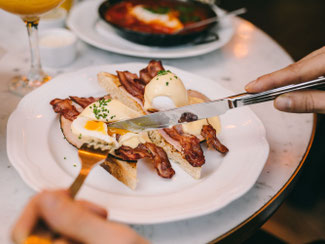 Benedict
Do you like a shakshuka, Croque Madame or an avocado Bagel? If so, then café Benedict, Berlin Charlottenburg, is the right place for you! The mini pancake stacks are a work of art and the Eggs Benedict live up to expectation as the establishment's namesake. And the best thing is: You can get sweet and salty breakfasts 24/7, so it doesn't really matter at what time you roll out of bed to recover from New Year's Eve in Berlin. Another nice aspect is their cocktail menu, which covers Mimosas, Bloody Marys and more. Happy Hour is from 16:00 til 19:00 (weekdays, so also on the 1st of January).
Uhlandstraße 49, 10719 Berlin (Charlottenburg), +49 30 99 40 40 997, www.benedict-breakfast.de, Station: U3, U9 Spichernstraße, open 24 hours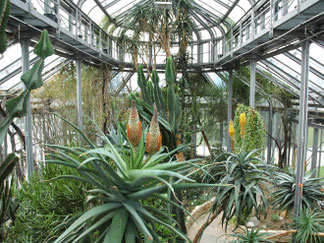 Botanical Garden
The Botanical Gardens in Berlin are wonderful all year round. With over 22,000 plant species, these gardens really will transport visitors to countries all over the globe. Spend the first day of your new year here to breath fresh air, enjoy a day out with those closest to you and to calmly reflect.
If you already feel fit enough to get some fresh air and go for a walk then the botanical gardens in Berlin are a wonderful choice all year round. In summer you can enjoy the variety of flowers and exotic plants in the outside area. In winter it is especially nice to hang out in the tropical houses, where you can get quite the vacation-like feeling because of the warmth and humidity inside. Don't worry, there are enough benches where you can sit down and take a break. But the orchids, succulents, palm trees and quietly flowing waterfalls are having a very calming effect on agitated party minds!
Königin-Luise-Straße 6-8, 14195 Berlin (Dahlem), www.bgbm.org, mail@bgbm.org, Station: S1 Botanischer Garten, U3 Dahlem Dorf, gardens open daily 9:00–20:00, greenhouses open daily 9:00–19:00, it is open on New Year's Eve from 9:00–16:00, the tropical house until 15:30 as well as it is open on the 1rst of January!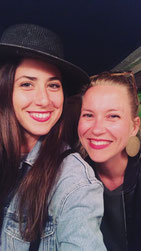 Sisyphos
Did the cocktail breakfast bring back your energy for some more partying? Then the Sisyphos is the right place for you. Known for its great line-ups, the Sisyphos satisfies all moods with various floors. The beautifully decorated open-air area is awesome for hanging-out in summer, whereas in winter the former factory building offers a great night indoors. Exclusively for celebrating New Year's Eve – but also the 1st of January in Berlin, the Sisyphos opens its doors for no less than six days in a row and it is supposed to be hot in there!
Hauptstraße 15, 10317 Berlin (Rummelsburg), Station: S3 Betriebsbahnhof Rummelsburg, www.sisyphos-berlin.net, opening hours for New Year's Eve: 1st of January from 1:00 until 6th of January till 10:00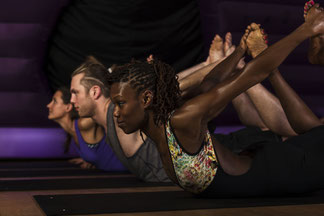 Hotpod Yoga Berlin
In December 2017 Sünne and Stassy welcomed their first Hotpod yogis in their new Neukölln residence. A Hotpod looks like a bouncy castle. I personally love that it is dark and cocoon-like. So you can really focus on your yoga practice. This inflatable, 37 degree heated studios holds up to 20 people, which means there is always enough space next to you and the teachers can help you with your poses. Welcome in the new year by being transported a million miles from the world outside into the perfect hot yoga environment.
Hotpod Yoga Berlin, Karl-Marx-Straße 75, backyard, 4th floor, 12043 Berlin (Neukölln), www.hotpodyoga.com, Station: U7 Rathaus Neukölln, they are open on New Year's Eve from 11:00–24:00, closed on the 1rst of January, and open on the 2nd of January from 18:30–19:30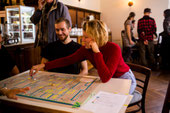 Co-author:
Robbi is 21 and was born in Berlin. Growing up in Schöneberg, she experienced the perks of good cafés, restaurants and bars close by and developed a love for well-made Cappuccino and fresh Asian food. Even though she is currently studying "Landscape use and Nature Conservancy" in Brandenburg, she is trying to go back to her home town as often as possible to explore new adventurous places.