Find yourself searching for the perfect playground? No worries, I was scouting Berlin looking for the best destinations to have fun with children. From playgrounds, farms for children to the Teddy's concert at Deutsche Staatsoper Berlin or the flashlight tour for children at Museum für Naturkunde; I found so many awesome spots that I decided to publish a new map PlayBerlin for parents and children soon. I hope you enjoy the selection! For now here is the Top 5 of playgrounds in Berlin, but stay tune.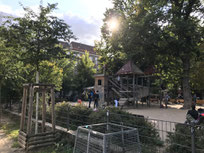 Playground at Boxhagener Platz
On the weekends, this is probably Berlins most crowded playground because of the nearby cafes and flea market. But that's also what makes it great. There is also a water plansche here.
Boxhagener Platz
Grünberger Straße 75
10245 Berlin
Station: U5 Samariterstraße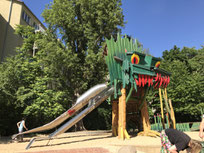 Dragon playground
A huge amazing green dragon is living here between the blocks in Friedrichshain. You can climb through its tail into the head. There is a also a small water fountain here.
Schreinerstraße 48
10247 Berlin
Station: U5 Samariterstraße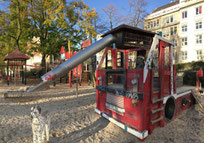 Firefighters playground
Berlin has a few too many 'fairy tale' playgrounds - that's why we especially like this one with a firefighters theme. There is a big fire truck and wooden houses to play in. The park next to the playground is also very beautiful.
Heinrich-von-Kleist Park
10781 Berlin
Station: U7 Kleistpark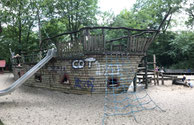 Hasenheide 1,001 Nights
In the middle of Hasenheide you can find this amazing playground themed in 1001 nights style. One of the highlights is a big wooden ship. Hasenheide several other playgrounds and a tiny (but free) zoo.
Volkspark Hasenheide
10965 Berlin (Kreuzberg)
Station: U7, U8 Hermannplatz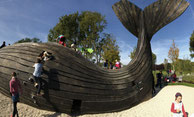 Playground at Gärten der Welt
Here you can look at differently themed gardens from around the world. But the real highlight is the cable car and the amazing Whale Water Playground. Inside of the whale you can find her heart and also her baby.
Blumberger Damm 44
12685 Berlin
A big thanks goes to Jannes from www.berlin-playgrounds.de by helping me to find all this beautiful playgrounds with his daughter and taking these pictures!