Here are some more hidden gems of my new BertaBerlin map for Neukölln. Get yourself around effortless and find street markets, museums, shops, sights, restaurants, cafés, bars and more. Check out my new BertaBerlin map of Neukölln.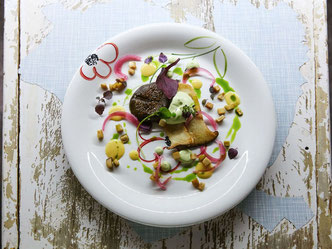 Lavanderia Vecchia  
It feels like bella italia  – Lavenderia Vecchia in Neukölln is a trattoria of a special kind. The white restaurant in a converted old laundry actually captivates with its special concept. You eat between pieces of laundry at simple, white-painted kitchen tables freshly cooked like from mom. Lovers of Italian cuisine who are curious and like to be surprised should try the evening menu, where you can try a fresh, multi-course menu with an abundance of appetizers. Those who want to get to know and sniff first can drop by at lunchtime, they have daily changing pasta dishes or lunch menus.
Flughafenstraße 46, 12053 Berlin (Neukölln), lavanderiavecchia.wordpress.com, +49 30 62722152, Station: U8 Boddinstraße,
Thu–Sun 13:00–17:00, 17:00–22:00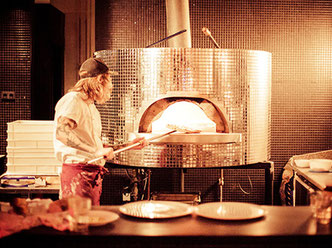 Monella 
If you are looking for traditional and delicious Neapolitan pizza baked in a stone oven, you can find it in this Italian restaurant in Neukölln. In addition to the common pizzas, there are also delicious vegan pizzas here and the experience is perfected with delicious wine or cocktails.You sit down inside in the large room with a cool bar feel. The bar, which features copper, glows in different colors, and in the center, the mirror-tiled pizza oven shines through the doorway like a disco ball. Restaurants with a view of the kitchen immediately inspire confidence and at the same time have an entertainment character. Make sure to have your reservation, as the Monella is not unknown, since the pizza really tastes like in a restaurant in the Piazza di Roma.
Weichselstraße 17, 12045 Berlin, www.monella.berlin, Station: U7, U8 Hermannplatz, Daily 18:00–23:00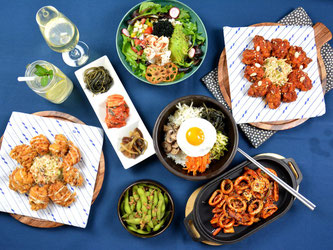 Paran Berlin
This jewel serves most of the Korean classics like the bibimbap, bulgogis and fantastic fried chicken! The owner has extended his menu by introducing a variety of vegetarian dishes like Japchae (glass noodle dish) or Kimchi Jeon. Lots of vegetables are part of this cuisine and of course this restaurant always offers fresh food. All ingredients are always bought fresh or are even homemade and the selected, typicall spices and ingredients offer a very special taste experience at Paran. It is a contemporary, modern Korean restaurant including a bar, that offers high quality and excellent service while maintaining Korean authenticity. There is no better way to introduce yourself to Korean cuisine. Give it a try!
Sanderstraße 17, 12047 Berlin, www.paranberlin.de, Station: U8 Schönleinstraße, Sun 18:00-23:00, Tue-Thu 18:00-23:00, Fri-Sat 18:00-0:00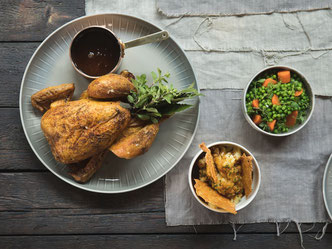 TISK Speisekneipe
TISK is an old German word for table. The menu consists of tried and tested recipes from the region, which are presented in a new guise. You can either have a seat at one of the tables or at the long counter. From a small bite to a 3- or 5-course menu, the menu is wide-ranging and offers something for every appetite in a familiar atmosphere. They also do have an in-house TISK FARM and use self-harvested vegetables and herbs, so it can't get more regional and seasonal than this! In summer, they also create delicious draught spritzers and lemonades. The philosophy behind the "TISK Speisekneipe" combines the qualities of a modern restaurant with those of a Berlin corner pub. 
Neckarstraße 12, 12053 Berlin, tisk-speisekneipe.de, Station: U7 Rathaus Neukölln, Tue–Sat from 18:00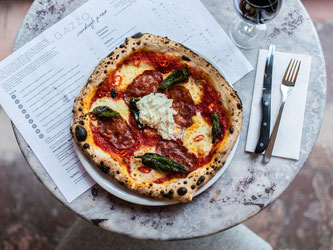 Gazzo Berlin
This Neuköllner pizzeria serves Berlin's best sourdough pizza. For the Gazzo only honest, good and regional products are used. The organic flour comes from Brandenburg, the buffalo burrata from Paolella from Brandenburg, the ham and the salsiccia from the Swabian-Hallow pig. But because this is still Italian, the olive oil, Parmesan cheese and tomatoes for the sauce come from Italy and you can taste it. At first glance, the sourdough pizzas look like the Neapolitan version. But the sourdough makes the pizzas much more digestible, especially for people with wheat intolerance. You can feel or taste the difference at the latest when you bite into the crust. It's really crispy on the outside and fluffy and soft on the inside. 
Hobrechtstraße 57, 12047 Berlin, www.gazzopizza.com, Station: U8 Schönleinstraße, Daily 12:00–22:00