For starters: What are the top 5 rooftop bars in Berlin? Being the third most-visited city in Europe, Berlin has much to offer, AND also a lot of rooftop bars. Between all the history and beer gardens you should also check out rooftop bars, as you will have an ultimate skyline view. So, what are the top 5 rooftop bars in Berlin? Just scroll down and find the rooftop bar which suites you the most.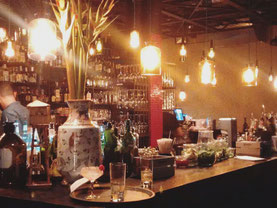 Monkey Bar Berlin
With its spectacular location, the Monkey Bar is a true gem amongst Berlin's rooftop bars. It sits right on top of the 25hours Hotel, which is part of the extraordinary "BIKINI" building ensemble, home of boutique-shopping. If the drinks would not be so well made and the view would not be so great, then maybe it would be easier to find a seat but oh well! A crowded location speaks for itself. And once you made your way to the bar, you are all geared up to stroll around, stumble into folk's conversations or explore the terrace. From there you can either watch the monkeys of the next-door zoo or watch busy people in the urban jungle down at Breitscheidplatz and surroundings.
Budapester Straße 40, 10th floor, 10787 Berlin, +49 30 12 02 21 21 0 (no reservations), monkeybar.bikini@25hours-hotels.com, www.5hours-hotels.com, Mon–Sun 12:00–2:00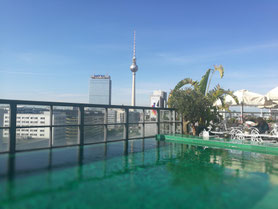 Soho House Berlin
The Soho House Berlin has been designed by architects Georg Bauer and Siegfried Friedländer in its distinctive style of New Objectivity or: "Neue Sachlichkeit", as the Germans call it. Starting in the late twenties the building has always been an important and diverse epicenter, may it be cultural or political. You can learn more about its dark and its vibrant chapters in history on www.sohohouse.com.
Today, Soho House Berlin is base and home for international creatives visiting or living in Berlin. Its concept is just as simple as it is complex: "A place to work, meet and relax; - with rooftop pool." Just have a good time and treat yourself in Soho's Cowshed Spa, enjoy meals and drinks by changing pop-up cuisines, attend events or gatherings in the Soho lofts, the hotel, at the club bar, in the private cinema or on the dreamlike rooftop. Soho House Berlin: eight and a half levels of nicely structured Pomp.
The first Soho House was founded in London in 1995 to provide a home away from home for jet setting creatives. By now, there are 14 Soho Houses in the UK, Berlin, New York, West Hollywood, Miami, Chicago, Istanbul and in Toronto.
Torstraße 1, 10119 Berlin, +49 30 40 50 440, reservations@sohohouseberlin.com, www.sohohouseberlin.com, station: U2 Rosa-Luxemburg-Platz, open 24/7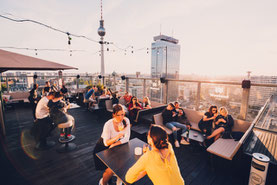 House of Weekend
The House of Weekend invites you to its loft, rooftop and club. You find it in the very center of Berlin, right next to Alexander Square. With a breathtaking view and amongst an international crowd, the House of Weekend is the perfect place for you to kiss good bye the hustle and bustle of your work week. Dive into the tunes and sets of changing DJ's and enjoy the weekly events in the heart of the city.
Alexanderstraße 7, 10178 Berlin, +49 152 24 29 31 40, event@weekendclub.berlin, station: U2, U5, U8, S5, S7, S9 Alexanderplatz, Thu 19:00–5:00, Fr 23:00–6:00, Sat 19:00–6:00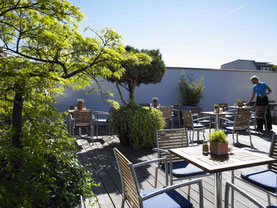 Aspria
Aspria Berlin is located close to one of the city's most popular shopping streets: The "Ku'Damm". After running some errands or after an intense shopping session, dive into the calm world of Aspria. Their approach is pretty holistic, which means that this is the perfect place for you no matter if you want to improve your fitness, want to learn more about proper diets or just want to relax and unwind. The Aspria team also takes care of your children during your workouts or time-outs. Your children can even celebrate their birthdays there or enjoy Aspria's holiday program. This place is also well known for its rooftop terrace and its hotel. That's perfect for everyone that just does not want this experience to end once the treatments and workouts are done.
Karlsruher Straße 20, 10711 Berlin, +49 30 89 06 88 80, berlin_mail@aspria.de, www.aspria.de, station: U7 Adenauerplatz, Mon–Fr 6:00–23:00, Sat–Sun 8:00–22:00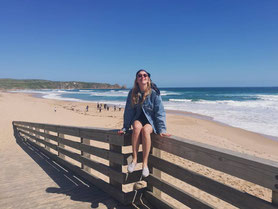 Deck 5
Deck 5 is "Berlins höchste Strandbar", as its owners claim. It is Berlin's beach bar on the highest level. Twice a month, Saturdays 10.45 am, Deck 5 offers two different Yoga classes: either 75 minutes of good old 5 Elements Yoga or Hatha Yoga, where you learn to harmonize your breath and movements. Yoga and sunbathing will make you hungry but fear not! Deck 5 holds a menu for small and big appetite. Wash their yummy nibbles down with your favorite drink form their versatile drinks menu. Deck 5: You find this little piece of sandy heaven in Prenzlauer Berg on the rooftop of the Schönhauser Allee Arcaden. Even in winter you can enjoy their 1000 m² as Deck 5 then turns into a lovely Christmas market.
Schönhauser Allee 79, 10439 Berlin, +49 30 41 72 89 05, info@freiluftrebellen.de, station: U2, S8, S41, S42, S85 Schönhauser Allee, beach time: May–September: Mon–Sat 12:00–24:00, Sun 14:00–24:00
Bonus
Hotel Amano near "Rosenthaler Platz" is well known for its spacious rooftop. There, you can either enjoy a nice beverage or get down to business in one of their versatile rooms. They have a reception, a dining room, a living room, as well as two conference rooms. The venue comes with all amenities which makes it a good place for both chillaxing and proper events. Celebrate the 360° view, strolling around the walkabout-rooftop waving at the Berliners downstairs at your feet.
Auguststraße 43, 10119 Berlin, +49 30 80 94 15 0, amano@amanogroup.de, station: U8 Rosenthaler Platz, May–September from 16:00
If you want to find more hidden gems of Berlin, check out my folding maps BertaBerlin, VeganBerlin, GDRBerlin, BeerBerlin, YogaBerlin and QueerBerlin. They are available in well-chosen locations all over Charlottenburg, Neukölln, Kreuzberg, Mitte and Prenzlauer Berg in Berlin and online. But for those of you, who want to stay up to date, feel free to follow me on INSTAGRAM, FACEBOOK or register for my NEWSLETTER BertaNews.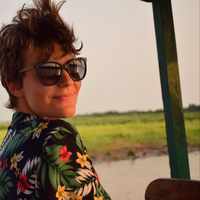 Carolin is a German gerontologist (B. A.) and writer from Berlin. Carolin is dedicating her time to shine light on the Slow Movement from an agesensitive angle: "Slow Ageing by Slow Living." Gerontology is the science of human age and ageing. She has been a professional freelance writer for the German market for the past four years, gaining experiences in various media. Just recently she kicked off a big book project called "Forever-ish: A series of Mini eBooks on how to slow down the ageing process". The first issue #1 "What is age?" is available in your Kindle Store for your eBook-reader and for your Smartphone with Kindle App. You can contact her via email.