Why not start your day with yoga at a rooftop location in Berlin or end your day with a sundowner at the rooftop bar, the Weekend.  Being the third most-visited city in Europe, Berlin has much to offer, AND also a lot of rooftop locations. Between all of the history and sightseeing, you should also check out rooftop locations in Berlin, as you will have the ultimate view of the skyline. So, what are the top 5 rooftop locations in Berlin? Just scroll down and find the rooftop bar which suites you the most!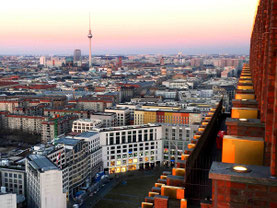 Panoramapunkt: Coffee at the rooftop
Welcome to the best views of Berlin, the fastest elevator in Europe, a multimedia open-air exhibition and a spectacular roof terrace. This is sure to be an experience that you and your dog -who you can bring here too!- won't find anywhere else! Since it opened in 1999, PANORAMAPUNKT has been one of the main tourist attractions in the new Potsdamer Platz district. In the last 10 years, this rooftop location has had around 3 million visitors.
Potsdamer Platz 1, 10785 Berlin (Mitte), www.panoramapunkt.de, Station: U2, S1, S2, S25 Potsdamer Platz, Café summer 11:00–19:00, winter 11:00–17:00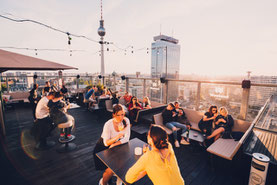 House of Weekend
The House of Weekend invites you to its loft, rooftop and club. You find this rooftop location in the very center of Berlin, right next to Alexanderplatz. With a breathtaking view and an international crowd, the House of Weekend is the perfect rooftop bar and club for you to kiss goodbye the hustle and bustle of your work-week. Dive into the tunes and sets of changing DJ's and enjoy the weekly events in the heart of the city.
Alexanderstraße 7, 10178 Berlin (Mitte), event@weekendclub.berlin, Station: U2, U5, U8, S5, S7, S9 Alexanderplatz, Thu 19:00–5:00, Fr 23:00–6:00, Sat 19:00–6:00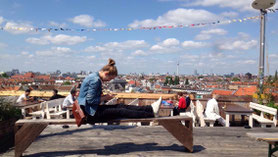 Shopping at the rooftop
The Klunkerkranich bar is the perfect rooftop location spot for a sundowner with live music and a dance floor. In the Neukölln Arcaden, take the elevator to the 5th
floor and find your way through the parking lot to the rooftop bar and club. They also have an urban gardening project "Kulturdachgarten," which is run by interested urban gardeners and worth a look. For a fancy dinner "on the ground and just around the corner", reserve a table at LAVANDERIA VECCHIA in Flughafenstraße 46, 12053 Berlin (Neukölln). Here you will dine a pre-defined menu with many delicious Italian dishes and delectable wines.
Klunkerkranich, Karl-Marx-Straße 66, 12043 Berlin (Neukölln), www.klunkerkranich.de, Station: U7 Rathaus Neukölln, daily 18–23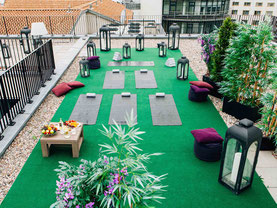 Yoga at the rooftop in Berlin
The Zoo Hotel Berlin is located close to one of the city's most popular shopping streets: The "Ku'Damm". Before running some errands or after an intense shopping session, dive into the calm world of the Zoo Hotel. Almost every Wednesday at 8:00 lovely yoga instructors like Aleks gives Open Sky Yoga classes on the rooftop of Hotel Zoo Berlin, the last time I went, it was just the two of us, so this rooftop location is a real hidden gem! Looking into the sky while holding a pose and breathing mindfully while listening to the sound of wind: 60 min of rooftop Vinyasa Yoga here will give you the perfect start to the day. And afterwards, you can grab a croissant at Grace Restaurant (breakfast Mon–Fr 7:00–10:30, 36 Euro)
Kurfürstendamm 25, 10719 Berlin (Charlottenburg), www.hotelzoo.de, Station: U2, U9, S3, S5, S7, S9 Zoologischer Garten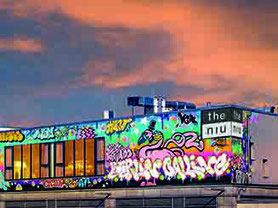 The niu Hotel
The niu hide hotel is a mixture of historical Eastern chic, classical socialism and modern design. At a height of 30 meters, this hip hotel with Berlin flair can also be used as a living lobby – a magnet for millennials. If you feel like it, you can admire the distant view of the television tower in the 24-hour bar, whilst enjoying the graffiti that represents Berlin as a creative and extremely fashionable city. And it gets even better: The hotel and rooftop location is located on a parking garage in Frankfurter Allee which costs just €3 per day. Optimal connections to public transportation are available for long-distance travellers  (S-Bahn, U-Bahn, Tram and Bus). Our insider tip: The VIP suite for families, honeymooner or business travellers are perfect for longer stays. Bookable directly at the hotel.
the niu Hotels, Frankfurter Allee 113, 10365 Berlin (Friedrichshain), the.niu.de, Station: S8, S41, S42, S46 Frankfurter Allee
Bonus
Hotel Amano near "Rosenthaler Platz" is well known for its spacious rooftop. Here you can either enjoy a nice beverage or get down to business in one of their versatile rooms. They have a reception, a dining room, a living room, as well as two conference rooms. The venue comes with all amenities which makes it a good place for both chillaxing and hosting more corporate events. Celebrate the 360° view, strolling around the walkabout rooftop waving at the Berliners downstairs at your feet.
Auguststraße 43, 10119 Berlin, +49 30 80 94 15 0, amano@amanogroup.de, station: U8 Rosenthaler Platz, May–September from 16:00
If you want to find more hidden gems of Berlin, check out my folding maps BertaBerlin, VeganBerlin, GDRBerlin, BeerBerlin, YogaBerlin and QueerBerlin. They are available in well-chosen locations all over Charlottenburg, Neukölln, Kreuzberg, Mitte and Prenzlauer Berg in Berlin and online. But for those of you, who want to stay up to date, feel free to follow me on INSTAGRAM, FACEBOOK or register for my NEWSLETTER BertaNews.