From authentic Chinese food to colorful Indian curries to traditional Thai dishes can be – all the spices and herbs can be – found in Berlin. But be aware of the pepper symbol for the levels of spice in the food!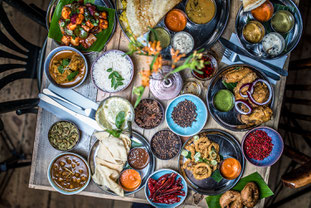 Chutnify
Indian
Dosas, Chutneys and incredibly delicious curries wait for you at Chutnify. The colorful interior is decorated and super-cosy. The menu comes in between two cardboard wraps and is heaven to any vegan: sweet potato Ragda patty with Masala chickpea mix in a soft wheat bun or Channa Masala rice bowl with a choice of chutneys, spicy, sour and sweet.
Sredzkistraße 43
10435 Berlin (Prenzlauer Berg)
www.chutnify.com
Station: U2 Eberswalder Straße
Daily 12–23h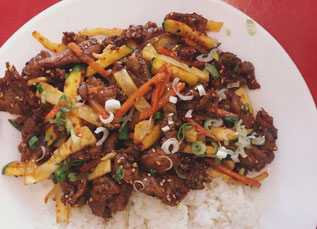 Ixthys
Korean
At this small deli you will be eating Korean Bibimbap in a room wallpapered with hand-written Bible quotes from floor to ceiling. Ixthys is actually the Greek word for fish, a Christian symbol. The very small kitchen is run by two Korean women preparing traditional Korean dishes like Bibimbap and Bulgogi in home-made style. The food is plenty and fresh and very spicy –certainly recommendable for when you're in Schöneberg and want a quick bite. 
Pallasstraße 21
10781 Berlin (Schöneberg)
Station: U2 Nollendorfplatz
Mon–Sat 12–21:30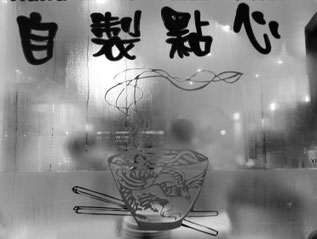 Lon-Men's Noodle House
Taiwanese
A tiny Taiwanese place run by a Chinese family since many years. Here you can't reserve a table, and have to probably wait a little until you get in, but it is worth it! They also have a lot of option off the menu. Just ask for the daily special. I ordered dumplings in chili sauce and a noodles with spicy beef sauce which was luminously red and very spicy.
Kantstraße 33
10625 Berlin (Charlottenburg)
Daily 12–23h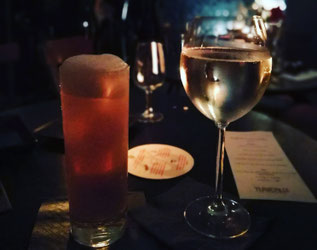 Le coq baroque
Tlaxcalli Taco Tuesday
Every Tuesday night, from 19 pm, you are invited to receive an happy four course Mexican taco tasting plus some extras delicious drinks at Le coq baroque. Normally Le coq baroque is an excellent cocktail bar, but on Tuesday Tlaxcalli is turning the bar into a Mexican heaven, where you can enjoy traditional tortillas and chips based on organic nixtamalized corn. Attention please: The tacos can be really hot.
Grimmstr. 24
10967 Berlin (Kreuzberg)
www.lecoqbaroque.de
Station: U8 Schönleinstraße
Thu, Fr 19–1h; Sat 19–2h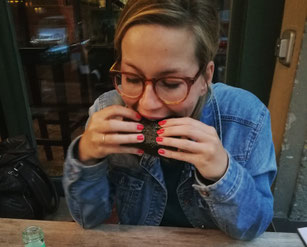 Papaya
Thai
While Papaya has several locations in Berlin, this casual eatery is the real deal: intensely spicy Thai dishes from the Isaan region prepared with sustainably raised meat from local Neuland butchers.
Kantstraße 122
10625 Berlin (Charlottenburg)
www.papaya-service.de
Station: U7 Wilmersdorfer Straße
Daily 12–23h