During times like this, we can't control the outside world and situation but we can control how we react to it! Whilst we all start to stay home more and adjust to a temporary new way of life it is imperative that we continue to both stay active and do the things that bring us joy. We know there's nothing that makes us feel better than doing our favourite workout classes and that's why I've searched Berlin for the top studios with live-streaming workout classes!  These recommendations are bound to get you jumping on the bike or yoga mat, to put a smile on your face and to break up your day working at home. Therefore, here are my top 5 studios with live-streaming workout classes!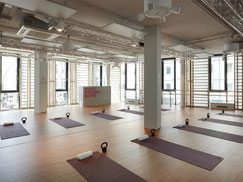 Soul Base // Power Base
At boutique gym, John&Janes Soul Base, Berlin, you'll usually find a range of different classes such as pilates, yoga cardio, dance workshops and barre. Soul base has a unique atmosphere and it is bringing it's high-quality trainers online to keep us all fit and healthy.
My personal recommendation would be to check out the bootcamp and strong yoga classes. You can find their Instagram live workout schedules on their Instagram. Many of Soul Base's classes are also catered for beginners so this is a great chance to try out something new! 
All information and schedules of classes can be found here on Instagram at @johnandjanes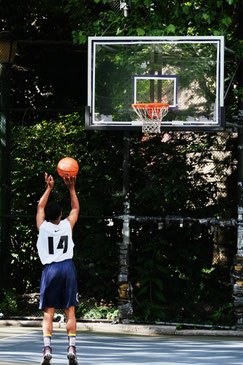 Alba Berlin "Sport Stunde" 
The famous Berlin basketball team Alba Berlin are too motivating people to get up and active! Their new Youtube series "Sport Stunde" gives whole families the opportunity to do some physical activity together. All of their daily videos are centered around yoga, fitness or coordination. Their sessions are designed for everyone from young to old and are a really fun way to stay connected with one of your favourite Berlin-based sports teams whilst doing sport. Their sessions can all be found on their Youtube channel and are mostly in German however subtitles are available.  
All of Alba Berlin's online classes can be found here: https://tinyurl.com/svly5jl and follow the team on Instagram for regular updates at @albaberlin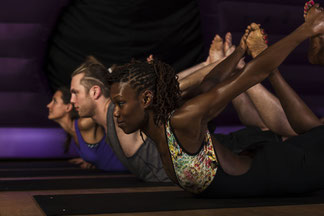 Hot Pod Yoga
Who said Hot Pod Yoga is just for the studio!? Usually, this boutique studio offers classes of Vinyasa flow yoga in 37-degree heat for a yoga session like no other. The increased heat means that your body will work harder, give you the feeling of a cardio workout with the mindfulness of a yoga session. Though the studio is currently closed they are offering their community the chance to still reap the same benefits, just this time from their own homes. Hot Pod Yoga's at home classes will leave you breathing more mindfully, stretching deeper and increasing your mobility through a controlled session which will undoubtedly leave you feeling rejuvenated. 
Register via this link to sign up for upcoming classes and to see their class schedule: https://hotpodyoga.com/studios/berlin/schedule/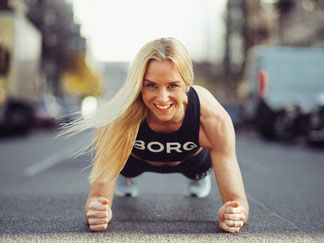 Ride Berlin
Boutique studio Ride Berlin, was another of the studios which we featured in our article Top 5 boutique gyms in Berlin. Ride's cycling-based-workout is bound to raise your heart rate whilst also and this isn't stopping just because their studios are temporarily closed. Ride Berlin are currently renting out their bikes to people at home, for an added fee they will even bring the bike to your door themselves! The team have arranged a schedule of virtual classes which will all be included in the price of the bike rental. If you already own a spinning bike at home then alternatively you can pay per ride to do your workout at home! This way you don't have to miss out on the queens of techno Malin or Lauren, and can still spend your evenings with Jeffrey for all the Beyoncé you could ever desire or Andy his legendary rides. What's more, when they're off the bike, Ride's trainers are doing lots of classes Instagram live at @ride.bln. 
For virtual class schedules and Instagram live trainer workout sessions follow Ride Berlin on Instagram at @ride.bln  To inquire about renting a bike email:  team@ride-berlin.com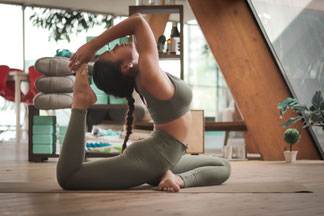 Online Yoga Classes
If you're searching for your daily fix of Yoga then the good news is that there are many, many, great teachers who can be found online. My personal recommendations would be to follow @mireia_ws and @yogawithricarda on Instagram to stay up to date with all of their classes and yoga updates. Both of these yoga teachers are fantastic and will support you if you have any questions or need any tips. They are friendly, approachable and are both posting regular yoga sessions on Youtube or Instagram. For a daily dose of mindfulness stretching, yoga and breathwork take an online class from either of these trainers. For regular class updates and schedules follow both Mireia and Ricarda on Instagram.
All information and schedules of classes can be found here on Instagram at @mireia_ws and @yogawithricarda

Co-author
Aimée is a writer, founder of TheTemporaryResident, copy editor and social media consultant. She is super passionate about all things travel, sport and food as well as write for a range of different European companies on all sorts of topics! Find her on  thetemporaryresident.com