Enjoy a delicious afternoon tea in Berlin whether you are looking for a special way to spend an afternoon or have a bigger celebration in mind.
Berlin is often seen as a vanguard of trends of things to come. For a city that is remarkably dominated by sometimes excellent coffee (see my CoffeeBerlin map) and by an unwavering need for speed, tea shouldn't be thriving surely? But new generation of tea gems keep emerging, indicating that there is a demand for tea spots where people can slow down and focus on the meditative act of making and drinking tea.
Berlin's tea spots can be the perfect place, in which to relax at any time of the day, any day of the week. From your typical English afternoon tea to traditional Chinese tea, here are my top 5 tea spots in Berlin which offer you the chance to unwind with a delicious cup of tea.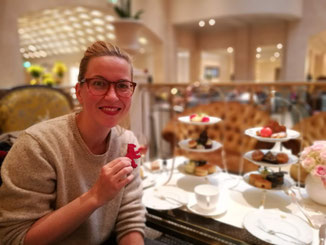 Adlon Afternoon Tea
Celebrating afternoon tea at Berlin's famous Hotel Adlon Kempinski's Lobby was such a lovely experience. Here you feel like a queen or a king. They serve you an exclusive Royal Afternoon Tea, as it would be served state heads, aristocrats, presidents and stars from all over the world. Lean back and enjoy savoury and sweet culinary delicacies from their delicious patisserie, while listening to smooth piano music. The Afternoon Tea also includes Afternoon Tea for children! They also offer a Berlin Teatime with "Boulette" (pellet), "Kalter Hund" (chocolate cake) and much more.
Hotel Adlon Kempinski Berlin, Unter den Linden 77, 10117 Berlin (Mitte), +49 30 22 610, www.kempinski.com, Station: U55, S1, S2, S25, S26 Berlin Brandenburger Tor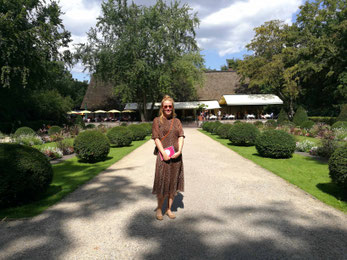 Tea at English Garden
This tea spot is located in the heart of Tiergarten, off the beaten track by a lake and little fountains. The teahouse is well-known for its summer concerts with live music. Culinarily the Teehaus offers a typical English afternoon tea with scones and sandwiches in the English garden. Enjoy your cup of Earl Grey on the terrace overlooking the beautiful English garden.
Of course, you can get your hands on this very special tea directly at the studio and even attend tea-seminars. If you make an appointment, you can also try one lesson – yoga or martial arts – for free. Pure relaxation from the inside and outside, I felt like I was on vacation after this tea workshop.
Teehaus im Englischen Garten, Altonaer Straße 2, 10557 Berlin (Tiergarten), +49 30 39 48 04 00, info@das-teehaus.berlin, das-teehaus.jimdo.com, Station: S3, S5, S7, S9 Tiergarten, Mon–Sat from 12:00, Sun from 10:00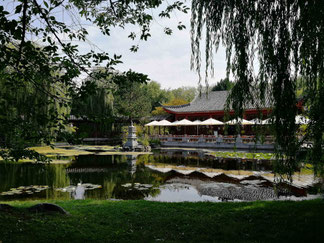 Chinese tea house in Marzahn
When visiting "Gärten der Welt" (garden) in Marzahn, don't forget to have a cup of tea at the Chinese tea house. You can attend a traditional tea ceremony after registration at only a small expense. There are more than 30 Chinese tea specialities set up to take you to the kingdom of the dragon. If you're lucky, you can sip your tea while sitting at the lake and surrounded by bamboo groves. By the way, it was even built from materials shipped all the way from China, it is authentic down to the tiniest detail.
Eisenacher Str. 99, Berghaus zum Osmanthussaft, 12685 Berlin, Germany +49 179 3945564, http://china-teehaus.de, Station: U5, Cottbusser Platz. Open daily: 10.30-18.00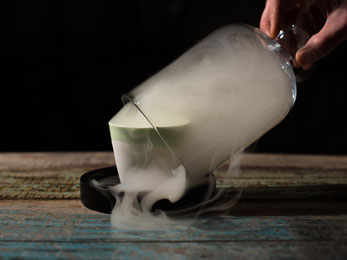 Happy Baristas
Besides nitro coffee, they offer tasty and refreshing nitro tea. High-quality tea from Companion Tea is combined with other ingredients! They create unique and flavorsome tea that will surprise and delight your taste. Their nitro tea has a beautiful cascading effect. Most recently Happy Barista also started a nitro-brewing operation and coffee cocktails! Get ready to be surprised!
Neue Bahnhofstraße 32, 10245 Berlin, hello@happybaristas.com, www.happybaristas.com, Station: S8, 41, 42, S85 Ostkreuz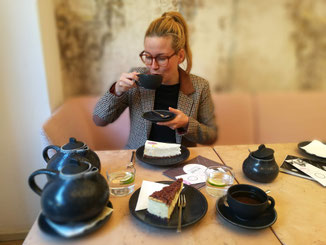 Princess Cheesecake 
Princess Cheesecake is a favourite among cheesecake lovers. But here are also a huge variety of teas at Princess Cheesecake! I enjoyed black tea from Istanbul, but they also have an Early Grey from the British island ;). Cakewise; they offer typical German cheesecake as well as the famous New York Cheesecake, but also quite yummy cheesecake tarts and much more. The café is decorated with pale furniture and a touch of French design. During the summer you can enjoy a bite of cheesecake with a cappuccino sitting outside in front of the café. 
Princess Cheesecake, Knesebeckstraße 32, 10623 Berlin (Charlottenburg), +49 30 88 62 58 70, info@princess-cheesecake.de, www.princess-cheesecake.de, Station: S3, S5, S7, S9 Savignyplatz, daily 10:00–20:00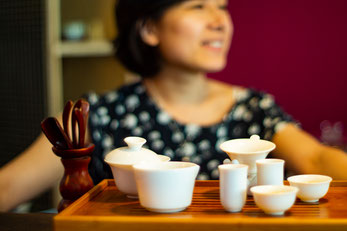 Extra: tea workshop
Chimosa is a studio where martial art, yoga and meditation come together in a neat, modern atmosphere. The name Chimosa consists of the homeland of both founders: CHIna and ForMOSA (Taiwan). While Yi-Chung is responsible for the sporty side of things, Jing has devoted her love to tea. She masters the Chinese tea ceremony. After each lesson, a delicious cup of tea is waiting for you.
Of course you can get your hands on this very special tea directly at the studio and even attend tea-seminars. If you make an appointment, you can also try one lesson – yoga or martial art – for free. Pure relaxation from the inside and outside, I felt like vacation after this tea workshop.
Linienstraße 127, 10115 Berlin (Mitte), www.chimosa.de, fee of the tea workshop 25 €