Berlin is home to a vibrant and delicious food-scene with restaurants here that serve cuisine from all over the globe. We all have our favourite dinner go-to spots but I'm always looking out for a new spot or two to blow me away. Over the past few weeks, I've been scouring Berlin the best Thai cuisine in the city so that I can bring my top 5 Thai restaurants to you! From authentic food to cooking workshops and the most welcoming atmospheres continue reading to discover a Thai paradise in Berlin!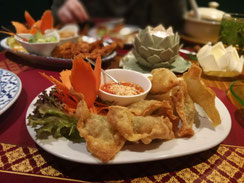 Thai Elephant
This hidden gem is a fantastic Thai restaurant which is often praised for it's delicious food and extremely friendly staff. Here, the employees will happily take time to go through the menu with customers and do everything they can to deliver a dish which suits their customers best. My recommendation would be to try the crispy duck or tofu with cashews and vegetables. This Thai restaurant is relatively small and has a special charm due to its size. Extra tip! This Thai restaurant only accepts cash so make sure you have some money on you to avoid being disappointed!
Fasanenstraße 15, 10623 Berlin (Charlottenburg), +49 30 88 62 48 53, Station U1 Uhlandstraße, open daily 11:30-24:00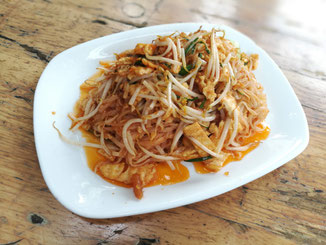 Mae Charoen Thai Imbiss
When it comes to quick and tasty Thai food in Berlin Neukölln, I highly recommend visiting this bistro Mae Charoen. Here you find authentic Thai food, it feels like a little street food venue in Thailand, this tiny Thai Imbiss is well worth a trip to the famous Sonnenallee – but be warned, you'll have to be lucky to find a seat inside the two-table joint at dinner time.
Sonnenallee 134, 12059 Berlin, sonnenallee-thai.food.blog, Station: M41 Geygerstraße, Mon–Sat 11:30–23:00, Sun 15:00–23:00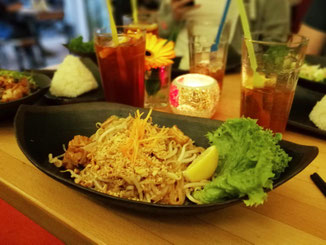 Papaya Thai Restaurant
Papaya Thai Restaurant is extremely well priced and offers a large range of dishes for any dietary requirement. Papaya actually has three Thai restaurants in Berlin and are all located in convenient spots within the city. With generous portion sizes and outside seating at their Thai Restaurant in Friedrichshain, this spot isn't one to miss! Meat lovers should try the Beef Noodle soup, although you won't go wrong with anything on this menu! If you love spice and authentic cuisine this is the place for you!
Krossener Str. 11, 10245 Berlin (Friedrichshain), +49 30 29 77 12 31, www.papaya-service.de, Station: U5 Samariterstraße, daily 12:00–23:00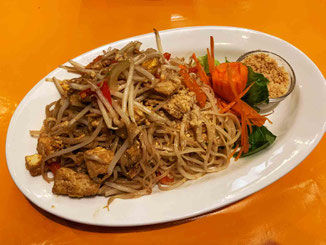 Kien Du
Having served Thai food since 1973, Kien Du is a very established restaurant in the Thai and Asian food scenes here in Berlin. The food here concentrates on reflecting dishes from north-east Thailand and is renowned throughout Berlin for it's fantastic food. This Thai restaurant also offers a picnic service; choose either a meat or vegetarian picnic for two or more people and you will have everything you need for the perfect day out in a park with friends. Prices for the Thai picnic service start at 40 euros. Kien Du Thai restaurant also has some outdoor seating available so this is a great place to pass away a warm evening with some great food.
Kaiser-Friedrich-Straße 89, 10585 Berlin (Charlottenburg), +49 30 34 11 44 7, kien-du.de, Station: U2, U7 Bismarckstraße, daily 17:00–24:00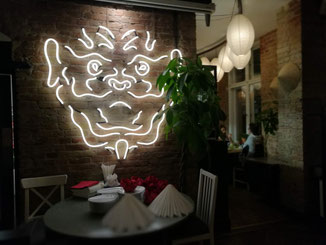 Bangkok City
Thai food is without any doubt one of the most tasteful food in the world. You can always expect tasty surprises and astonishing flavours. If you like spicy food, you will love Bangkok City. Hot or mild in flavour, very low in fat - their Thai food is always an exotic delight. Also, the staff were very friendly and goes the extra mile if you need anything. If you can't make it to Bangkok this year, this restaurant is a good alternative.
Mehringdamm 33, 10961 Berlin (Kreuzberg), info@bangkokcity.de, www.bangkokcity.de, Station: U6, U7 Mehringdamm, daily 12:00–22:00