Berlin is a unique city. But why? The simple answer is that the great metropolis has something to offer for everyone.
The German capital offers not only cultural highlights, but also a trendy scene locations. Berlin combines history with modernity.  Berlin is a city with a great cultural diversity at every corner. Compared to other big cities like London, Paris and New York, Berlin is very affordable. 
Furthermore, Berlin is the most innovative city in Germany. There are also many international artists in Berlin. Berlin is a true melting pot and many creative artists come together here. At the end of the day, Berlin is a combination of nature, history, art, culture, atmosphere and entertainment together, all in one place.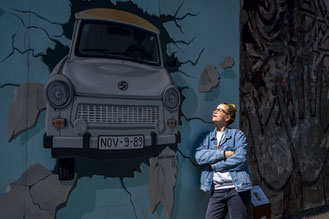 Berlin is famous for its Berlin Wall
This East Side Gallery is one of the most famous things in Berlin. The most popular piece of the Berlin Wall is located between the districts Kreuzberg and Friedrichshain, running along the Spree River. The East Side Gallery, the 1.3km-long section preserved of the Berlin Wall, now hosts murals by over 100 artists from around the world. The open-air gallery 'opened' on September 28, 1990. A little more than a year later, it was listed as a historical monument and, since it was painted in 1990, has become a symbol of connection rather than separation. Some of the East Side Gallery's works are particularly popular: Dimitrji Vrubel's Brother's Kiss or Birgit Kinder's Trabant Breaking Through the Wall.
Mühlenstraße, 10243 Berlin (Mitte), Station: U1, U3, S3, S5, S7, S9 Warschauer Straße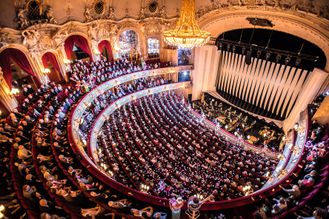 Berlin is famous for its music
Berlin is also famous for its music and theaters. Komische Oper (among others) is absolutely worth standing in line for a ticket. It offers a guided tour through the opera, which enabled me to take a look behind the scenes. I especially loved seeing the costumes, props, orchestra and set design. The canteen of the opera house is also very much recommend: Small sausages of Brandenburg cattle and poached chicken's breast define its menu. Not only artists, but also normal people like me are allowed to visit the 'casino'.
Behrenstraße 55–57, 10117 Berlin (Mitte), +49 30 20 26 00, www.komische-oper-berlin.de, Station: U6 Französische Straße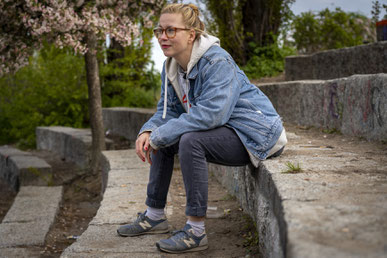 Berlin is famous for its markets
Berlin is also famous for its flea markets. Berlin's most legendary street market invites you to get lost each Sunday. Find a new bandana for your dog at one of the many market stands, or grab a plate of street food to share. Check out "Sonntagskaraoke am Mauerpark" as every Sunday Berliners visit the Mauerpark to enjoy the karaoke-performances. On other sunny days, Mauerpark is a great spot to chill on the grassy hills or listen to the street musicians, with the graffiti-lined remnants of the Wall as a backdrop.
Bernauer Straße 63–64, 13355 Berlin (Prenzlauer Berg), www.flohmarktimmauerpark.de, Station: U8 Bernauer Straße, Sunday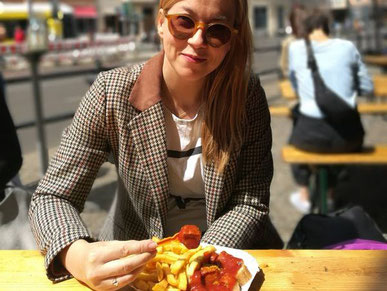 Berlin is famous for its food
Berlin is also famous for its divers food and especially the beloved CURRYWURST. The Konnopke bistro serves their classics like bockwurst, knackwurst and the Berlin Bulette, a type of burger. Since over 80 years, going back to Max Konnopke who started the bistro selling sausage in Berlin in 1930. Konnopke was probably the first bistro to start selling currywurst in East-Berlin in the 1960s. It's a legendary bistro and can only be recommended.
Schönhauser Allee 44 B, 10435 Berlin (Prenzlauer Berg), +49 30 44 27 765, info@konnopke-imbiss.de, www.konnopke-imbiss.de, Station: U2 Eberswalder Straße, Tue–Fr 10:00–20:00, Sat 12:00–20:00, Sun 12:00–18:00
Berlin is famous for its parks
One of the most famous parks is the Gärten der Welt in Berlin. Here you can look at differently themed gardens from around the world. The Chinese Garden, located in the Gardens of the World, is the largest Chinese garden in Europe. It is designed in the style of classical Chinese scholarly gardens and strives for a balanced relationship between the 'seven elements', earth, sky, water, stones, buildings, living beings and plants. In addition to several bridges, walls and fantastically shaped Taihu stones, the Chinese Tea House, the 'Berghaus zum Osmanthussaft', is one of the special features of this garden. It can be reached via winding riverside paths and a bridge. Once there, you can enjoy more than 30 different kinds of green tea and experience demonstrations of Chinese tea art.
Gärten der Welt, Blumberger Damm 44, 12685 Berlin (Marzahn), www.gaertenderwelt.de, Station: M8, M17 Adersleber Weg (Berlin),Daily from 9:00