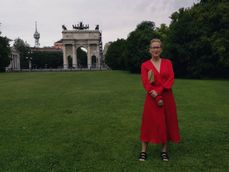 Normally this blog is about Berlin, but I just have been in Milan and would like to share some insights about Milan with you. I would very much recommend to stay in Chinatown, where the rents are still affordable and which is close to all the hotspots of Milan.
Famous for its fashion and design, Milan is home to a cathedral of an unrivaled beauty, the second largest, grandiose catholic cathedral in the world, the Duomo di Milano. Milan (itself) is the second largest city in Italy. Milan has actually been deemed the shopping capital of the world. In this city you find cuisine that turns a tourist to a permanent resident! To help you find the hidden gems of Milan, here are my Top 5 Things to do in Milan!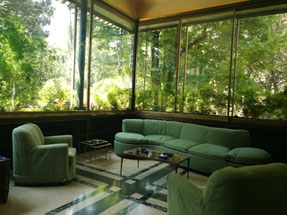 Villa Necchi provides an oasis of calm in the centre of Milan. Surrounded by a beautiful garden with swimming pool and tennis court. It was built between 1932 and 1935 by architect Piero Portaluppi and served as the home for Nedda and Vittorio Necchi as well as Giginas husband, Angelo Campiglio, belonging to the upper middle class of Lombard industrial families. The interior let the visitor imagine what life must have been like in in the 1930s. If you can't go there, you can watch it in the movie "I am Love", in which it plays a center role. The movie is from 2009 and was directed by Luca Guadagnino. Close by you can also visit the Berri Meregallìs House.
Via Mozart 14, 20122 Milan, Wed–Sun 10:00–18:00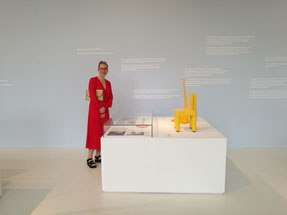 At this museum it is possible to admire historical and modern architecture. La Triennale di Milano is one of the most vibrant museums in Milan. Featuring annually changing exhibitions, it is also home to extraordinary (permanent) collection of Italian design works (highly recommended!). This fantastic museum is brimming with endless installations originating from brilliant minds all over the world.
Built for the 15th Triennale di Milano 1973, and based on drawings dating back to 1934, de Chirico's fountain is located in the garden of the museum. The fountain is filled with water and the two figures of the bathers. 
La Triennale di Milano, Viale Emilio Alemagna 6, 20121 Milano, +39 02 72 43 41, www.triennale.org, Tue–Sun 10:30–20:30, last admission 1 hour before closing time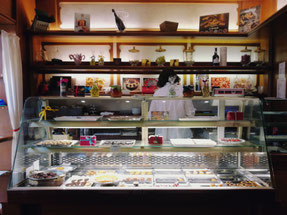 Hidden, but renowned pastry in Milan, Ranieri offers a wide variety of chocolate pralines, small custard and fruit pastries are handmade every day. I highly recommend the panettone all'ananas and unique "Do di petto" chocolate cake. Sitting outside, you can admire the Teatro Dal Verme and the Milan high society (at least when I was there).
Via San Giovanni sul Muro 4, 20121 Milano, +39 02 89 00 920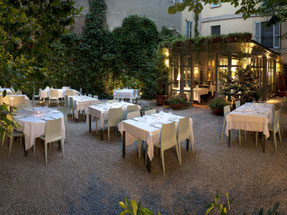 La Brisa is a very romantic restaurant. When you enter, it seems like a popular bar with a long counter. On the walls you will see many vintage photos that show how the restaurant looked like in the last century. You then walk along a long corridor, which lets us glimpse the kitchen, where the chef Antonio is doing his magic, up to the elegant restaurant with its bright veranda, overlooking a quiet garden with old lime trees. The menu changes with the seasons. They also offer a five course menu, which was my personal highlight (58 Euro). So leave your diet behind, and let yourself get carried away from this magical place and food.
Via Brisa 15, 20123 Milan, +39 02 86 45 05 21, info@ristorantelabrisa.it, www.ristorantelabrisa.it, Mon–Fr 12:45–14:30, Sun–Fr 19:45–22:30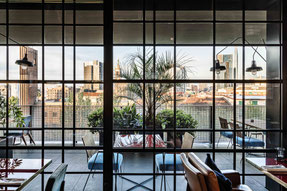 This rooftop restaurant and bar is an unique location, with an sleek and refined vibe, soothing and far from the hustle 'n' bustle of Milan below. By stepping into Ceresio 7 you are transported back to the '40s, however, this retro look quickly gives way to a more contemporary feel: craft cocktails, delectable and aesthetically pleasing dishes. Design, but also art. In fact, at Ceresio7 you can find vintage objects, international artworks and paintings inspired by urban and graffitist movements, which also include two prestigious lithographies by New York artist Jean-Michel Basquiat.
Via Ceresio 7, 20154 Milano, +39 02 31 03 92 21, www.ceresio7.com, restaurant 12:30–15:00, 19:30–23:00, bar 12:30–1:00
If you want to find the hidden gems of Berlin, check out my folding maps BertaBerlin and QueerBerlin. They are available in well-chosen locations all over Charlottenburg, Neukölln, Kreuzberg, Mitte and Prenzlauer Berg in Berlin and online. But for those of you, who want to stay up to date, feel free to follow me on INSTAGRAM, FACEBOOK or register for my NEWSLETTER BertaNews.