Berlin is home to a vibrant and delicious food-scene. Restaurants serving cuisine from all over the globe line the streets in this city, but whilst we all may have our favourite dinner go-to spots, it's always great to get to discover something new. Over the past few weeks, I've been scouring the best Vietnamese cuisine in Berlin so that I can bring my top 5 restaurants to you! From bamboo hut interiors to outside dining and helpful and friendly staff, keep reading to support a local business and find your new favourite date-night spot!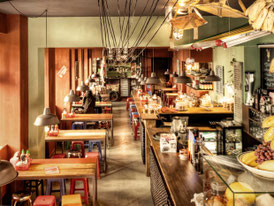 District Mot
District Mot encompasses Saigon street food, here customers will feel as if they've been transported to the exciting and vibrant heart of Vietnam. Colourful plastic stools, quirky napkins and lots of small details can be found which will remind customers of a faraway country. This restaurant offers original, Vietnamese cuisine with quick, friendly service and at a very good value. At District Mot, customers will not only find unique Vietnamese dishes but also plates which the German palate already knows and loves, for example, a brilliant chicken curry!
Rosenthaler Straße 62, 10119 Berlin (Mitte), +49 30 20 08 92 84, info@districtmot.com, www.districtmot.com, Open: Daily 12:00–24:00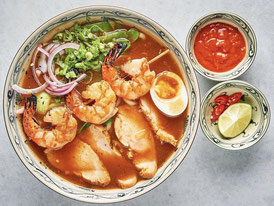 Koisen Restaurant
This Vietnamese restaurant in Kreuzberg is an Asian fusion shop with a vegan lean. Though most of their menu is veggie vegan friendly they do serve dishes with salmon, eggs and meat. Beside the cuisine they also offer a (vegan) sushi. At the moment, they offer a lot of vegan dishes as well as vegan sushi for take away and delivery via Wolt and Lieferando. From 12:00–15:00 when ordering on site you get 10% discount. If you order via Wolt with "BertaBerlin" you can also get 5 Euro off.
Wiener Straße 19, 10999 Berlin (Kreuzberg), +49 30 61 62 66 49, www.koisen.berlin, Station: U1, U3 Görlitzer Bahnhof, daily 12:00–23:00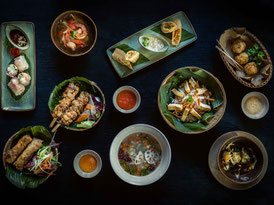 Ngon Restaurant Berlin 
You can't get much more central in Berlin than by eating at the Ngon Restaurant, just around the corner from sights such as the TV Tower and Rotes Rathaus. This Vietnamese restaurant not only serves incredible food recommended by many people but is also extremely stylish. In 2018, designer William Fan chose Ngon Vietnamese Restaurant to be the backdrop for the show of his latest collection 'Fan Dynasty'. Here the people are friendly,  the food brilliant and the atmosphere really something special.  One of my top recommendations here would be to try Goi Du Du Tom Kho, a green papaya salad mixed with dried shrimps and Thai sauce.
Rathausstraße 23, 10178 Berlin (Mitte), +49 174 19 23 359, info@ngonberlin.de, www.ngonberlin.com, daily 12:00–23:00, Station: U2 Klosterstraße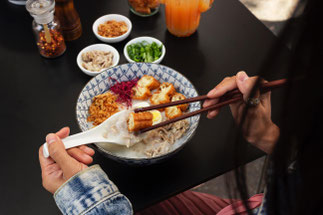 Chaomin Berlin 
If you want to eat traditional Vietnamese food, the Chaomin Restaurant in Prenzlauer Berg might be something for you. They offer a unique and very satisfying rice soup aka Heil-Kraft-Suppe. I especially liked the Pho and Chrispy Crunch appetizer combined with a Green Hunter smoothie.
Prenzlauer Allee 27A, 10405 Berlin (Prenzlauer Berg), +49 30 31 48 00 99, seeyou@chaomin.berlin, www.chaomin.berlin, Station: S8, S41, S42, S46 Prenzlauer Allee, daily 11:30–23:00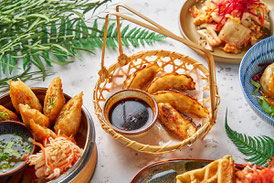 RYU
The interior of Ryu blends together the elements of fire and earth in a stylish manner. Their dining area is a pleasant, cozy setting and serves as a perfect place in which to enjoy some quality time with family and friends. Their cuisine is renowned for preparing authentic Vietnamese food. Their chefs are skilled at cooking traditional dishes as well as creative interpretations with some elements of fusion cuisine. Fresh ingredients and nutritional value are also incredibly important to them, hence why they prepare as much as they can in-house and they abstain from using monosodium glutamate. If you want to try a classic dessert in a completely new way, then ask for their homemade panna cotta.
Krossener Straße 17, 10245 Berlin (Friedrichshain), +49 30 53 67 02 76, info@ryu-berlin.de, www.ryu-berlin.de, Station: S3, S5, S7, S8, S9, S75 Ostkreuz, Sun–Thu 12:00–23:00, Fr–Sat 12:00–00:00